"Megan Leavey" Review

LightsCameraJackson Critic Director Gabriela Cowperthwaite follows-up her incredible 2013 documentary "Blackfish" with another film examining the human-animal connection. This time it's a narrative story, based on the real-life relationship of Marine Corporal Megan Leavey and her combat dog, Rex. The pair served together in Iraq in 2005 and '06. Their tours, along with the training and post active duty lives, are chronicled in "Megan Leavey", a low-key bio-drama that marches along in a very straight line.
And because there's no arc, very little suspense and no emotional pulse until the final few minutes, the film is heavily reliant on the performances. Kate Mara (from 2015's disastrous "Fantastic Four" reboot) plays Corporal Leavey, and she's quite convincing. Her best scenes come away from the action, in particular battles with the military authorities, fighting for her dog. The combat scenes, on the other hand, lack the authentic feel of other recent war movies.
The script and Mara also do a respectable job showcasing the negative effects of war on a returning soldier (though not nearly as gripping as watching Bradley Cooper as Chris Kyle in "American Sniper"). Other Hollywood-infused subplots are weaved into "Megan Leavey", including Leavey's romance with another soldier and her parents marital problems. But above all, this is the age-old story of "a boy and his dog" - except the boy is a female soldier and the dog is a military-trained bomb-sniffing German Shepherd with aggression issues.
The supporting cast includes Edie Falco as Megan's mom, Bradley Whitford as dad and Tom Felton (Draco Malfoy all grown up) as the soldier in charge of the dog handling program. The stand-out performance is delivered by Common, who plays Megan's commanding officer. This is the Oscar-winning music artist's best dramatic acting work to date.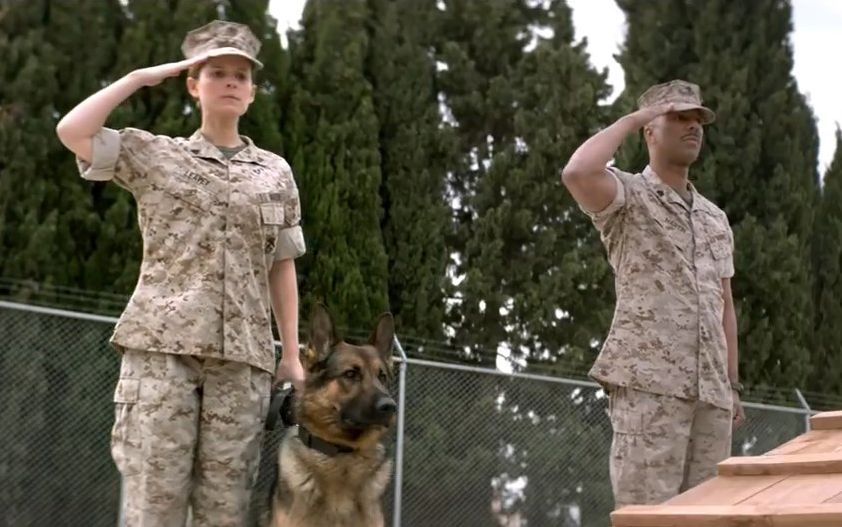 Parents need to be aware that this is not a film for young children, or similar to 2015's "Max", the PG-rated movie about a boy who bonds with his brother's service dog after the brother is killed in Afghanistan. "Megan Leavey" is much more mature in tone. Though it never reaches the intensity levels of "American Sniper" or other true-life war films, there is combat violence, adult subject matter and serious themes.
This film definitely has its heart in the right place, and it certainly honors the men, women and K-9s who bravely serve and protect our country. But because of its calm nature and generic presentation, "Megan Leavey" fails to achieve the high rank the subject matter deserved.