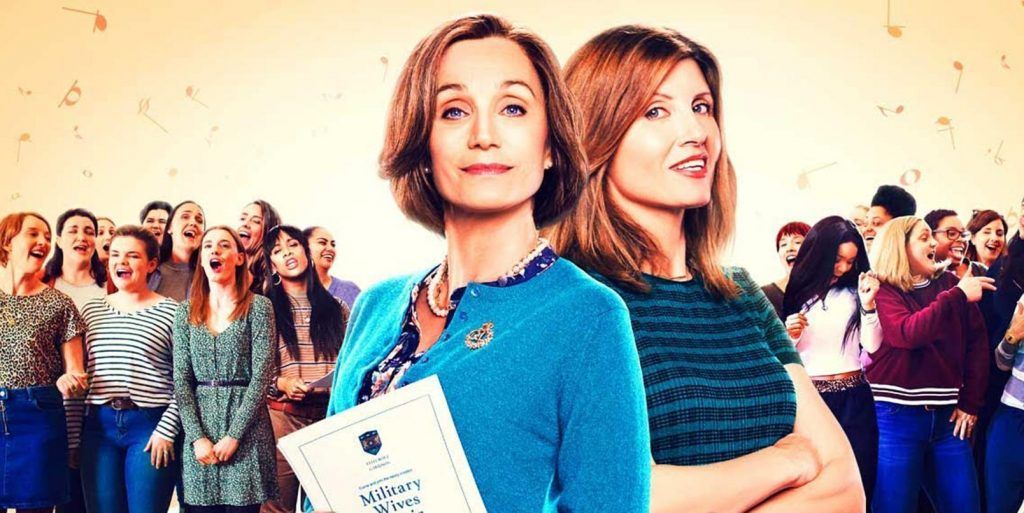 'Military Wives' Review

LightsCameraJackson Critic "Military Wives" is a movie about… military wives. "The Full Monty" director Peter Cattaneo was inspired by the women who remain behind while their spouses go off to war. Specifically, this story centers on a group of British spouses who, while their husbands are fighting in Afghanistan, decide to start-up a choir.
Kristin Scott Thomas and Sharon Horgan play Kate and Lisa. Kate the general's wife, and former leader of the wives group. Lisa is the new leader, and she has her own ideas on how to run things. Their styles do not gel. The back-and-forth battles between the two (often featuring hand gestures and facial expressions as much as dialogue) are genuinely entertaining.
The choir is your typical movie mix of personalities and talent levels. There's no competition element in "Military Wives" (which is refreshing), but the film does give-off some major "Pitch Perfect" vibes. Some of the ladies think they're great singers when they're actually not. Others are quieter but secretly can hit the high notes. And the stakes for all are raised when the group is invited to perform at a major, nationally televised event. 
"Military Wives" is fairly light, but there are some dramatic undertones that work. The script shows great respect for the military and nicely, if superficially, depicts the emotional challenges faced by spouses and children of soldiers at war. The cloud of impending tragedy is never far away. Cattaneo does a nice job of  balancing the tones of humor, fear and pain. 
The cast of characters is a likable bunch. You can't help but root for them to succeed. Scott Thomas and Horgan are up to the task of leading the ensemble.
"Military Wives" is based on a true story and, as you'll see in the end credits, this group of women inspired the creation of hundreds of military wives choirs around the world.
If you can overlook the familiar formula and cliches, you'll discover a film with a satisfying sense of spirit and purpose.