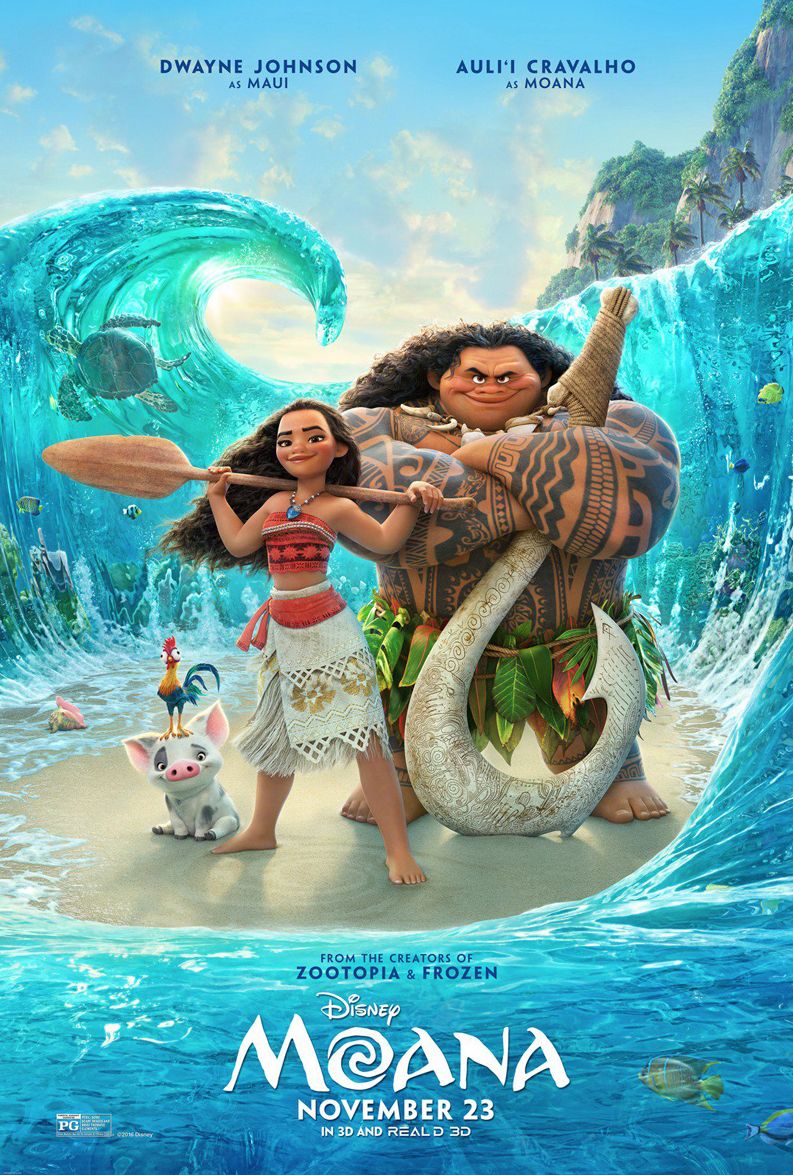 Moana is Disney's Latest Masterpiece

ZachPerilstein Disney Reporter

Walt Disney Animation has been on a tear lately. Hits like Tangled, Frozen, Big Hero 6, and Zootopia have ushered in Disney Animation's second renaissance. Moana helps solidify that renaissance. Once again similar to Frozen's family arc, Moana does not have a love interest. Jared Bush (Co-Director of Zootopia) wrote a phenomenal screenplay for Moana. The story was already there but his dialogue puts the film on a higher pedestal.
Story
What makes a great princess film? The heroine? The prince? The animal sidekick? Moana is even bolder than Frozen. A brave teenage girl sets sail to find the demigod Maui and to restore order to her island after a recent fish shortage. During Moana and Maui's time at sea they encounter obstacles. One of the obstacles is each other. Maui at first is hesitant and simply doesn't like Moana. Later in the film, Moana clearly changes his mind through her determined and sweet personality. The story is action packed and exciting throughout. The story seemed like it was an old fairy tale yet with the modern touch.
Cast
The casting for Moana was brilliant. Auli'i Cravalho was the perfect choice for Moana and she has a bright future ahead. Dwayne Johnson is just a natural entertainer. He brought Maui to life and it was spectacular to watch. Also hearing The Rock sing was epic. Alan Tudyk played Heihei, described by Director Ron Clements "the dumbest character in the history of Disney animation." Nicole Sherzinger and Temuera Morrison played Moana's parents. (Yes, a Disney princess actually has both parents alive… What a shock.) Also former football star from the Pittsburgh Steelers Troy Polamalu was the voice of Villager 1.
Direction
The directors for Moana are legends. Ron Clements and John Musker were the directors to many famed Disney films including Aladdin, The Little Mermaid, and Hercules. The film went at a good pace. There was no unnecessary scenes. The filmmaking was fantastic and I believe the ending left room for a possible sequel. I'm excited for Clements and Musker's next project!
Characters
Moana was a unique character. She was a strong and courageous. Moana had different relationships with Maui, her parents, and her grandmother. Her bond with her Grandmother was the strongest. Her father, Chief Tui was strict on Moana but that was only because he loved her. Her mother, Sina was more supportive of her voyaging dreams. Maui, the demigod, is full of himself. Maui is very funny and also strong. Moana is fascinating due to the short amount of characters. Pua is Moana's pig and her favorite animal. Heihei is a dumb chicken that Moana takes on. Each character developed as time went on.
Animation
Walt Disney Animation was cutting edge with Moana. The ocean looked crystal clear. The water splashing looked so realistic. The wood on the boats were rustic. Even the sail flapping in the wind. The use of hand drawn animation was evident in Moana. That was a nice little touch for animation fans to see. The cutting edge computer animation in this film made the experience more enjoyable.
Script
Jared Bush's script for Moana was brilliant and incredible. Moana's dialogue was like a teenager yet intelligent. Maui had some great comedic lines. Gramma Tala, Moana's grandmother, stole the show due to the script. The comedy and the emotion was all there in the script.
Music
The music for Moana was genius. Lin-Manuel Miranda wrote some fantastic tunes. Including the breakthrough song "How Far I'll Go." Miranda also showcased his rap background with songs like "You're Welcome" and "Shiny." Although "We Know the Way" is another top song from Moana. A song that everybody sings together. All the music was composed Lin-Manuel Miranda, Mark Mancina, and Opetaia Foa'i.
Moana was an instant classic for me. The film had everything a moviegoer would want; love, family, adventure, and comedy. Walt Disney Animation out does itself once again. The inner company battle between Pixar and Walt Disney Animation is a pretty even battle now.
Moana is a five star film and it's a loving cinematic journey. It's a escape from the real world. That's when you know a film is good. When the only think your thinking about is the character's world. Moana did exactly that.
Disney did a fantastic job at telling the story of Moana. What princess film should Disney do next? Tweet me@TripleZ_87
Thanks for reading my review of Moana.