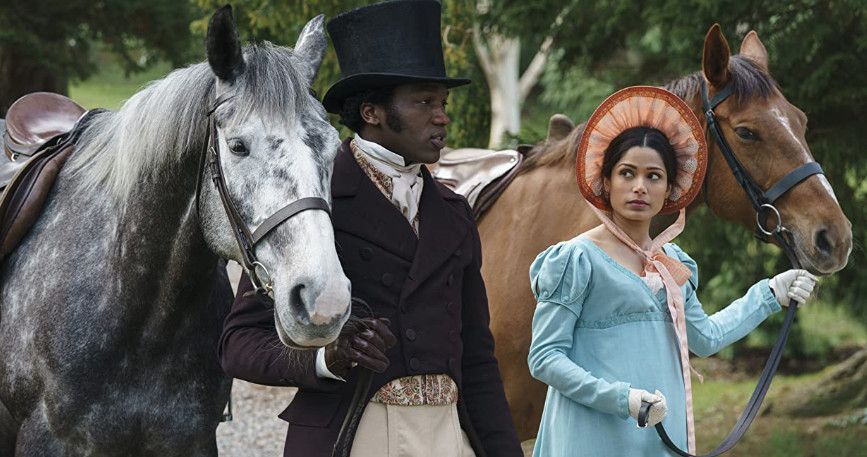 'Mr. Malcolm's List' Review

LightsCameraJackson Critic "Mr. Malcolm's List" is directed by Emma Holly Jones and written by Suzanne Allain, who based the screenplay on her 2009 novel (of the same name) about romance and class distinction in 19th Century London. I'm about to give this film a very positive review, something I genuinely didn't think would be happening after watching the first 20 minutes.
The movie's opening "establishing the players/framework" section is slow, corny, and very dry. The year is 1818. Unhappily unmarried Julia Thistlewaite (Zawe Ashton) attends the opera with dashing bachelor Jeremy Malcolm (played by Sope Dirisu). The evening doesn't go well for her and she's publicly embarrassed when he doesn't continue to court her.
For Mr. Malcolm, Julia is just another eligible bachelorette who fails to live up to his standards. He has an actual list of qualifications for a bride.
Julia concocts a plan to get revenge. She enlists friend Selina Dalton (Freida Pinto) to pretend to charm Mr. Malcolm into falling in love with her. Then she'll turn the tables by rejecting him. But will things go according to plan? This is a light, period romance —  so of course not!
The early exchanges between the characters are awkward, clunky and clumsy. I was about to start rooting for all of them to fall in a moat when war hero — Captain Henry Ossory (Theo James) appears. Suddenly, the story comes to life, everyone becomes charming, and the script begins to provide legitimate commentary on relationships and social standing, that's refreshingly contemporary.
Our enjoyment of this Jane Austen-esque romp grows, helped along by the supporting cast. Oliver Jackson-Cohen is excellent as Lord Cassidy, Mr. Malcolm's wise, sometimes conflicted right hand man. And Dona Croll has some of the best moments as Jeremy's observant mother. We understand why he feels he needs a list in order to obtain true love. And we clearly see why others, led Selina and Julia, believe the requirements are belittling and absurd.
The score is sublime. The cinematography and costumes are exquisite. And the pairings of Pinto & Dirisu and Ashton & James keep you on your toes.
Aside from the rough start, "Mr. Malcolm's List" is regal and enchanting, sincere, and sweet, while also having something important (if not unique) to say about love and life.
Put it on your "Must See" list.