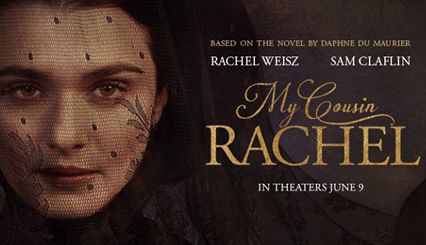 "My Cousin Rachel" Review

LightsCameraJackson Critic Roger Michell may not be a familiar name, but he's directed several movies you've likely heard of, including the Hugh Grant/Julia Roberts rom-com "Notting Hill", the charming TV news comedy "Morning Glory" and the underwhelming "Hyde Park on Hudson", starring Bill Murray as FDR.
Michell's latest film is the picturesque romance mystery "My Cousin Rachel". It's based on the 1951 Daphne du Maurier novel and '52 movie that earned Richard Burton a Best Supporting Actor Oscar nomination. Burton played the role of young Philip Ashley. Sam Claflin ("Me Before You") plays Ashley in this new version, and it's far from a supporting role. Claflin is in practically every scene.
It's the mid-1800s and Philip, a 24-year-old Englishman, is on the verge of (legally) becoming a man. After his mother died when he was a child, Philip was adopted and raised by his cousin Ambrose on a sprawling country estate in Cornwall. With Philip now grown, Ambrose decides to head-out to explore the world. He encounters a cousin, Rachel (played by Rachel Weisz). In a series of letters Ambrose tells Philips that he's fallen in love with Rachel and that they have married. But subsequent letters tell another story, leading Philip to believe that Ambrose is in trouble. Not long after Philip learns that Ambrose has died. Confused, angry and heartbroken Philips vows to learn the truth, and find-out if his suspicions about the mysterious Rachel are founded.
"My Cousin Rachel" builds-up the anticipation of Rachel's eventual arrival at the estate through extensive preparation scenes and a philanthropic score from composer Rael Jones. The phrase "once Rachel enters the picture" has dual meaning here, because "Rachel" not only applies to the character but, of course, also the actress. Instead of being the witch (and possible murderer) that Philip and others are expecting, the widow Rachel instantly charms Philip and practically everyone else on the estate (including the dogs).
Unfortunately, what we get on screen doesn't warrant this twist. This is a critical flaw in the execution of the script (Michell also has screenplay credit). I'm sure this element worked much better in the novel. Here, Philip's drastic emotional swing doesn't seem authentic. Rachel is more intimidating than enchanting. It isn't until a Christmas dinner party about halfway through that Rachel finally displays the look of a "lady" that Philip would swoon over.
Overall, the plot of "My Cousin Rachel" is extremely straightforward. We figure out how this unlikely relationship is going to play-out far sooner than Philip and Rachel do. Weisz and Claflin are fine together, but each has been more impressive in more complex roles in other films. Holliday Grainger, so good in last year's "The Finest Hours", leads a quality supporting cast as Philip's other love interest.
The final 10-minutes do cause one to perk up, leading to an ending that is intentionally murky, a good decision by Michell. Too bad that practically everything leading-up to the climax is a little too standard.