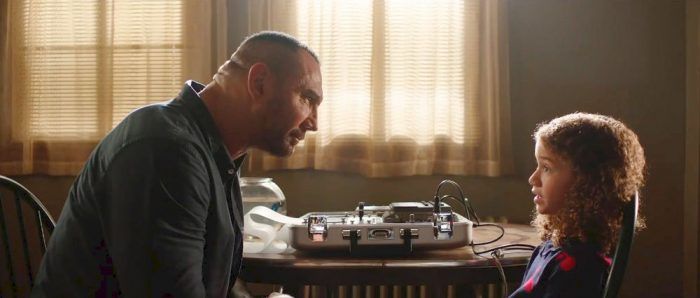 'My Spy' Review

LightsCameraJackson Critic The first trailer for "My Spy" debuted on April 4, 2019. At the time, STX hadn't set a theatrical release date for the action comedy (which is rare). Not long after the studio picked August 23rd. Then the film was pushed to a TBD 2020 release. That was followed by slots in January, March and, finally April. Of course, COVID-19 changed those plans. And then, yet another "My Spy" surprise was announced: Amazon Studios acquired the distribution rights (though it's still an STX film). And now, 14 months after that first trailer dropped, the movie drops on Prime Video (and opens in select Drive-Ins).
I'll admit, my expectations for this Dave Bautista starring vehicle were pretty low. That trailer, which I must have seen 25-times, was not promising. But there's always a curiosity factor surrounding a high-profile film that's been delayed so many times.
Well, I'm happy to report that "My Spy" is MUCH better than advertised. 
In retrospect, I should have had more faith in director Peter Segal, who's made a well-intentioned and pleasant movie. Outside of a bit of unnecessary adult language and moments of peril, this is a genuinely positive and earnest film. A pair of Segal's previous comedies are two of my favorites of the past 15 years (both very underrated): 2008's "Get Smart" and 2013's "Grudge Match". I should've gone into "My Spy" with more confidence in what Segal could do with a very standard set-up. (I had this same experience with last Summer's "Dora and the Lost City of Gold", which the trailers also under-served. Director James Bobin ("The Muppets" & "Muppets Most Wanted") put a delightful spin on a beloved family brand).
One reason "My Spy" was initially delayed was to separate it on the calendar from "Stuber", Bautista's 2019 action-comedy with Kumail Nanjiani. Hopefully, everyone unfortunate enough to see "Stuber" will give Bautista another chance. He is FAR better here, flashing potential we haven't seen before in any of his previous roles, including in the "Guardians of the Galaxy" series.
Maybe even leading man material.  Bautista plays J.J., a tough as nails ex-special ops soldier turned CIA agent. His latest assignment sends him and techie partner Bobbi (Kristen Schaal) to Chicago, to stake-out an apartment where a bad guy looking for plans for a nuclear bomb could be heading (as previously mentioned, a standard set-up). 
Kate (Parisa Fitz-Henley) and 9-year-old daughter Sophie (Chloe Coleman from "Big Little Lies") live in the apartment. It doesn't take long for the precocious Sophie to discovers what J.J. and Bobbi are up to. She doesn't have a dad or any friends, so she convinces J.J. to spend time with her and even teach her how to become a spy… or else she'll blow his cover.
The familiar path "My Spy" heads down plays-out, beat for beat, as you'd expect it. But thankfully, the pairing of Bautista and Coleman make the trip quite enjoyable. Both are very likable. Coleman doesn't play the "brat" card that's so often used for smart-aleck kids in movies. Sophie is charming instead of annoying. And Bautista shows he's got some comedic chops (in a role Dwayne Johnson would've taken 10-years ago). Schaal also gets the opportunity to be more than just a sidekick. Credit to brothers Erich and Jon Hoeber for a script that gives each of the main characters some depth, while also having fun with the espionage movie genre. 
The opening 15-20 minutes are a little rough. But hang in there. "My Spy" is absolutely one of the most pleasant surprises of 2020.
Warning for Parents: To be clear, "My Spy" is PG-13 — for a reason. Even though the story is centered on a nine-year-old this film is not appropriate for nine-year-olds.