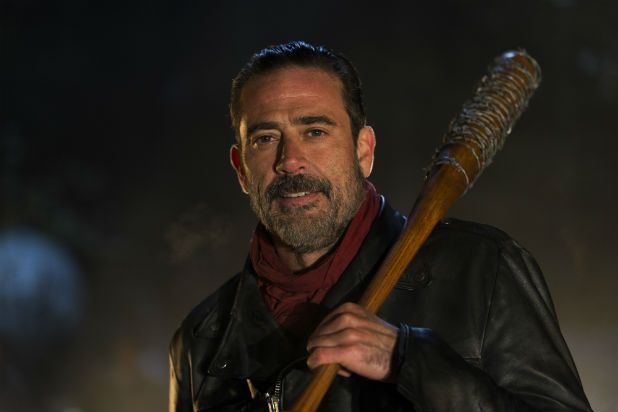 Norman Reedus Compares 'The Walking Dead' Antagonist Negan to The Joker

HaydnSpurrell Norman Reedus says a lot during the lead up to any new season of The Walking Dead (and during it), so we can always be sure to take with his statements a grain of salt. This time, he's compared the new, sinister villain Negan to the most iconic villain of all time.
"He's a prick but you know, I have to say, Jeffrey's killing it — no pun intended," Norman Reedus said. "He's great. He's super charismatic, and he's enjoying being this jerk way too much, as a matter of fact. You know, it's a real blessing we have him on the show. He's brought so much new energy to this show, and that character is like the Joker."
Negan opens the season, fittingly enough, with the quote, "was the joke that bad?" as evidenced in the clip released recently. "It has to be great, and he's delivering, and everyone likes him, and he's fun," Reedus said. "He's a cool guy and everything, but in the moment, everyone wants to f—ing kill him, and then we wrap, and we're all having fun again. So he's a great addition to the show.
"He was really impressed with our cast that even off camera, they were giving him full tears, and they were giving him every sort of thing that would really be happening even when they weren't on camera," Reedus said. "That's kind of rare on a set, you know? Sometimes you act to a tennis ball."
The series returns on October 23.
Source: Comicbook