'Paddington 2' Review

LightsCameraJackson Critic 2014's "Paddington" was a genuine surprise. The film adaptation of the iconic books about the lovable bear from the jungles of Peru had depth, heart and a fresh filmmaking style from writer/director Paul King. "Paddington 2" is a similar yet very different sequel – that hits nearly all the same marks.
Paddington (again voiced by Ben Whishaw) is enjoying life in London with the Brown family (led by Sally Hawkins and Hugh Bonneville). The bear wants to get the perfect present for his Aunt Lucy's 100th birthday, so he decides to take some jobs and earn enough money to buy a prized, antique pop-up book of London. But it turns-out the book is more valuable than anyone knew. When it's stolen, Paddington must go on a quest to get it back.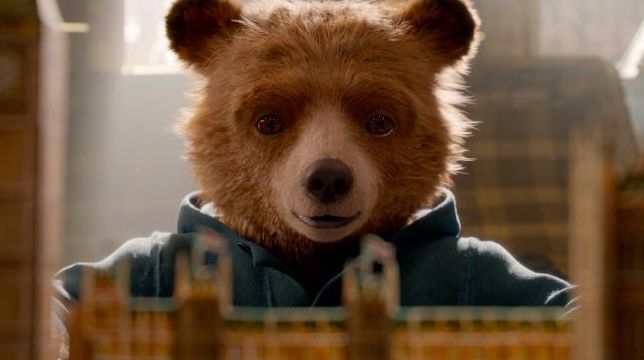 "Paddington 2" is a true action/adventure movie, with perilous chases and daring escapes. Figuring out who took the book isn't a mystery. The fun comes in how the marmalade-loving bear, his family and some new friends will get it back.
Hugh Grant is the biggest new addition to the cast. He plays egotistical stage actor Phoenix Buchanan. No doubt Grant, who recently earned a Best Supporting Actor BAFTA nomination for this performance, had a great time with this role. His over-the-top Buchanan is bursting with gusto and bravado. Grant's scenes may seem a little too corny/goofy, but the execution – the way King stages them – is so well done that you can't help but smile.
The costumes and set design are as good as in the original, and the creative visuals and transitions throughout are simply marvelous. It's as if they pop right out of a storybook onto the screen. There are a few slow patches, and it does take a little while to get used to the bear's main setting for a large chunk of the story (prison) and Brendan Gleeson's prison chef, Knuckles.
But what made the first "Paddington" work beyond the "just for kids" level was its emotional core. This sequel hits you right there again, from the opening backstory to the heart strings-pulling final scene. And a unique closing credits musical extravaganza, featuring Grant, is not to be missed.