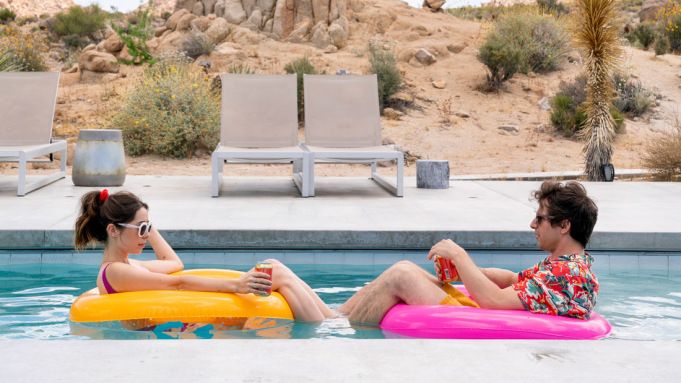 'Palm Springs' Review

LightsCameraJackson Critic "Palm Springs" was one of the darlings of this year's Sundance Film Festival. And it set a record with the biggest sale price in the fest's history. The rom-com was purchased by Hulu for more than $17.5 million. The streaming service is partnering with Neon to get the film out to the world. 
Unfortunately, huge buzz and big bucks don't guarantee a great movie. "Palm Springs" isn't a bomb. But it is a series of missed opportunities that result in an underwhelming experience.
(Spoiler Alert — and I rarely do this: If you want to be truly surprised by "Palm Springs" stop reading NOW. There's no way I can properly review this film without giving much of the plot away).
Andy Samberg's had a successful TV career, ushering-in the digital age to "Saturday Night Live" and winning a Golden Globe for "Brooklyn Nine-Nine". He's also done solid animated voice work in the "Hotel Transylvania" films, "Storks" and on "SpongeBob". It's a different story with Samberg's live-action film career. 2016's "Popstar: Never Stop Never Stopping" could've been his breakthrough moment. Instead, it was a complete disaster.
He teams-up again with his Lonely Island creative partners on the much more indie "Palm Springs". However, the movie's framework is both familiar and mainstream. "Palm Springs" presents yet another spin on the "Groundhog Day" device of living the same day over and over. "Edge of Tomorrow", "Before I Fall" and "Happy Death Day" are a few recent films that also relied on the premise.
Samberg's Nyles has been stuck in a time loop for a while. On this particular day, while at a friend's wedding, Nyles hits it off with Sarah, the bride's sister. She's played by Cristin Milioti (the mom on "How I Met Your Mother" and terrific on the short-lived NBC rom-com "A to Z"). Following a couple of really bizarre events, Sarah ends-up in the same time loop as Nyles. She wakes up the next morning… and it's the same day again.
Of course, she's furious at Nyles and wants to end this nightmare as soon as possible. She (and we) want to know how, as well as the origin of the loop. But this is one of the frustrating things about "Palm Springs". We never get the complete explanation we're looking for; there's no true methodology to any of the bizarre events. This is unlike "Groundhog Day", "Edge of Tomorrow" and "Before I Fall", which provide  legitimate reasons for why characters get stuck in their situation and what they needed to do to get out of it.
This tact by director Max Barbakow and screenwriter Andy Siara keeps the main characters fixated [in a box]. Nyles and Sarah go through the motions we know they're going to go through — because we've seen this all before. 
There are some too obvious attempts at low-blow humor, simply to appeal to Samberg's core fans. They don't work. A handful of quieter one-liners land. Milioti and Samberg have decent though not extraordinary chemistry, partially because Samberg doesn't step too far outside of his comedic "wise guy" persona. This could've been the role that helped him branch out as an actor. The supporting cast includes J.K. Simmons (who's better than the material), Camila Mendes and June Squibb, whose presence is sadly limited to a cameo.
Missed Opportunity… AGAIN!