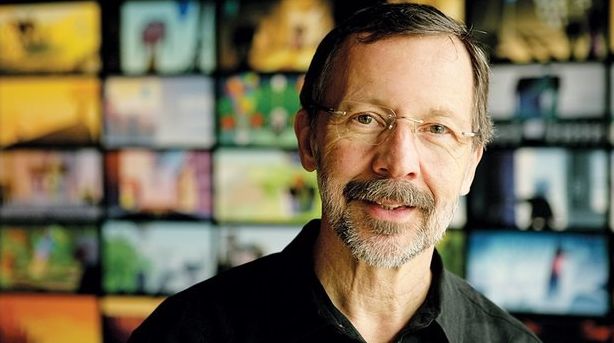 Pixar Co-Founder Ed Catmull to Retire, Will Stay On As An Adviser Through 2019

ZachPerilstein Disney Reporter The president of Pixar Animation and Walt Disney Animation Studios will step down from his current roles at the end of the year.

Ed Catmull has been a revolutionary creative in Hollywood. From co-founding Pixar along with John Lasseter and Steve Jobs. To having a five-decade career which saw the revival of Walt Disney Animation and the emergence of Pixar in pop culture. The young man who was inspired by Peter Pan and Pinocchio would go on to revolutionize animation itself.
Catmull who acts as the president of Walt Disney Animation Studios and Pixar Animation Studios will step down from his current roles at the end of the year. He will stay on as an adviser until July 2019.
Catmull earned his doctorate in computer technology from the University of Utah. He was hired by George Lucas in 1979 to lead Lucasfilm's computer division before going on to co-found Pixar alongside Jobs and Lasseter in 1986. Catmull wrote a book called Creativity Inc., I highly recommend it if you want to learn about his fascinating and successful career.
"Never in my wildest imagination could I have conceived of the path or the extraordinary people I have worked with over all of these years — the twists and turns, the ups and downs, along with exhilarating passion, talent, and dedication that have led to something extraordinary, something that has an enduring impact in the world,"- Ed Catmull

When Disney acquired Pixar for $7.4 billion in 2006. Catmull was named the president of Walt Disney Animation Studios and Pixar Animation Studios. Catmull oversaw the business side of operations, while Lasseter oversaw the films as the chief creative officer until he stepped down this summer.

"From the request of George Lucas to bring technology to the film industry, to the vision of Steve Jobs, and the extraordinary freedom provided by [Disney executives] Bob Iger, Alan Horn, and Alan Bergman, we continue to dream of stories and ways of making those stories that always surprise. I have the mixed emotions that come with stepping away from a group of people I love, but also with the utmost pride and pleasure that we now have at both Pixar and Disney Animation the most dedicated and imaginative leaders I have worked with."- Ed Catmull, in his retirement statement
Pixar president Jim Morris and Walt Disney Animation Studios president Andrew Millstein will continue their roles at their respected studios. They will continue to report to Walt Disney Studios president Alan Bergman. Both Pixar and Walt Disney Animation Studios will be led by Pete Docter and Jennifer Lee on the creative side. They will report to Walt Disney Studios chairman Alan Horn. Disney has not announced a successor to Catmull's current position.

Read more about Catmull's legendary career:

Catmull's pioneering work in computer animation and visionary leadership in key technology companies including Lucasfilm, Pixar, and Disney over the past 45-plus years changed the face of film. Catmull was hired by George Lucas in 1979 to lead Lucasfilm's computer division, before co-founding Pixar Animation Studios in 1986 with Steve Jobs and John Lasseter. Pixar released the world's first feature-length computer animated film, the seminal "Toy Story," in 1995 and has broken creative and technological boundaries ever since. The studio's 20 feature films have won 15 Academy Awards and earned more than $13 billion in global box office; its most recent film, "Incredibles 2," broke records in its debut and is the highest grossing animated film in U.S. box office history.
Catmull's association with Disney goes back to 1986 with Pixar's work on the Computer Animation Production System (CAPS), and Disney has released all of Pixar's feature films. Upon The Walt Disney Company's acquisition of Pixar in 2006, Catmull became President of both Walt Disney Animation Studios and Pixar Animation Studios. Since arriving at Disney, Catmull has overseen numerous groundbreaking films from both studios, including five billion-dollar hits — Disney's "Frozen" and "Zootopia" and Pixar's "Incredibles 2," "Toy Story 3," and "Finding Dory" — alongside such beloved films as Pixar's "Wall-E," "Up," "Inside Out," and "Coco" and Disney's "The Princess and The Frog," "Tangled," "Wreck-It Ralph," "Big Hero 6," and "Moana."
"Ed Catmull's impact on the entertainment industry is immeasurable,A pioneer of the intersection of creativity and technology, Ed expanded the possibilities for storytellers along with the expectations of audiences. We're profoundly grateful for his innumerable contributions, ranging from his pivotal, groundbreaking work at Lucasfilm and Pixar to the exceptional leadership he brought to Pixar and Walt Disney Animation over the last 12 years, and we wish him the best in his well-deserved retirement."- Disney CEO and Chairman Bob Iger
Catmull has been involved with countless Disney and Pixar classics. From 1995's Toy Story to 2018's Incredibles 2. Catmull and Lasseter also led the charge of reviving Walt Disney Animation Studios which lead to newer classics like Wreck-It Ralph, Frozen, and Moana.
I want to thank Ed Catmull for his contributions to cinema and The Walt Disney Company. Also for writing his outstanding book Creativity Inc, about management skills he learned during the course of his career. His legacy and culture he created at Pixar and Walt Disney Animation Studios will outlast him just like he hoped. I wish Ed Catmull all the best in his retirement.

Posted in Walt Disney Pictures,