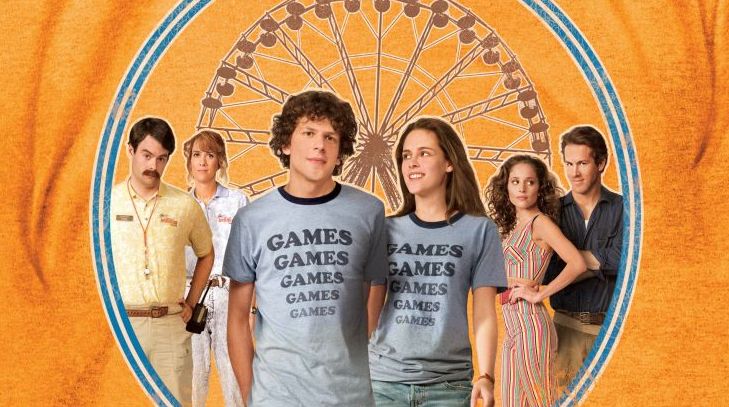 Review: Adventureland (2009)

FourStarFilmFan Oddly enough, the same year the cult favorite Zombieland came out there was another film starring Jesse Eissenberg, also set in a theme park, that did not seem to get as much acclaim. That film is, of course, Greg Mottola's Adventureland, a coming of age comedy drama which I actually enjoyed a lot more than his previous effort Superbad.
Adventureland is the basic graduate, boy meets girl, summer job formula. Undoubtedly we've seen it before in many forms, but Jesse Eissenberg makes it work again as James Brennan, a high school graduate living in Pennsylvania circa 1987. With little money under his belt and his father getting a pay cut, the only choice he has is to get a summer job. He's an extremely bright kid. Good at mathematics and the like, but he also has little real world experience so his last resort is the local amusement park Adventureland.
Instead of an interview or a resume, they look him over, take down his name, and hand him a t-shirt. And so begins his reign as a games booth attendant for Bobby and Paulette (SNL vets Bill Hader and Kristen Wiig playing their typically lovable weirdos).
The staff is rounded out by an eclectic mix of misfits and characters steeped in folklore. There's the constant jerk of a best friend Tommy Frigo. The bespectacled wisenheimer Joel who also has a penchant for high end literature. The legendary and alluring Lucy P. who is the park's eye candy. Mike Connell the parks handy man and part time musician who is rumored to have played with Lou Reed.
But the most important character, for the purpose of this story, is Em who also works in the games department and saves James from literally being stabbed by a shifty customer over a giant stuffed panda. There's nothing overly romantic about it at first, and that's what makes it so intriguing. He's not the kind of guy who has a lot of experience. School was his forte. Em is cool, collected, and went around with a lot of boys during high school. She's been around the block as well as watching her mother die. She's in many ways more wise to the world than Joe.
But she openly invites him into their little community, extending an invitation to a party she is having at her place. He never could imagine being so lucky, but to Em it's not a big deal. His mind is racing, and he cannot help but get excited about this amazing new girl he has met. Em is sleeping with Connell who is struggling in his marriage. This looks to be very messy in the foreseeable future.
It is. Em and James share their first kiss, and it's magical like it's supposed to be. It all moves so fast and James has heightened feelings for her. But she wants to take it slow with all the crap still in her life. It's seemingly understandable, but it's not what James wants to hear. She's so hard for him to read.
On the advice of Connell, James accepts Lisa P's invite on a date, because, after all, it's any boys dream to go out with her. But afterwards, being the kind of guy that he is, James feels almost unfaithful and candidly shares his actions with Em. She thanks him, but her own rendezvous now weighs on her mind. She looks to end it with Connell, but of course James finds out and it hurts him like nothing ever has.
It's at this point in the story that the downward spiral begins. James turns to Lisa P. as his confidante, but the news of Em gets out and she quits, moving away to New York. A downtrodden James has little more to do but get drunk, and it does not bode well. All the money he tirelessly worked for ends up going down the drain. But he ends up going to New York anyways, to take a chance on a girl, because he is overwhelmed by his feelings, but he also sees Em differently than she even sees herself. She is far from a perfect human being, but she is someone who cares about her friends and loved ones. So although she is a mess-up, James sees only the good in her.
Really the only reasons to set this film in the '80s was nostalgia sake and then you have a better excuse to have a classic soundtrack of oldies. And it did the trick because I did enjoy the film for the most part and it reminded me somewhat of the Way Way Back. It's another film about a summer job at a theme park in the '80s which would feel exactly the same if it was not for the standout characters that make the story interesting.