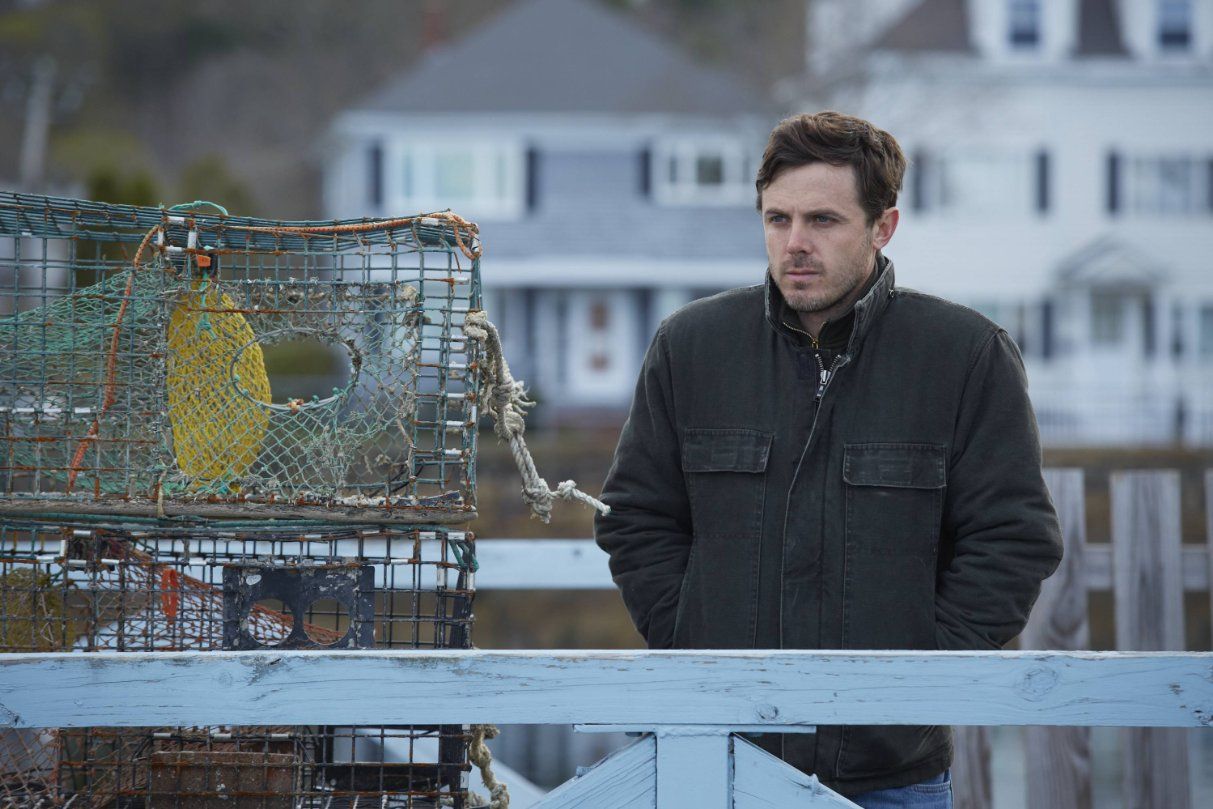 Review of Kenneth Lonergan's Manchester by the Sea.

ScreenCamille I don't know much but I know if Casey Affleck doesn't get the Oscar for this role then the Oscars are even more corrupt than I thought they were.
Casey Affleck has proved to us he's more than Ben's little brother. He shone in Gone Baby Gone, The Assassination of Jesse James, (his shameful 30 minutes of screen-time in) Out of the Furnace and now Manchester by the Sea. He has developed a reserved yet powerful acting style that hits hard when he wants it to.
In Manchester by the Sea he plays the role of Lee Chandler, a Boston Janitor who is forced to uproot his solemn life when the news hits him that his older brother Joe has passed away and left behind a will that details that Lee is now guardian of Joe's son Patrick. Joe's death hits Lee hard and he has to return to his hometown where a lot of dark and deeply repressed memories come to the surface.
The film is like an IV connected to us, each piece of new information drops slowly into our blood stream making us more alert to the main character's situation. I've read other reviewers who thought that it was a bit too long and slow, to me I could have watched Lee Chandler for another solid day and a half. It sent me into a small trance and leaving it seemed sad for a moment. It is a beautifully crafted and edited together film.
The script is one of the shining features of this film. The script weaves and intertwines and balances everything together. It is told using flashbacks which appear abruptly and suddenly in the narrative. This was a great decision by Lonergan because this is how we think in reality, there's never a set time or cue to begin thinking about the past, it just happens.
Lee's life is so awful. It is gut-wrenching to watch. Too many scenes were physically painful and realistic despite their obvious cinematic embellishment. But the pain felt by the main character is never embellished, it enveloped the whole film in a shroud of agony. The camera holds on his face just long enough and not more. We wait for this stoic man to finally feel, to let out his sadness and it is fascinating and engrossing to watch unfold. I loved that this film didn't shy away from showing a man cry. Men cry, get over it.
Although the setting is realism cinema at its finest, the gratuitous extra shots of beautiful snow falling felt tacked in and unnecessary. The film doesn't hold back from visually telling you how beautiful yet painful this place is in similarity to how Lee is feeling inside. We see him standing next to empty fishing crates and the symbolism is clear.
Manchester by the Sea will be released in November in the US and has just had a successful run at the London BFI Film Festival.