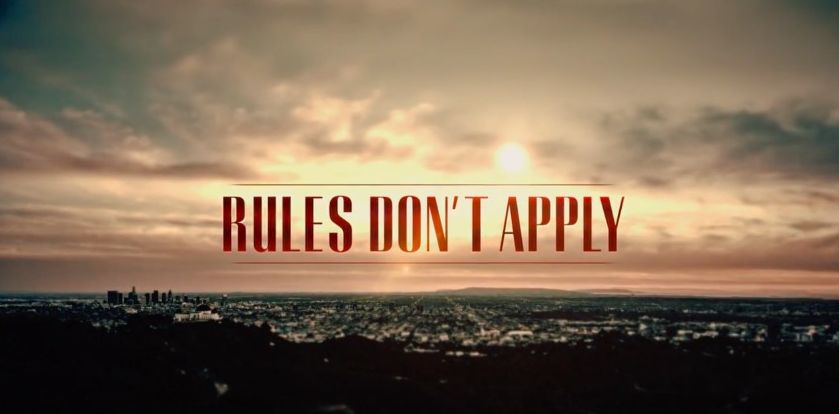 "Rules Don't Apply" Review

LightsCameraJackson Critic The story of how "Rules Don't Apply" got made is worthy of its own movie. Writer, director, producer and star Warren Beatty (now 79) had wanted to portray Howard Hughes's life on the big screen for 40 years, ever since he encountered Hughes at a Beverly Hills hotel in 1973. Beatty signed a contract with Warner Bros. in the 70s to do a Hughes movie, but complications and postponements kept delaying the production.
Flash forward to 2011: Beatty meets with numerous actors to try to fill roles for the project, which is now at Paramount. In early 2014, FOX and New Regency take over the project, and shooting finally begins. It's surprising that a movie that's been in the can for two and a half years has so many editing and structural issues. However, thanks to Beatty, after all these years, nailing the role he so desperately wanted to do, "Rules Don't Apply" is worth taking a flyer on.
Unlike Martin Scorsese's "The Aviator" (2004), which starred Leonardo DiCaprio as a young Hughes, "Rules" focuses on the billionaire's later years, specifically between 1958-'64, when he was all but running both Hollywood and the airplane industry. Lily Collins ("The Blind Side", "Mirror Mirror") plays Marla Mabrey - a young Virginia pageant winner who moves to Hollywood to make it big in the movies. She's one of over two dozen actresses who Hughes has under contract. Each has their own fancy house in the Hollywood hills and their own personal driver.Marla's driver is Frank Forbes (played by Alden Ehrenreich, who earlier this year co-starred in "Hail, Caesar!", the Coen Bros.' movie about movies, set in the 50s). He's just been hired by Hughes and he and Marla immediately hit it off. But Hughes has a strict rule that drivers can't get romantic involved with any of his actresses. No one knows whether or not Hughes himself is sticking to that policy.
The biggest problem with "Rules Don't Apply" is that Beatty tries to make two movies in one: a romance and a biopic. The more interesting material, by far, involves Hughes - his obsession with not being seen, relationships with his assistants, his passion for flying. This is the film's greatest strength. And Beatty is quite convincing as the unstable eccentric, conveying both genuine comedic and dramatic emotion. It's too bad Beatty didn't do a straight "Howard Hughes - The Later Years" movie, but I'm sure he felt he needed the younger plot and performers to make the film more bankable.
"Rules" has more big stars playing bit parts than any movie I can remember: Alec Baldwin, Ed Harris, Martin Sheen, Oliver Platt, Paul Sorvino and Steve Coogan don't have a total of 10 minutes of screen time combined. Candice Bergen is in the background in a number of scenes as Hughes's assistant. Beatty's real-life wife, Annette Bening, is very good in some early scenes as Marla's mother. But it's Matthew Broderick who has the most prominent supporting role as a driver and Hughes's gopher.
If you're looking for insight in the movie industry in the late 50s and early 60s, "Rules Don't Apply" is NOT that movie. Though far from dull, it doesn't sparkle as much as Beatty had likely hoped. And the tone is scattered, bouncing from very light to serious and sad. The fact that Collins and Ehrenreich aren't the most compelling on-screen couple of the year also doesn't help.
Howard Hughes was a man who took chances and was wildly unpredictable, including with the films he made, such as "Hell's Angels" (clips of which are shown multiple times). I wish Beatty had adopted that same spirit with his dream project, but instead he's created an acceptable, but highly conventional Tinseltown soap opera.