'Serenity' Review

LightsCameraJackson Critic Steven Knight is a fascinating guy. First he was a TV series writer. Then he co-created a game show. But not just any game show: the original, British version of "Who Wants to Be a Millionaire?" Then he started writing screenplays. And then he decided to direct films.
Five years after the release of his 2014 drama "Locke" (one of the first films distributed by the now highly successful A24), I still tell people about it whenever I can. That film is simply brilliant. Tom Hardy driving in a car for 90 minutes. Who knew that concept would work? Steven Knight.
So my expectations were fairly high going into Knight's follow-up directorial feature, "Serenity". The film was originally set to open last October. But Aviron Pictures (which hopes to follow A24's success path) decided to move it to January to avoid direct competition with, among others, "Halloween". It was a smart move, even though January is traditionally the dumping ground for bad movies.
As "Serenity" begins, we meet Baker Dill (Matthew McConaughey). He's a down-on-his-luck fisherman living on remote Plymouth Island. In the opening sequence, Dill is looking to catch the big one – a massive tuna that's escaped him several times. This scene is fairly choppy in the editing department and overall feels rather awkward.
That same, jagged, borderline odd vibe is fairly consistent over the first half of "Serenity". Other key characters enter Dill's world. Djimon Hounsou plays his first mate. Diane Lane is his island lover and financial backer.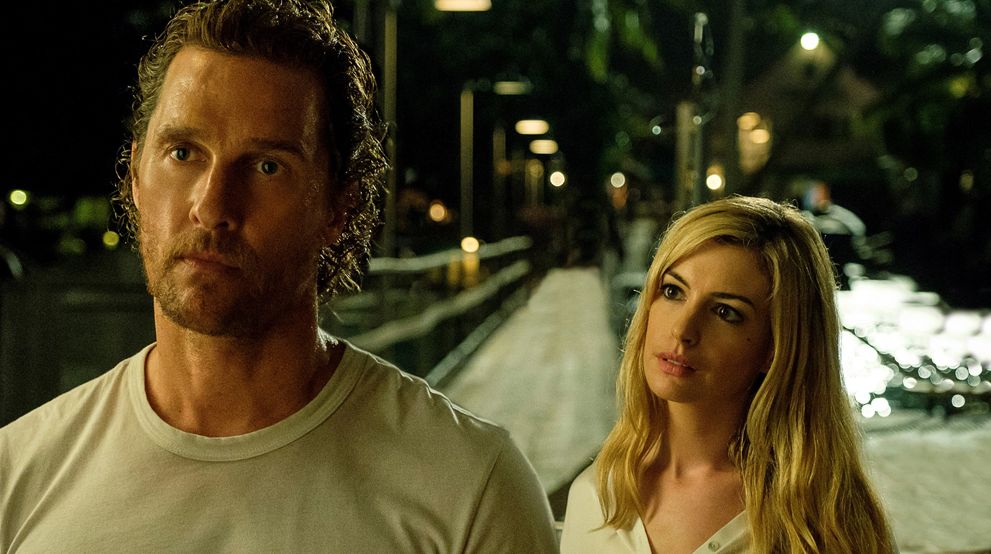 And then… Anne Hathaway's Karen enters the picture. She wants to hire Dill to take her husband (Jason Clarke) on a fishing trip. At this point Knight could have taken his story in several different directions. He choses the most unexpected one possible.
This major shift goes way beyond the impact of a single twist. Once we, and Dill, figure out what's really going on, everything begins to make sense. This includes the weird vibe of the first hour, Hathaway's intentional over-acting, why McConaughey is often butt-naked (yes, ladies, it's a lot), the odd characters who seemingly don't belong and why everything feels rather… cyclical.
And that's all I'll say. The important thing is to stick with "Serenity" (against your better instincts) and allow it to work.
By the end, you'll realize that Knight has crafted a well-intentioned, wholehearted and quite human story. He reveals truths about relationships and personal connections in a much more successful way than Christopher Nolan did in McConaughey and Hathaway's previous collaboration, "Interstellar". And leaving the theater you'll have a greater appreciation for all the performances than you had while watching the movie.