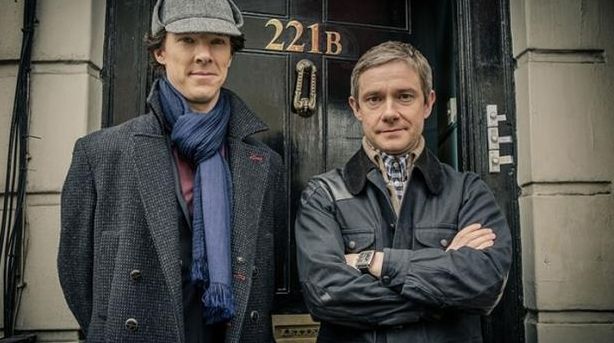 Sherlock 4 Officially Begins Filming.

NadiaA71 Just days after wrapping up Marvel's Doctor Strange, British actor Benedict Cumberbatch is back in the UK to start filming the long-awaited fourth installment of Sherlock.
Co-writers and Executive Producers Stephen Moffat and Mark Gattis announced: "Sherlock' series four – here we go again! Whatever else we do, wherever we all go, all roads lead back to Baker Street – and it always feels like coming home. Ghosts of the past are rising in the lives of Sherlock Holmes and John Watson bringing adventure, romance and terror in their wake. This is the story we've been telling from the beginning. A story about to reach its climax…"

Meanwhile, through a press release, (and less cryptically) the BBC announced that series 4 begins with the nation's favorite detective, the mercurial Sherlock Holmes back once more on British soil as Doctor Watson and his wife Mary, prepare for their biggest challenge - becoming parents for the first time.
Sherlock 4 will air three, 90-minutes long episodes. The first episodes will be directed by Rachel Talalay who had previously directed Doctor Who series 8. No confirmation yet as to when the series will air but previously, the series premiered in December in the UK and early January in the US.


src: denofgeek.com