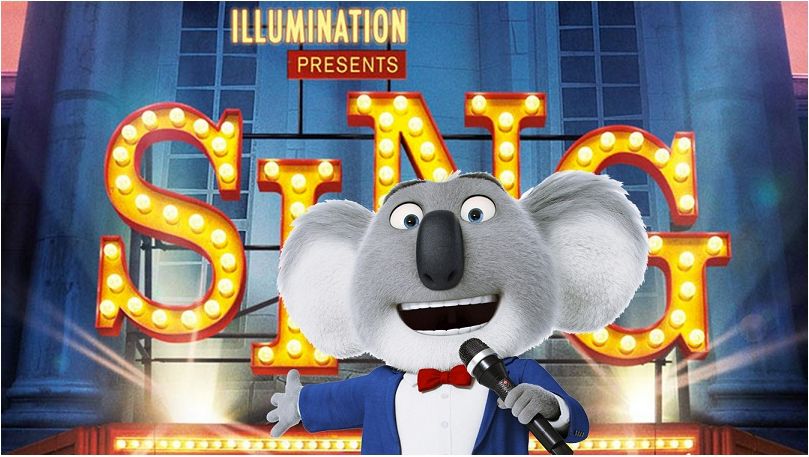 "Sing" Review

LightsCameraJackson Critic In the world of "Sing" (as is the case with this spring's "Zootopia"), animals talk, behave and live like humans. As a young child, koala bear Buster Moon loved going to the theatre with his dad. Years later they decided to open The Moon Theatre. But after countless grand productions, Buster finds himself with an old, rundown theater, no shows anyone wants to see and no money in the bank. However, he has a plan: to hold a singing competition. His best friend Eddie replies, "Who wants to see another one of those?"
With the numerous singing competition TV shows - "American Idol", "The Voice", "America's Got Talent", flooding the airwaves the past decade, you might be thinking the same thing - that this is a very unoriginal idea for the animated film. But here's the thing: "Sing" is more entertaining than the last five seasons of all of those shows combined. Don't let the marketing of this movie fool you. This is not an overly commercial, pop-music, techno-blasted, loud and overwhelming throw-away. It's one of the smartest, sharpest, and most heartwarming movies of 2016.
In the voice acting profession, no one has had a better year than Matthew McConaughey. He follows-up an excellent performance as Beetle in "Kubo and the Two Strings" with a masterful turn as Buster. McConaughey sheds his deep, highly-recognizable real voice for a lighter, more ordinary version, which allows for some true voice acting. His character experiences ups and downs throughout the film, and McConaughey provides Buster with a sense of optimism throughout, which is vital to the soul of the story.
Among the finalists in the $100,000 competition is Rosita (a pig) - loving wife and mother to 25 piglets. She's voiced by Reese Witherspoon. Rosita gets paired with fellow pig (and self-accredited dancing machine), Gunter (Nick Kroll). Also competing is a teenage porcupine named Ash (Scarlett Johansson). Seth MacFarlane (not just the "Family Guy" mastermind, but also a talented singer) was the perfect choice for the Mike the mouse, who gets to belt-out "My Way" and a few other classic standards. Taron Egerton ("Kingsman", "Eddie the Eagle") voices the gorilla, Johnny, who plays the piano and sings the contemporary, Sam Smith-type ballads. And finally, singer Tori Kelly lends her voice to Meena, an elephant who would desperately wants to compete - but is too afraid. In fact, all of the contestants have baggage (physical and emotional). It's these stories that give "Sing" its power.
Along with the soundtrack, which is historic. Early reports claimed that Universal had secured the rights to 85 songs for use in the movie. During the closing credits, I counted only 65 - though I admit the phrase "ONLY 65" is ridiculous. The modern chart-toppers are covered, from Taylor Swift to Katy Perry, plus two hilarious scenes involving Carly Rae Jepsen's "Call Me Maybe". Johansson has an original tune, "Set it All Free", and Kelly's rendition of Leonard Cohen's "Hallelujah", just weeks after his death, is powerful. Between "Sing", "Sing Street", "Trolls" and "La La Land", Soundtrack of the Year is a toss-up.
Nearly every genre is covered - and poked fun at. There are also plenty of jabs at show business and the behind-the-scenes nature of singing and talent competitions. The majority of the humor is sophisticated and mature, including a hysterical (and borderline offensive) running gag involving an international singing group. Writer/director Garth Jennings ("Son of Rambow") made another great call by completely avoiding the element of judges, as the story plays-out perfectly without them. Some of the subplots involving the contestants and their whereabouts in between rehearsals do drag in spots ("Sing" runs 1:50), but the build-up and anticipation of the show keep you fully invested, and the final production doesn't disappoint.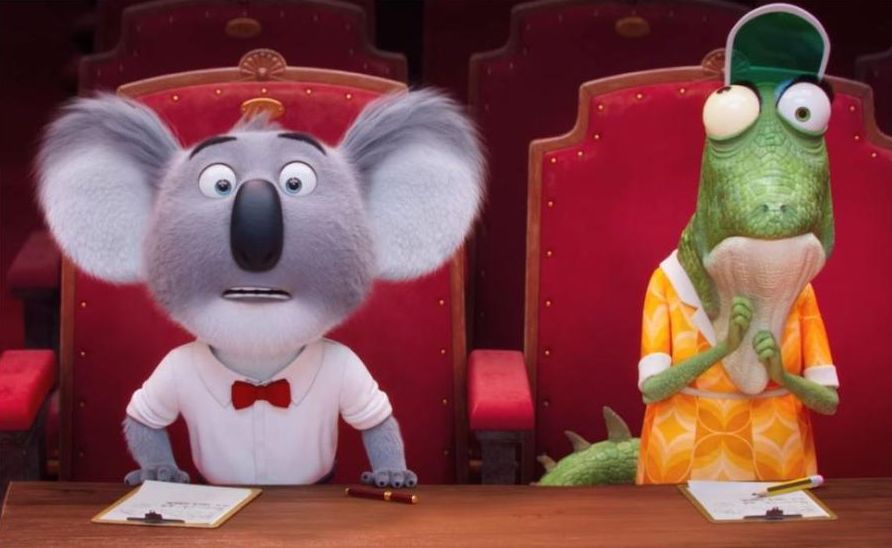 But what's most impressive about "Sing" is its dramatic, emotional core. Like "Zootopia", "Sing" wasn't designed specifically for kids. It's a story about real people dealing with real issues and pressures - that just happens to be set in an animated, talking animal universe. The songs are matched perfectly with each contestant's situation, and Buster's motivations for putting on the show run quite deep. There's a sequence involving water, accompanied by Jennifer Hudson rendition (you'll know it when you see it), that's executed with such legitimacy and conviction it's absolutely heartbreaking.
While the musical performances will surely be the highlights for kids who see "Sing", it's the humor and heart that will impact older audiences. 2016 - arguably the best year in the history of animated films - ends on a sensational high note.