"Snatched" Review

LightsCameraJackson Critic 2015's rom-com "Trainwreck" wasn't a great film, but the script from star Amy Schumer had plenty of winning comedic and dramatic material - not to mention relatable characters and believable situations. "Snatched" is Schumer's first film since "Trainwreck". While there are a lot differences between the two, the biggest is that Schumer didn't write "Snatched", which may allow her to avoid any major career damage caused by this mess of a movie.
Schumer plays the irresponsible, self-centered Emily. She's planning to go on vacation to Ecuador with her boyfriend, but when he dumps her, and she can't find anyone else who wants to go, she decides to ask her mom to join her. The great Goldie Hawn, who hasn't been on the big screen in 15 years (2002's "The Banger Sisters") plays Emily's mother Linda. She's way too overprotective of both her children (adult son Jeffrey still lives at home). Mom's hesitant about going on the exotic trip, but ultimately gives-in so she can spend more time with her daughter. The two eventually get "snatched" by some South American bad guys (though it's never clear why) and the rest of the film is a series of escapes and captures as they try to find their way to safety.
One of the best things about "Snatched" is that it goes by in the blink of an eye, thanks to a running time of only 90 minutes. Unfortunately, there's almost nothing on screen during that time to make you laugh.
Screenwriter Katie Dippold deserves much of the blame. She collaborated with Paul Feig on 2016's clever "Ghostbusters" reboot, but went solo on 2013's "The Heat", another unsuccessful action comedy. Here, once again, she could've used some help, as "Snatched" is extremely weak in the story department. The majority of the scenes are flat, with absolutely no payoff. We saw hints of this in the trailer, but I was hoping that was the fault of the guy who cut the trailer. Turns-out he just didn't have any good material to work with. So you simply sit and watch these boorish characters and their foolish behavior - and none of it is funny. "Snatched" numbs you into blah boredom.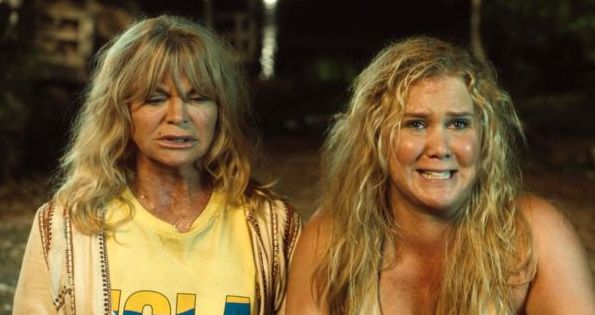 Thankfully there are only a couple of extremely uncomfortable moments - the highlight being a sequence involving a tapeworm that is cringeworthy for all the wrong reasons.
Wanda Sykes and Joan Cusack play fellow tourists who seem to belong in a different movie. A subplot involving "Law & Order: SVU" star Christopher Meloni as a jungle explorer is one of the film's few clever elements, but even this isn't executed properly.
Schumer tries to add her trademark style to the bland material, with very limited success. The biggest crime is perpetrated on Hawn. The Oscar-winner and true Hollywood icon gets almost nothing to do here, mostly reduced to hovering in the background. Now that the film is out she probably wishes she was a lot further in the background.
Next-up for Schumer: a role in the PTSD war drama "Thank You for Your Service", out later this year. A serious film role may be a wise direction until the comedian has the opportunity to write another comedy for herself.