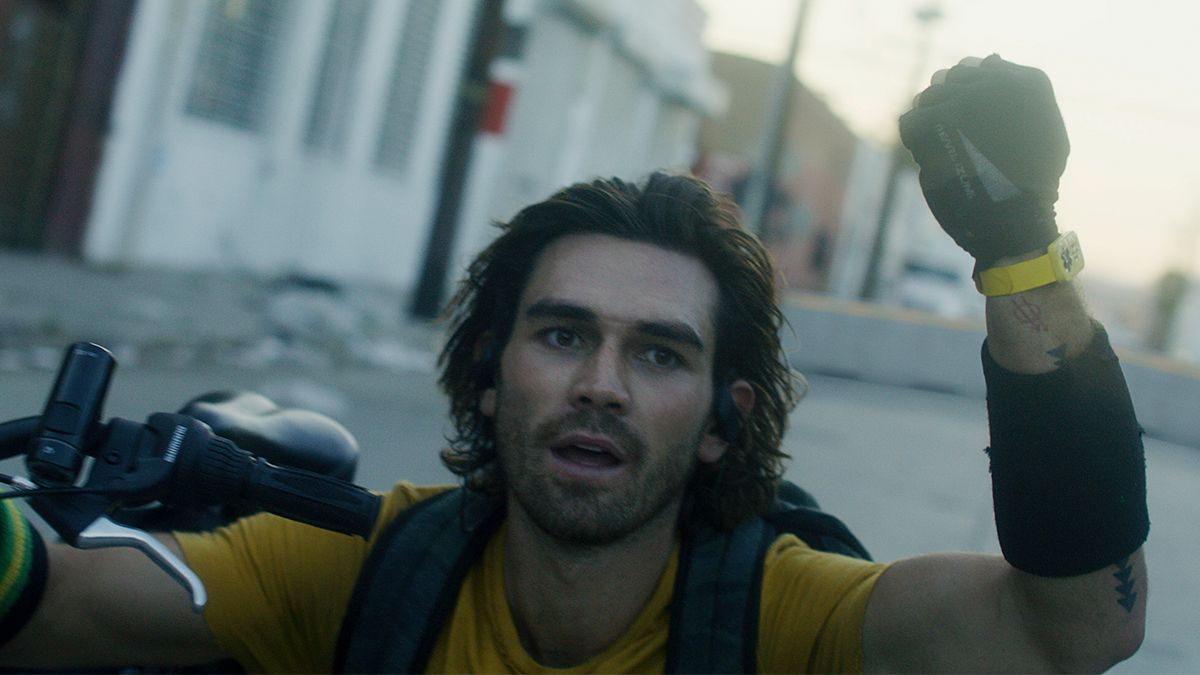 'Songbird' Review

LightsCameraJackson Critic When the COVID-19 virus reached North America in March, Adam Mason and Simon Boyes immediately got to work on a script set a few years in the future with some "What if?" scenarios. They quickly added key people to their creative team, including producer Michael Bay.
By early July, "Songbird" was filming in Los Angeles. It was the first major movie to shoot during the pandemic… and it just happens to be ABOUT the pandemic. Production wrapped in early August, and now the movie's here. And it's surprisingly good.
Mason, who also directed, has made a film that doesn't feel rushed or thrown together. Parallel storylines of L.A. residents trying to survive the 2024 version of the pandemic (which features a mortality rate of 56% and a COVID strain (23) that kills within hours) all have substance. And the cast delivers solid performances across the board, led by "I Still Believe"'s K.J. Apa as immune bicycle courier Nico. His plan is to flee LA with true love Sara (Sofia Carson) and head to a safe location. But the city's in total lockdown, so Sara needs an immunity bracelet to leave. And getting one of those isn't easy.
The ensemble also includes Demi Moore and Bradley Whitford as a wealthy husband and wife with an at-risk child, Craig Robinson, as the city's top delivery service owner and Paul Walter Hauser ("Richard Jewell"), who plays a military vet who hasn't given up the fight. All are convincing. Alexandra Daddario is also quite good as an internet singer trying to help others while also doing whatever it takes to stay alive.
"Songbird" is a legitimate action thriller, complete with chase sequences, plot twists and palpable emotion. There's suspense, intrigue and characters you latch onto. It may take the first half hour or so to get past the eerie similarities (though extreme) with what Americans are currently dealing with due to the second wave of COVID-19. But this reality check makes the script even more relatable.
Obviously, many people will not want to watch "Songbird — now or ever. And that's completely understandable. But this film deserves to be seen. All things considered, this is one of the most impressive moviemaking achievements of the past 25 years.