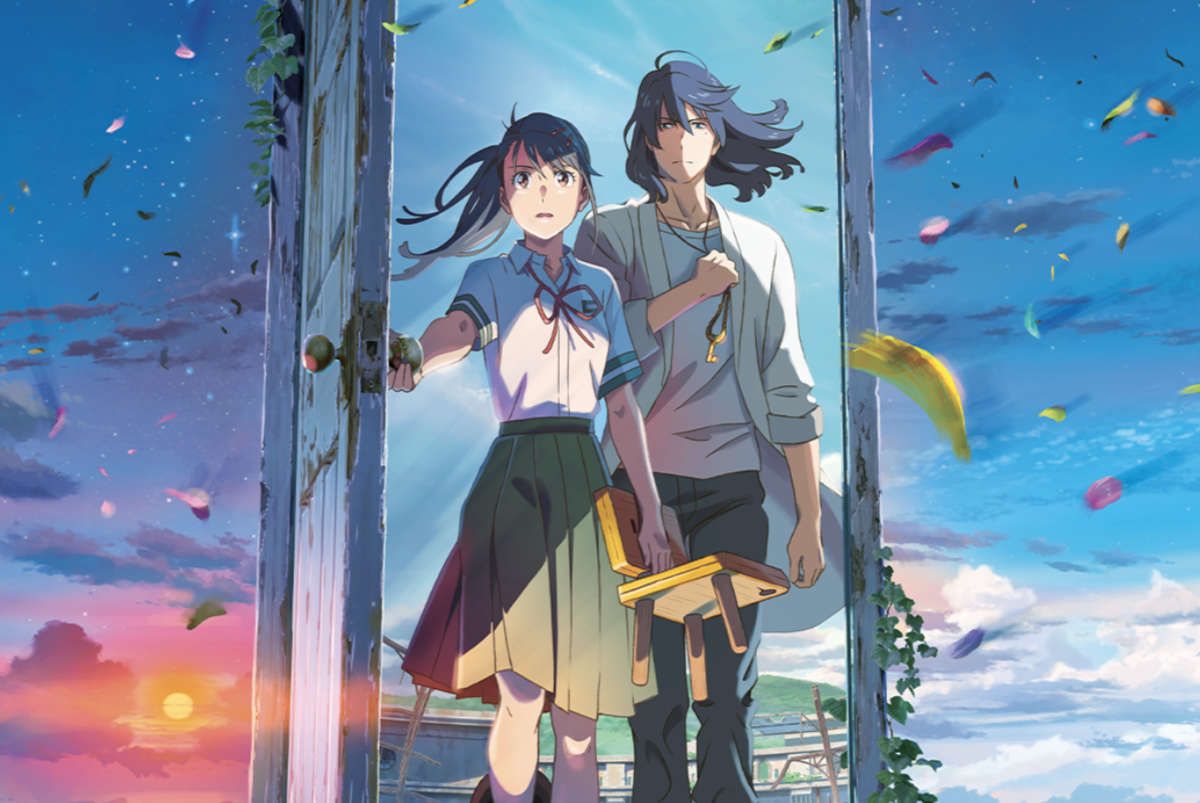 'Suzume' Review

LightsCameraJackson Critic The breathtaking, epic love story, "Weathering with You" was my favorite animated movie of 2019. Makoto Shinkai, the writer/director of that Annie nominee, as well as 2016's acclaimed "Your Name", returns with another triumph. "Suzume" is a spectacular anime adventure that makes you believe in the unbelievable.
Bicycling to school one morning, the teen girl title character encounters a wandering man named Souta. He's looking for hidden ruins which contain a door. The two form an instant, but brief connection. But they soon meet again — at the door, which is a portal with incredible powers. When opened, the door allows you to see into your past. But it also serves to hold back a storm of destruction. We learn Souta's mission is to travel throughout Japan, find these doors, and prevent them from opening and unleashing their deadly fury — in the form of large, red worm-like creatures. Only Suzume and Souta can see them. Everyone else experiences these events as earthquakes.
"Suzume"'s opening sequence, in which Suzume and Souta attempt to close this first door, has the intensity of a climax. This is when you know you're in for something special.
Not long after, a talking cat named Daijin comes on the scene and transforms Souta into the small, three-legged chair Suzume's mother made for her when the girl was a toddler. (Think Lumiere and Cogsworth from "Beauty and the Beast" — but with a much deeper tone.)
Suzume ditches school, and she and Souta (as the walking, talking chair) go on a quest to find the elusive Daijin. Along the way they encounter new friends, while attempting to close more doors and prevent more earthquakes. Anticipating when the next critical event will take place is truly the only 'predictable' part of Shinkai's complex screenplay. Emotional, historical and spiritual forces swirl around every element in every scene. Yet, the story is so grounded and so laser-focused on basic, human truths that the bizarre happenings… just don't seem so bizarre.
As is the case with Shinaki's other films (and the best anime),"Suzume" also features some lighter moments. But, ultimately, this is a mature film about growing-up and discovering one's true self. It challenges us to look into our past (even at the most difficult moments) and muster up the confidence to make new memories. This is a hauntingly beautiful movie, with the year's best score/soundtrack and transcendent animation.
"Suzume" is already a huge hit in Japan, China and South Korea. Expect a similar impact in North American theaters beginning this Thursday, April 13th.