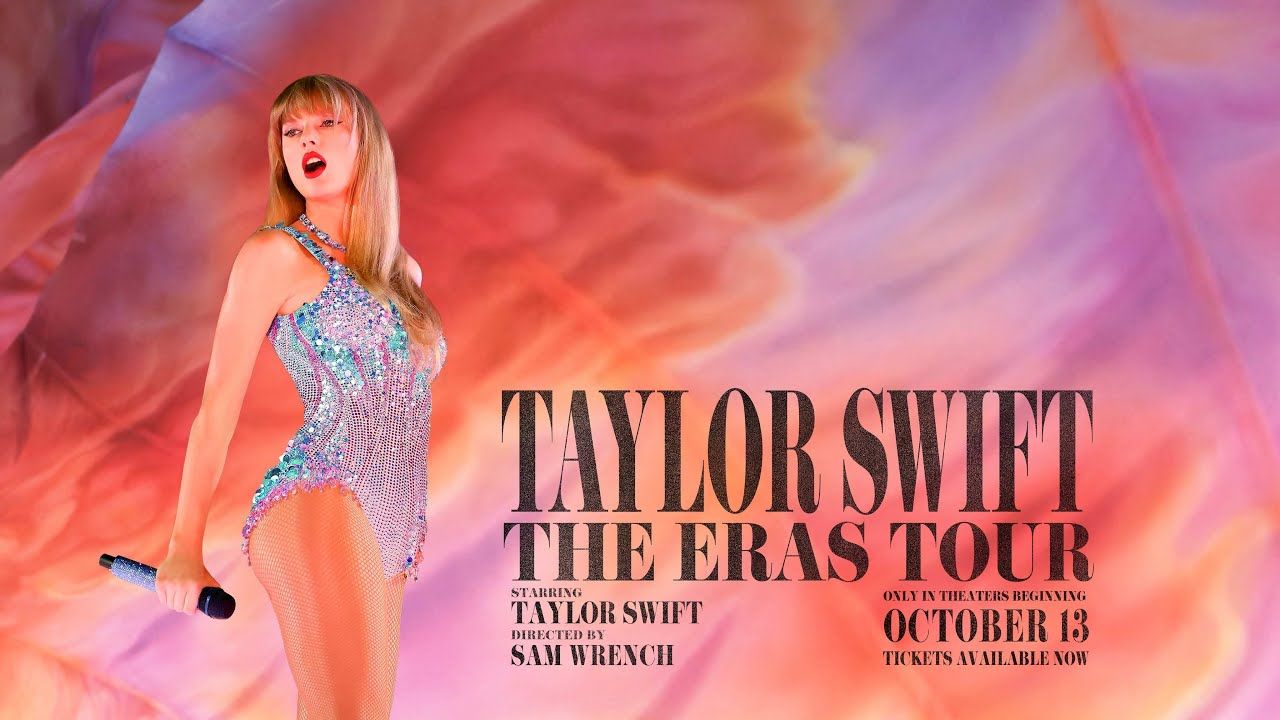 'Taylor Swift: The Eras Tour' Review

LightsCameraJackson Critic I've always had a great amount of respect for Taylor Swift. Growing up, her music was dominating the charts and the radio. She was also venturing into the movies, with a voice role in "Dr. Seuss' The Lorax" and song contributions to "The Hunger Games" and "One Chance", both earning Golden Globe nominations. Tunes like "Mean", "You Belong with Me" and "Highway Don't Care" made her a superstar on the country scene before she switched over to pop.
When I was in high school (around the time Swift appeared in "The Giver"), a friend of mine asked me if I was pro or anti "Shake It Off". I was pro. It was a catchy song with a strong message. Swift seemed to always be in the news and on the covers of tabloids for her latest boyfriend or break-up. I gained even more respect for her after watching the 2020 Netflix documentary "Miss Americana". It's an excellent, modern-day, on-screen memoir about a fascinating, smart, hardworking, creative and talented person who built an empire and a loyal following, overcoming a lot of personal and professional struggles to reign supreme in the entertainment scene.
"Taylor Swift: The Eras Tour", her new theatrical concert film, appropriately opens with the song "Miss Americana & the Heartbreak Prince". A couple minutes later, as thousands at SoFi Stadium in Inglewood, CA cheer as loudly as possible, Swift is standing and taking it all in, with a big smile. She deserves it. She thanks everyone for their love and support and is especially grateful to her fans for the ability to be an artist in multiple genres. "The Eras Tour" is a 40-song showcase of her catalogue as we journey through 17 years of music, one era at a time.
Swift's August 2023 SoFi concerts were the final U.S. ones on this part of the tour (which goes global and, with a few breaks in between, runs through November 2024). It's quite an accomplishment to get a 168-minute concert on the big screen just two months later, especially one that looks fantastic, with flawless sound work and such seamless editing.
"The Eras Tour" is a technicolor, pyrotechnics spectacular from start to finish, with grand set pieces and visuals. But it's also an intimate experience. Director Sam Wrench presents a lot of tight, smooth camerawork as Swift is constantly on the move from one part of the stage to another. One of my favorite aspects of "The Eras Tour" was watching the dancers participate in on-stage stories that accompany many of Swift's songs.
Some audience members at the screening I attended sang along and put their hands in the air during appropriate moments. A few families applauded after nearly every song. I joined-in on the clapping after two songs — 10-minute "All Too Well" and one of the early ones that put her on the path to stardom thanks to incredible songwriting skills, "Love Story".
I had seen the moment with Swift and Bianka Bryant (the late Kobe Bryant's daughter) on social media, but it was a moving highlight of this movie too. I had not heard most of Swift's "Folklore" songs before. They were pretty good. Her songs from movies, including "Beautiful Ghosts" from "Cats", "Only the Young" from "Miss Americana" and "Carolina" from "Where the Crawdads Sing", don't make the cut, which didn't surprise me. Thought this would mostly be bigger or more fan-favorite hits, though not all of the No. 1's were chosen.
I'm a little surprised the concert (and the movie) ends with three or four tracks from "Midnights" that (sorry, diehard Swifties) don't pack much of a punch. Even after a show-stopping three hours, you've got to end on a high. I left the theater a little more down than I wanted to be, yearning for a finale with something on the same emotional level as either a big anthem like "ME!" or Swift's brilliant performance of "Cornelia Street" from her "City of Lover: Live from Paris" 2019 concert / 2020 TV special.
It's worth staying through the end credits for some photos and video clips of fans at these concerts and unexpected funny moments of Swift on stage. But don't expect any backstage / behind the scenes / true music documentary footage. This is a pure concert movie that was swiftly made for the fans… and to make money. Swift and her team are pretty business savvy, and I'm sure they're popping champagne following the $96 million opening weekend.
This is quite a show and, while not perfect, absolutely worth seeing. Swifties and casual fans will feel like they're right alongside one of the planet's mega superstars the entire time.