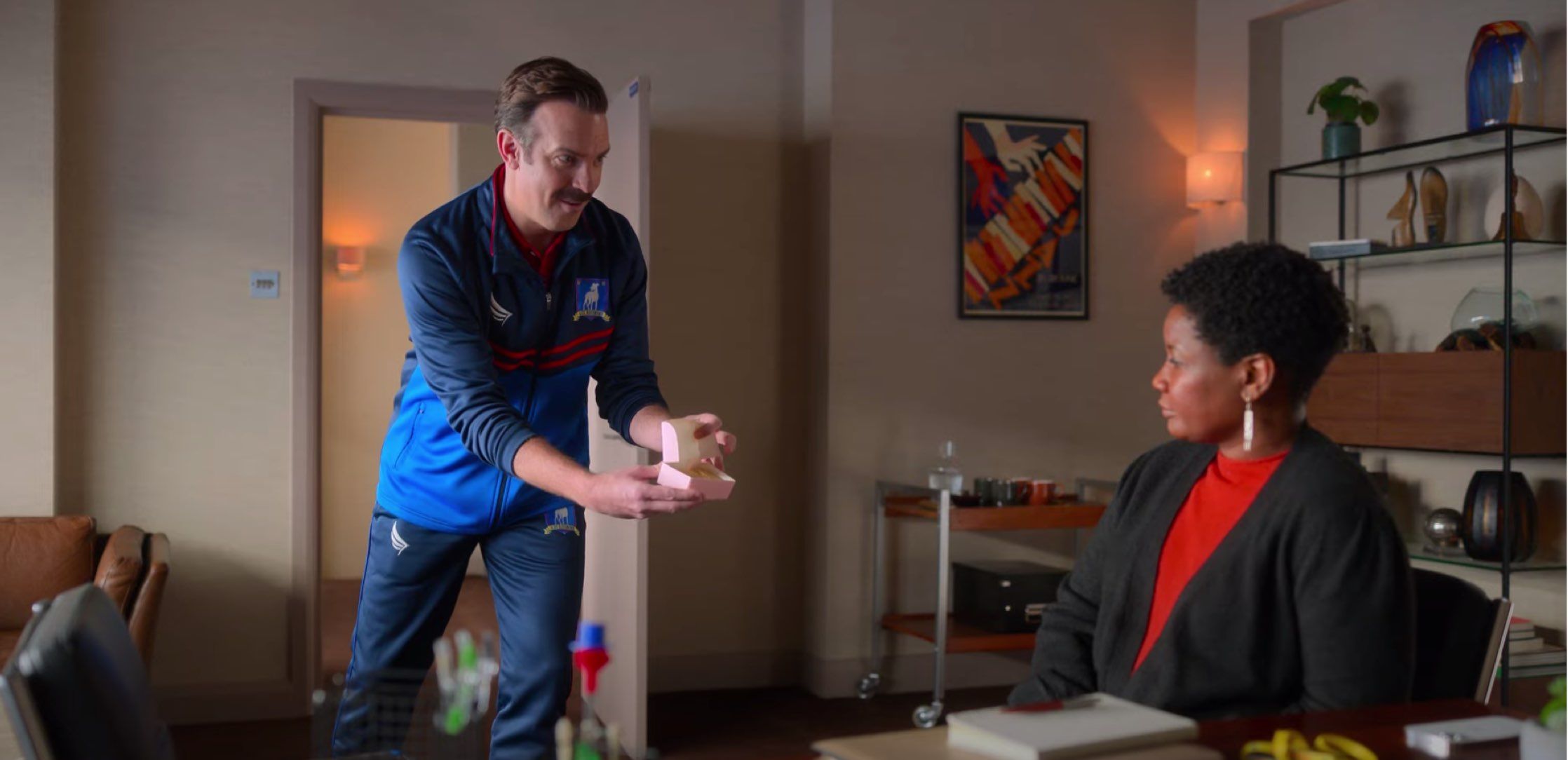 'Ted Lasso' First Half of Season 2 Review

LightsCameraJackson Critic The second season of AppleTV+ hit "Ted Lasso" kicks-off on Friday July 23rd. There will be a new episode every Friday for 12 weeks. I've already screened the first six episodes, so here at the halfway mark, I'm pleased to report that "Ted Lasso" is still very, very good.
HOWEVER: Season 2 is much different than Season 1. The tone is definitely more serious. A press conference with Jason Sudeikis' title character early on in the first episode lets us know that we've shifted from comedy to dramedy.
And Ted doesn't dominate the screen time. Sudeikis' presence is more limited, making way for others to shine. "Ted Lasso" already had a great ensemble, but you can now legitimately call this an ensemble series. Characters previously deemed "supporting" or "minor" are now given major storylines, including several of the AFC Richmond players.
Critics Choice Supporting Actress winner Hannah Waddingham shifts to Lead Actress territory as Rebecca is looking for love. Nathan (Nick Mohammed) is looking to boost his confidence and role on the team. We get more family life and backstory from Higgins (Jeremy Swift). And Juno Temple is as terrific as ever as Keeley. A Season 2 standout, without a doubt, is Brett Goldstein, who returns as firecracker Roy Kent. Goldstein's dialogue is consistently hilarious and some specific moments make for comedy gold.
Joining this club is Sharon (Sarah Niles), a sports psychologist brought-in to help out the team. The players immediately embrace her and she and Ted form a solid friendship as well. But will Ted actually need her counseling as he's still dealing with being so far away from his wife and son?
I can't go incredibly in-depth on specific episode storylines due to Apple review embargoes. But I can reveal (as you might've seen in the trailers) that there is a holiday episode. It's No. 4 (debuting August 13th) and it's an instant classic. I recently attended a film screening and was talking with a fellow entertainment journalist who completely agrees. There have been A LOT of sitcom holiday episodes over the years and "Ted Lasso"'s goes right to the top of the Nice List. I've already picked-out the moments that will make everyone on social media go crazy.
In a word, "Ted Lasso" Season 2 is more sophisticated than the completely bubbly, soccer-heavy, introductory 10 episodes. This time it's all about relationships and emotions. Sudeikis, Bill Lawrence and the show's other writers, EPs and directors are taking advantage of a big opportunity and a massive audience to go deeper with the characters and make some statements. I really like this second season so far and now anxiously await the second half.