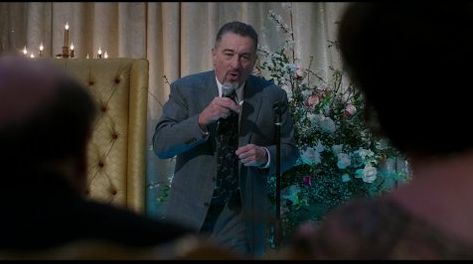 "The Comedian" Review

LightsCameraJackson Critic At 73, Robert De Niro is showing no signs of slowing down. Recently he's had some big highs ("Silver Linings Playbook", "The Intern") and tremendous lows ("Dirty Grandpa"), and some notable work in between ("Hands of Stone", "Joy", "Grudge Match", "The Family").
Now comes "The Comedian" - a rare movie that, following the end credits, literally left me speechless.Back in 1983 De Niro played one of his most memorable characters, the unstable, 'comic in his own mind' Rupert Pupkin, in Martin Scorsese's "The King of Comedy". In "The Comedian", De Niro is the most famous insult comic in the business, Jackie Burke, who's also known for starring role his 80s sitcom, "Eddie's Home", and his iconic catchphrase, "ARLENE!"
The term "shock comedy" certainly applies to "The Comedian" because this comedy is absolutely shocking. And not because of Burke's raunchy material (which may offend some), but thanks to the high number of drawn-out and embarrassing scenes, most involving verbal and/or physical confrontations. An altercation in the film's opening 10 minutes - Burke whacks a heckler in the face with his microphone - is what kick-starts our story. A video of the incident goes viral - and Burke is sent to jail for 30-days and ordered to serve 100 hours of community service at a NYC homeless shelter. Once released, Burke desperately needs to get his professional and personal lives back together.
Maybe, on paper, the idea of De Niro playing this character seemed like it a good idea. But veteran director Taylor Hackford steers this story in bizarre directions, rarely providing any genuine or funny moments, or having anything to say along the way. Burke occasionally hits his target with a sarcastic remark, but mostly his wisecracks fall flat. Yes, he's playing a 67 year old comic, but that doesn't mean all his lines have to sound like they're from the 1950's. The fact that De Niro has been trying to get this film made for most of the past decade may explain why the material feels dated, but it's no excuse for why the material is bad.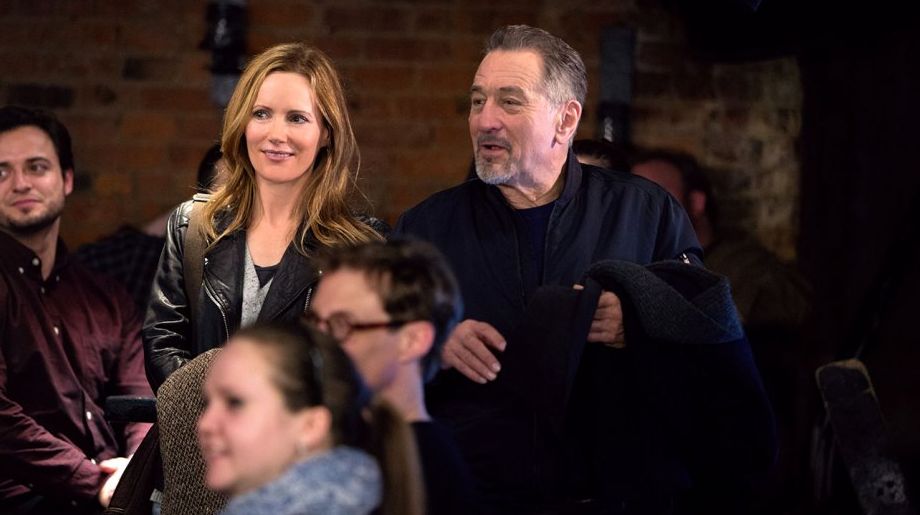 Edie Falco is well-cast as Burke's manager. She gives the best performance as the movie's only authentic character. Danny DeVito is hit-and-miss as Burke's brother. And Leslie Mann and Harvey Keitel are completely over-the-top and unbelieveable as a dysfunctional love interest and her father.
Four writers are credited with the screenplay, which provides Burke with at least half a dozen opportunities to perform full stand-up routines at comedy clubs, a wedding, a retirement community, the courtroom and even a roast at The Friars Club honoring 95 year old actress, May Conner (played by Cloris Leachman). She's a mix of Betty White, Joan Rivers and Meryl Streep - sweet, but feisty, and the winner of 3 Oscars AND 6 Emmys. That detail alone demonstrates just how wildly illogical the script is.
You know how, when watching a really funny movie, you're trying to remember some of the great lines so you can use them later. Well, while watching "The Comedian" you'll be constantly trying to forget lines (and complete scenes), but they'll just keep coming at you, right up to the finale, which is a solid contender for worst epilogue of the year.