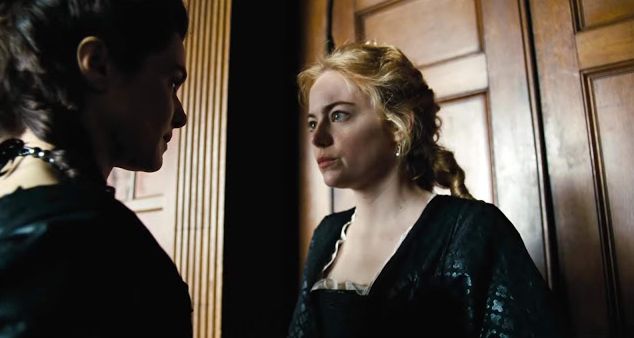 The Favourite (2018) Review

ASelenatorsView This award season's frontrunner?
The Favourite is directed by Yorgos Lanthimos (The Lobster) and written by Deborah Davis and Tony McNamara (Ashby). Set in the early 1700s, The Favourite stars Olivia Colman (Broadchurch), Rachel Weisz (The Constant Gardener) and Emma Stone (La La Land) as Queen Anne, Lady Sarah and Abigail Masham. "A frail Queen Anne occupies the throne and her close friend, Lady Sarah, governs the country in her stead. When a new servant, Abigail, arrives, her charm endears her to Sarah". It might be a period drama with a talented cast, but is The Favourite a legitimate contender this award season?
Award season is shaping up a little differently this year. Instead of countless indies with niche appeal competing with the occasional mainstream hit, smaller films like The Favourite are in contention with audience favourites such as Black Panther, A Star is Born, Mary Poppins Returns and Bohemian Rhapsody. Nevertheless, The Favourite remains a major contender thanks to excellent performances from its leading ladies and Robbie Ryan's beautiful cinematography. The Favourite is a sharp and witty comedy that creatively explores themes of love and power.
Olivia Colman (Queen Anne) is the frontrunner to win Best Actress this year and I would not dispute or be disappointed by this result. Despite debuting 19 years ago, Colman has been overlooked and underappreciated by the industry. Her performance as Queen Anne in The Favourite is deserving of its acclaim; Colman plays a bratty, rude and high maintenance Queen with a surprising amount of sophistication and depth. Colman has many hilarious one-liners but it was when she verbally attacked a servant for 'looking' at her that the audience erupted. The Favourite's depiction of Queen Anne represents her as self-pitying; she has multiple tantrums over trivial things (usually things that remind her of joy and happiness). However, Queen Anne's poor mental health combined with her traumatic past (losing 17 children) makes the character more sympathetic; a shattered, despairing and devastated woman is masked by an eccentric caricature and Colman's performance effectuates these nuances.
Emma Stone's Abigail is the character I found the most interesting. Abigail begins the film as a servant and ends the film as a married wealthy Lady. She is manipulative and cunning, using everyone around her as tools to climb closer to Queen Anne. Abigail is a self-serving servant to Lady Sarah (Rachel Weisz); while she appears helpful and selfless, she is secretly calculating how she can better herself. Abigail's muted sorcery is reminiscent of Alma (Vicky Krieps) from Phantom Thread, but The Favourite's writers and Emma Stone's performance make her an even more compelling character. Stone's rise to success is almost as exciting as Abigail's; who would have thought that the girl from Zombieland would soon become one of Hollywood's strongest actresses? Emma Stone adds another excellent performance to her portfolio. Stone has a great moment in one of the palace's corridors when she is pining after a Lord and is able to cleverly reverse the power ranking so that the Lord ends up pining after her instead. Abigail's power trip is eventually halted by Queen Anne in the film's divisive and discomforting final scene that reminds Abigail of her position - she is Anne's submissive pet.
Completing this trio of splendid performances is Rachel Weisz. Weisz's Lady Sarah has the opposite arc to Abigail; she starts off in a powerful position and soon faces her downfall. Weisz's character feels the most jealousy, anger and envy but her performance does not confuse these emotions with unlikable desperation; it is Weisz's tone of voice and subtle facial expressions that make these emotions known rather than the character becoming explicitly whiny and upset. Despite falling from grace, Lady Sarah also has some conniving moments where she outsmarts Abigail and is able to make her feel indignant (making Queen Anne laugh in the bathtub). While there is arguably less room for Weisz to shine, she still delivers a nuanced performance that is on par with her peers.
Films like The Favourite often have something distinct about them which elevates the material, ranging from the directing to the writing to the score. It is Robbie Ryan's cinematography that enhances the artistry of The Favourite. An otherwise Oscar bait period drama is transformed into a quirky and creative story of the love affair of three powerful women. Ryan's techniques (which include fisheye shots and wide angles) provide more depth, richness and a vaster view of the film's scenery and locations; Queen Anne's palace looks beautiful. Ryan's camerawork mixed with Lanthimos' always innovative directing has resulted in a period drama that feels fresh and new.
The Favourite explores the rise and fall of three powerful women: Queen Anne's royal status provides her with absolute power that she schemingly and shamelessly uses to her advantage, Abigail craves power and ruthlessly does all she can to climb the social ranking, and Lady Sarah struggles to latch on to her fading power. While this could have easily felt like the story of three desperate and shallow women, Davis and McNamara's slick script represents these ladies as wicked, wacky and wily. The Favourite wouldn't work as well as it does without Yorgos Lanthimos, Robbie Ryan, its cast or its writers. Colman, Stone and Weisz all deliver some of their best work. The Favourite has three of the finest female characters and performances of 2018, it's a shoo-in this award season.
82/100