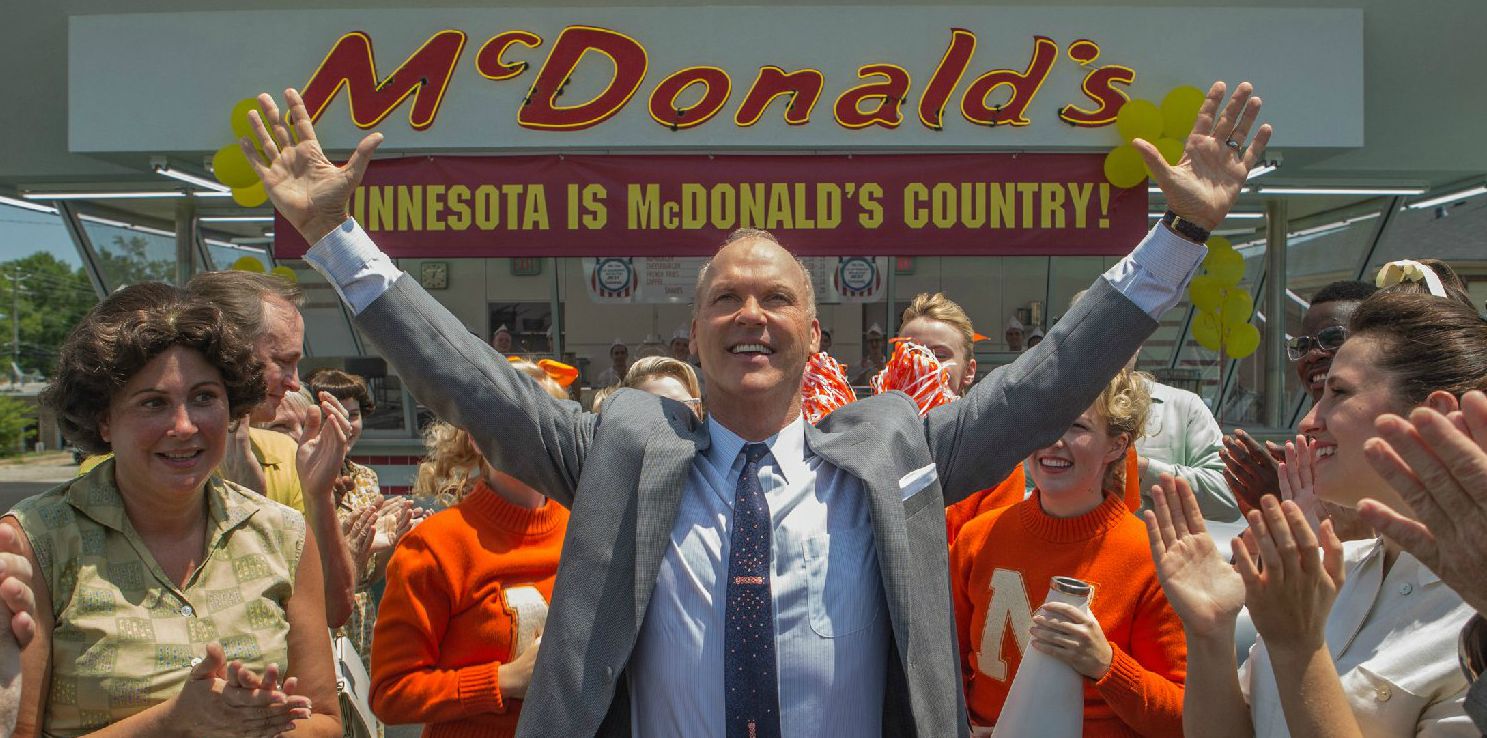 "The Founder" Review

LightsCameraJackson Critic It's the Hollywood comeback story of the decade: Michael Keaton was a mega movie star in the 80s and 90s (from "Mr. Mom" to "Beetlejuice" to "Batman"). Then his career took a nosedive for nearly 20 years. Now Keaton has returned with a vengeance, starring in the past two Best Picture Oscar winners, "Birdman" and "Spotlight". And he gives yet another commanding performance in "The Founder", which is easily one of the most entertaining movies of the year.
Keaton plays Ray Kroc, of McDonald's fame. In 1954, Kroc was a struggling milkshake machine salesman, based in the midwest. After making his pitch at a restaurant (they usually didn't go well), Kroc would order something to eat - and he'd constantly be annoyed by the slow service, underwhelming food, and the less than desirable clientele. When he gets an order for 8 mixers from a new restaurant in San Bernardino, CA., he drives there to see the operation for himself. What he discovers is a place that instantly makes him "happy".
The owners are two brothers - Dick and Mac McDonald (played by Nick Offerman and John Carroll Lynch). They give Kroc a tour of their first-ever "fast food" restaurant - where customers get out of their cars, order at the window, and have their burger, fries and soft drink (in paper bags and plastic cups) in their hands in 30 seconds - and they can it eat anywhere they'd like. That evening over dinner, the brothers tell Kroc how they got started. This fascinating, 10-minute sequence, is when "The Founder" gets cookin'.
Kroc becomes obsessed with McDonalds, which he sees as a "revolutionary" concept. The rest of the film chronicles Kroc's creation of the McDonald's empire - first as a partner with the brothers and later as their enemy. The screenplay (from Robert D. Siegel, who also penned "The Wrestler" and "Turbo" - there's a unique resume) reveals the challenges he faced and the often unethical ways he would use to eventually become known as The Founder, a title, of course, he did not deserve.Director John Lee Hancock gives Keaton plenty of freedom - and there's no sugar-coating - Kroc is both a charismatic, inspiring and triumphant figure - and cold, manipulative and cruel. At one point he says, "Contracts are like hearts - they're meant to be broken".
Keaton fully sinks his teeth into the role."The Founder" provides some fun insights and trivia on the early years of McDonald's (before a certain clown comes aboard). And the ideals expressed in this origin story are presumably still relevant today: fast, efficient service, quality food, clean locations and the symbolism of the iconic golden arches.Offerman's work in the best of his career (yes, it even tops Ron Swanson). The rest of the supporting cast is led by Laura Dern as Kroc's first wife, Ethel, Patrick Wilson and Linda Cardellini as franchisees Rollie and Joan Smith, and B.J. Novak as Kroc's financial advisor."The Founder" a movie about business, but don't let that scare you. Hancock is light on the facts and figures and heavy on the atmosphere. And it's another triumphant performance from Keaton, who portrays a guy, not unlike the food his restaurants have been selling for the past 60+ years: you're not supposed to like him, but you just can't help yourself.