"The Glass Castle" Review

LightsCameraJackson Critic So far in 2017, Woody Harrelson has taken-on the villain role in "War for the Planet of the Apes", the lead in the quirky indie comedy "Wilson", and he made history by writing, directing and starring in the first-ever "live" movie, "Lost in London". Still to come: the sheriff character in "Three Billboards Outside Ebbing, Missouri" and President LBJ in a highly-anticipated biopic.
Add to this his work in the new true-story drama "The Glass Castle", and Harrelson may very well earn Actor of the Year honors from various critics and awards associations (including mine). The two-time Oscar nominee is the anchor of this film, pouring strength and substance into the difficult role of the troubled, alcoholic dad of a dysfunctional family.
"The Glass Castle" is directly based on the best-selling 2005 memoir by author Jeannette Walls, in which she chronicles her very painful life story. She didn't pen the screenplay but played a major role in the adaptation. She's said that she's very pleased with the results, including Harrelson's performance. He studied tapes of Walls's father, Rex, and according to her, nailed his voice and mannerisms.
The film spans Walls' entire life, from young child to adulthood, as she and her siblings try to survive and thrive with a fiercely independent and volatile father and free-spirited mother who, quite often, care much more about themselves than their children.
Oscar-winner Brie Larson plays the older Jeannette. Her life as a successful writer at New York Magazine frames the narrative, which bounces-back and forth in flashbacks. The scenes of Jeannette and her two sisters and one brother being dragged from small town to small town, with nothing but what they can jam into their beat-up old car, with little money and even less food, are the most powerful. The children don't attend school, Rex can't keep a job and their mother, Rose Mary (played by Naomi Watts), is only interested in painting. In an early scene she allows the young Jeannette to cook hot dogs on the stove by herself and the girl accidentally sets herself on fire, becoming physically and mentally scarred for life.
As much as she couldn't wait to escape her family situation and go off to college to become a writer, Jeannette still can't break-away completely from Rex's control. This continues into Jeannette's adult years. She's engaged to marry businessman David (Max Greenfield), while Rex and Rose Mary have moved to NYC and are "squatting" in an abandoned apartment, scrounging the streets for food. This dynamic - the negligent father and loving daughter - is the core of "The Glass Castle".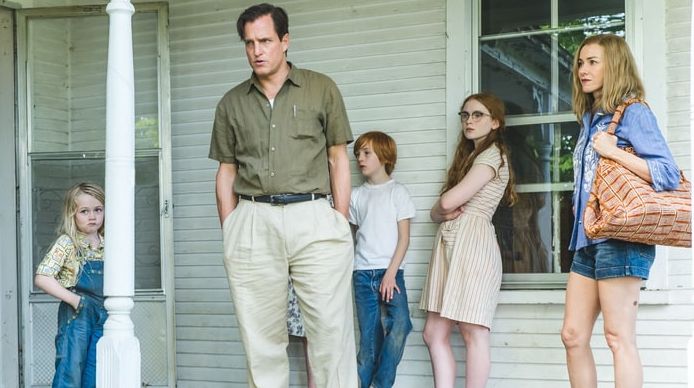 In some ways this movie is similar to last year's "Captain Fantastic". Both films are about families with patriarchs who don't believe in a structured society and "traditional" education for their kids. Like "Captain Fantastic", "The Glass Castle" focuses on the effects abusive parents have on their children. Many scenes are difficult to watch.For Watts, this is a second straight role (following June's noteworthy flop "The Book of Henry") in which she plays a character with almost no female empowerment. The weak, unstable Rose Mary isn't a thoroughly-developed character, often shelved away into the background. She's given much less attention than the younger version of Jeanette (12-year-old Ella Anderson is terrific) and her siblings.
Co-writer/director Destin Daniel Cretton reunites with Larson (they did the acclaimed indie "Short Term 12" together in 2013). He does a good job of presenting all sides of this troubled story of a very unconventional relationship. By the end, we really do feel like we've spent a lifetime with these people.
However, I can't say I was ever surprised or captivated by any element of "The Glass Castle". My expectations may been too high. I hoped this talented cast and unique source material would produce an emotional powerhouse of family dynamics, tragedy and survival that we really hadn't seen before. Aside from Harrelson, and the makeup and hairstyling (which convincingly ages the central characters), everything else about "The Glass Castle" is good, but far from exceptional.
The film is dedicated "To all families, who despite their scars, still find a way to love". An awkward final scene hits us over the head with this sentiment. But the sappy ending doesn't fit with what we've witnessed for most of the previous hour and 45 minutes, and shatters any lasting impact this story may have provided.