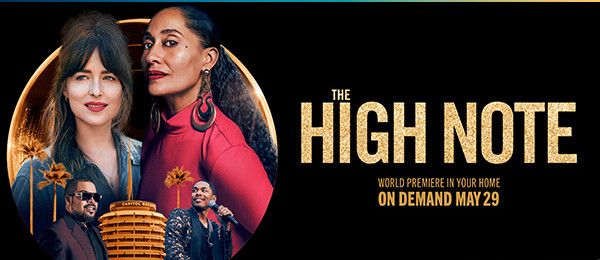 'The High Note' Review

LightsCameraJackson Critic There's a simple way to explain the plot of "The High Note". It's "The Devil Wears Prada" set in the contemporary music world. Tracee Ellis Ross ("Black-ish") takes-on the Miranda Priestly role. Ross plays 11-time Grammy-winning superstar diva Grace Davis. Dakota Johnson steps into the Anne Hathaway role as Maggie. She's been Grace's personal assistant for three years. Unnoticed and unappreciated, Maggie aspires to be a music producer.
The Stanley Tucci character (though much meaner) is played by Ice Cube. Jack is Grace's longtime manager and closest friend. He's very protective of both Grace and, more importantly, his own reputation. Jack sees Maggie as a potential threat. Early in "The High Note" Maggie meets David (Kelvin Harrison, Jr. from "Luce"). He's an aspiring singer with some serious talent.
"The High Note" marks the screenwriting debut of Flora Greeson. It's an impressive one, even considering the fact that the script is a cover version of not only "Prada", but "Morning Glory" (2010) and last year's "Late Night" (among others). Interestingly, "Late Night" director Nisha Ganatra also helms "The High Note". This is a more consistently successful and satisfying film.
And that's because "THN" is almost entirely grounded in reality. The Los Angeles music scene adds a lot of character (and characters) to this story. The film rarely goes for laughs (often relying on serious, truth-telling themes), and the attention to detail is strong.
Surprisingly, the script balances the Maggie storylines with Grace and David evenly. Johnson is in practically every scene. She shines in a role that was tailor-made for her. Though Johnson made a name for herself with the "Fifty Shades" films, this is the movie that should stamp her as a legit actress.
Johnson's scenes with the multi-talented Harrison, Jr. are the highlight of "The High Note". They are one of the best young, romantic on-screen couples of recent years. Their chemistry (as the kids say) is lit. Ellis Ross has more of a supporting presence than you might expect, but she does have a couple of showcase dramatic moments along with several opportunities to do something she's always wanted to – sing.
Ellis Ross is the daughter of iconic music legend Diana Ross. Themes of family and legacy are very much present in "The High Note", enhanced by some terrific original songs that could end-up as Grammy and Oscar nominees.
If "The High Note" had been released in theaters among the glut of Summer blockbusters, it still would have had a chance to stand-out in the crowd. It's that good. But since it's available beginning this weekend on VOD, you should grab a ticket and help ride it to the top of the At Home viewing charts.