'The Leisure Seeker' Review

LightsCameraJackson Critic "The Leisure Seeker" is based on a 2009 novel and stars two of cinema's most respected actors, Donald Sutherland (who just received an honorary Oscar) and Helen Mirren (who has earned a Golden Globe nomination for her performance in this film). It's being marketed as a comedy, but that's false advertising. This is actually one of the saddest of movies of the year.
Sutherland's John, a former literature professor, is suffering from Alzheimer's. His wife Ella (Mirren) takes care of him as best she can, trying to get him to remember important events and people in his life. She also has terminal cancer. The couple decides to take one, final road trip – from their Massachusetts home to Key West, Florida – to visit the home of iconic author Ernest Hemingway.
Their mode of transportation is The Leisure Seeker – the family's 1975 Winnebago RV that's been sitting idle for years. John and Ella take-off on the morning she's scheduled to go into the hospital, without telling their two grown children, their doctors or anyone. A few frantic phone calls don't calm the kids' nerves. It's clear mom and dad are doing this… like it or not.
You might call "The Leisure Seeker" the ultimate buddy road picture – because it's clear from the tone early on that this is John and Ella's final hurrah. Once they hit the highway the movie becomes a series of vignettes at all their different stops along the way.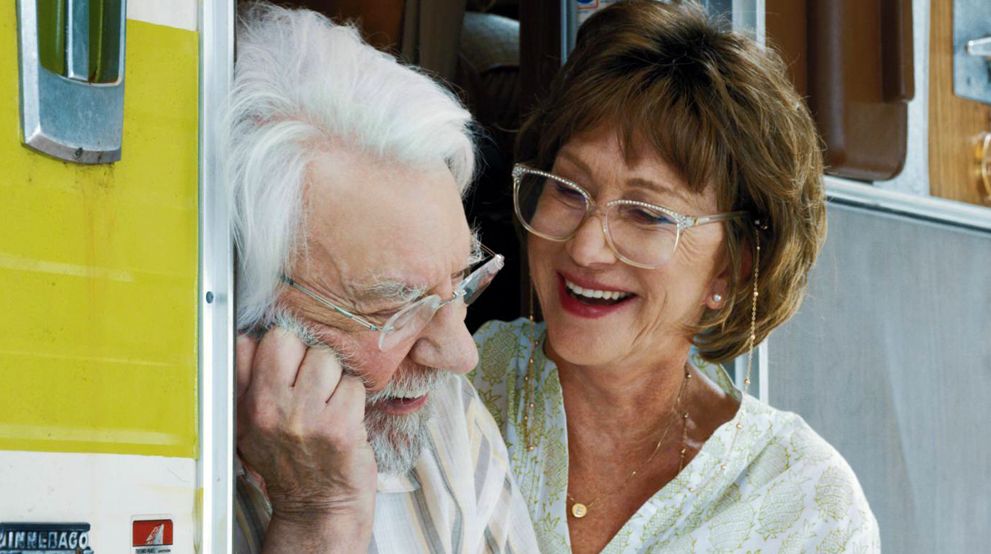 A handful of these situations are awkwardly comedic. John and Ella are involved in a bunch of little adventures in various towns, interacting with strangers and some familiar faces from their past – all while dealing with the frustrations of critical illness and old age. She's in constant pain. He can't remember where he is or who she is and has bladder-control issues.
None of the vignettes help lighten what is a depressing journey for the audience. Anyone who's dealt with elderly parents/grandparents battling to keep their independence and dignity during the final stages of their lives can absolutely identify with this story. But that doesn't mean they'll want to watch it on screen.
"The Leisure Seeker" is a two-character showcase for Sutherland and Mirren. Pulling off these roles is tricky at first, but eventually you do grow somewhat attached to this elderly couple looking to make one last set of memories. Sutherland and Mirren have some strong scenes both together and separately. And director Paolo Virzi begins each new chapter of their journey with a hopeful wide shot of the old RV chuggin down the road in the bright sunshine.
However, "The Leisure Seeker" is pretty much what I expected dramatically. There are a few subplots that work (including a mild revelation about an hour in), but otherwise, the episodic narrative is monotonous. And the film is bizarrely bookended by the 2016 presidential campaign.
The script (from four writers) and dialogue are very repetitive, and the ending feels too abrupt. The biggest problem with "The Leisure Seeker" is that its main/only audience is the 65+ crowd, but for most of them it may hit too close to home.