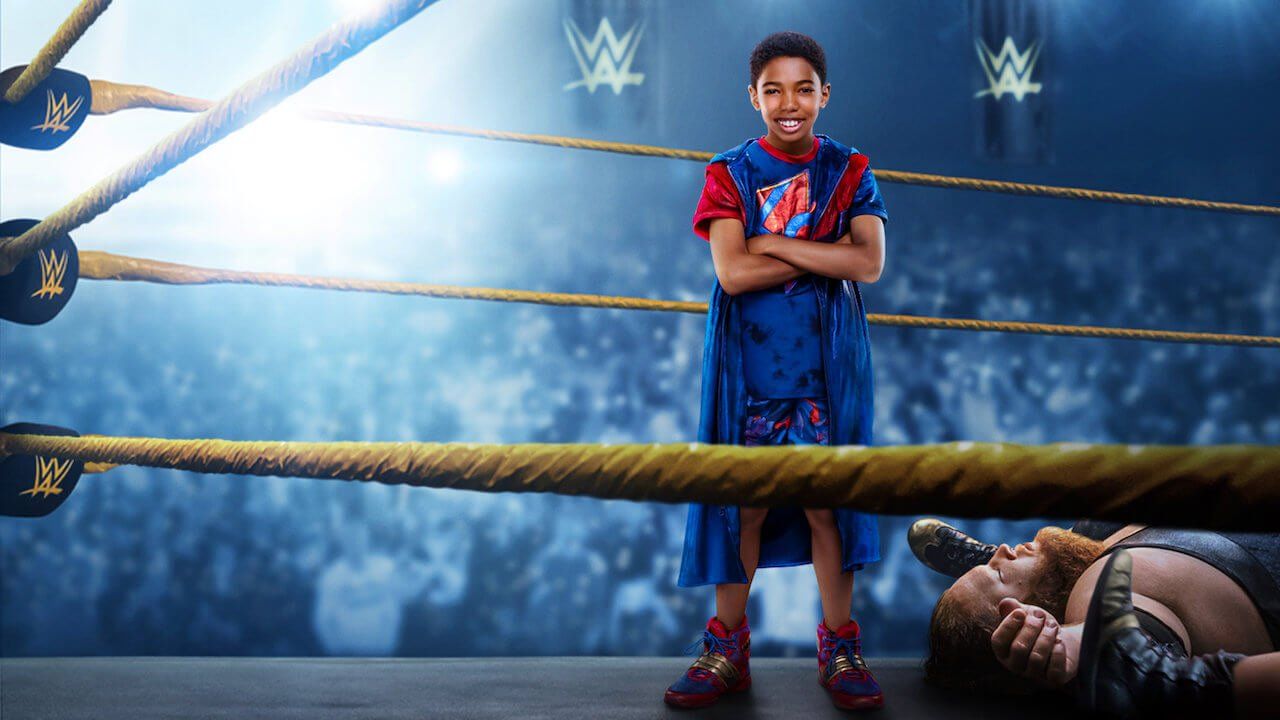 'The Main Event' Review

LightsCameraJackson Critic Over the past few years, the WWE has tag-teamed with some major film studios, resulting in some good to very good wrestling-themed movies. Included on that card are Sony Pictures Animation's "Surf's Up 2: WaveMania" and MGM's hidden gem "Fighting with My Family". Now stepping into the ring is the new Netflix family comedy "The Main Event", which (for the most part) is surprisingly entertaining.
The film borrows greatly from other tween/teen male fantasy films , including 2002's "Like Mike" and 2018's "Spider-Man: Into the Spider-Verse". 11-year-old Leo (Seth Carr) lives in Florida with dad (Adam Pally) and grandma ("The Neighborhood"'s Tichina Arnold). Leo's mom (G-ma's daughter) left them for a new guy and moved NYC. No one knows if/when she's coming back. Following the WWE is helping Leo cope during this tough time (he and his best friends are superfans). 
One day, while hiding from some school bullies, Leo finds an old wrestling mask with magical powers. When Leo puts it on, his voice gets deeper, his confidence is boosted and he has amazing strength. 
That night the WWE announces they'll be holding an elimination tournament in his town, with the winner getting a contract and $50,ooo. Secretly, Leo signs-up to compete as "Kid Chaos". And once he steps into the ring, — well, the other competitors better watch out!
There's also a subplot involving Leo and a girl in his class who he likes, which takes a nice, unexpected turn.
Overall, credit has to go to veteran TV director Jay Karas and his five member writing team (normally not a good sign) for giving this predictable premise some surprising depth.
"The Main Event" blends reality and fantasy, and delivers some laughs, a couple of decent twists and plenty of relatable messages for middle schoolers. The story is largely upbeat, heartfelt and well-intentioned. And all three leads hit their marks. Carr's in nearly every scene. He handles the dual role like an old pro. Arnold's delightful as the over-the-top grandma. And Pally holds his own is a somewhat serious role. WWE superstars Kofi Kingston, Sheamus and The Miz also show-up for memorable cameos. 
There's only one scene in "The Main Event" that should have gotten DQ'd. While Leo and his friends are at a diner, a gunman comes in to rob the place. We don't see the gun (this is a G-rated film), but Leo puts on his mask and decides to rumble with the criminal. While there's clear, tame slapstick involved, this sequence sends an unwise message. No kid should ever be inspired to confront a gunman in a real-life robbery situation.
Other than that, "The Main Event" is a winner — and definitely worth watching on Netflix this wweek.