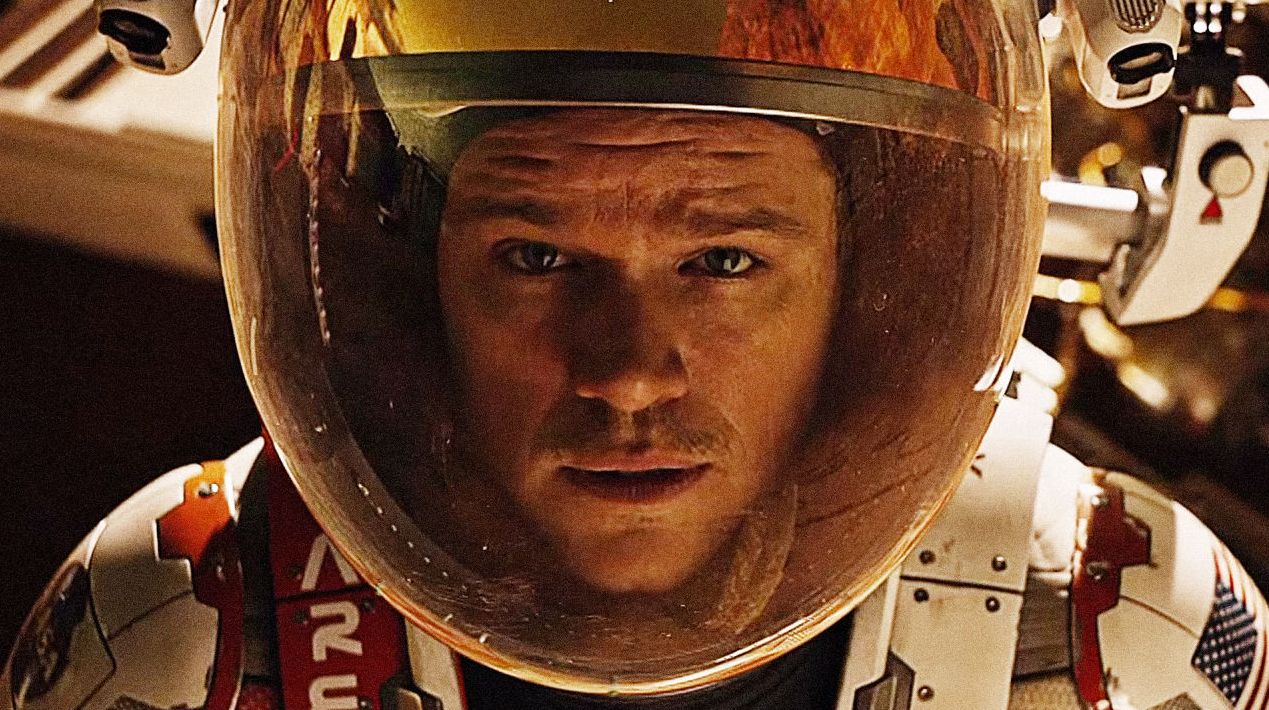 The Martian - A Return to Space, and Form, for Ridley Scott

HaydnSpurrell After the severely underwhelming Exodus: Gods and Kings, Ridley Scott returns to space, a place he has had much success in over his illustrious career. Bringing more big names along with him, this latest project pairs him with Matt Damon, who delivers on all fronts as the sympathetic and engaging Mark Watney, the botanist astronaut at the center of this riveting survival story.
As a modern science fiction film, it defies much of the thrilling, action-fueled sequences, settling instead for a quaint, realistic interpretation of space travel and space politics. Fewer heavy musical cues are to be found, instead often replaced by disco music of years past, heavily scrutinised by the lovable protagonist.
The Martian follows Mark Watney's lengthy survival on Mars, after an emergency abortion of the planet goes awry and Watney is left behind, presumed dead. The film bounces back and forth between the two settings, Earth and Mars, as the men and women at NASA work tirelessly to figure out a way to bring him home.
The most thoroughly engaging moments in the film are those that directly address Watney, a strong character that epitomises the underdog. The lives of most of the other characters then, unfortunately, don't really matter, barring the other members of the Ares 3 Mars mission. Though those characters themselves receive far less screen time, they are ultimately treated to enough care to make the film's conclusion satisfying on a level beyond Watney's own fate itself.
Jessica Chastain plays Commander Lewis, a strong woman with a deep sense of comradery, albeit one each character shares. That comradery is really central to the dynamic, and sells just how meaningful Watney's initial survival is. Michael Pena plays Martinez, complete with standard comic relief although also accompanied by some heart and some genuine emotion the actor rarely gets to exhibit.
Chiwetel Ejiofor plays Venkat Kapoor, the director of the Ares 3 mission. Kapoor is a deeply committed and driven man, dedicated to the cause and played with conviction by Ejiofor. But he joins a list of Earth-based characters that don't have a whole lot behind the curtain. As I mentioned earlier, those moments where the people of NASA are addressing Watney's predicament are when they are strongest. Fortunately, that's pretty much the whole time.
The comedic element needed to be captured from Andy Weir's novel, popular for its balance between humour and gloom. Certainly, Matt Damon had a tough task on his hands, but delivers in spades. The dialogue is on point, and so too is the solitary torment for the character. It's more understated, the personal confinement that circumstances like these must surely offer, but those scenes in which Damon reflects as Watney, amidst the vast sandscapes of Mars, really resonate. Scott knows when to drop the volume to zero, and let it all just be.
That's also true with the space sequences, and instead of fast forwarding the 'boring' bits of the Ares 3 ship, it simmers and floats through space with comfortable ease, building the tension but not exceeding it. The stakes don't ever jump from nought to a hundred, but balance themselves somewhere in the middle. We always know that there's danger, but we feel it somewhere amongst every other emotion. We can't help but laugh when Watney makes fun of his situation, or himself. Nor can we control our heart beat when he tells his Commander what to tell his parents, should he not make it.
Watney faces several obstacles throughout the film, each one more panic-inducing than the last. Though, at the increasingly abrupt rate that solutions are found, whether it be from Earth or from Watney's own brilliant mind, these obstacles feel a little flat and deflate the overall desperation of the situation.
This is about all that can be said to fault the film. At rare times a little slow, the film nevertheless settles into an early groove and sets the tone from the moment Watney sits himself in front of the camera and declares that he is, in fact, alive.
His light-heartedness plays well against the absolute panic and chaos back home. While NASA hurries around trying to solve each new puzzle, Watney scoffs when world-class botanists try to tell him how to do things. While others panic about the how's and if's, he's coming to the realising that he is, technically, a space pirate.
Clearly, Ridley Scott responds well to these tales of survival, and they offer the best work in his portfolio. Whether it's Alien (1979) or Gladiator (2000), Scott revels in challenging his characters, in testing them right to their limit, and threatening to tear every last thing about them down. He has a complete grasp on these characters, those that he gets to toy with and torture as he builds an urgency for that character's safety.
Watney never reaches that pivotal moment in this film, where he is at rock bottom with no way up, except perhaps in one particular scene in which he outbursts in the aftermath of an explosion (one of a number in the film). Despite that, his circumstance more than makes up for it, creating a constant sense of doom while allowing for Watney's often stable reactions settle otherwise dire situations.
The Martian never attempts to cross any borders, or say anything more than what it does so organically. This is a survival story, jumping between three locales and with the frightening but beautiful darkness in between. It speaks to a goodness in the human condition that perhaps is a little too optimistic, but nevertheless fruitful in execution. Scott returns to form in an uplifting and enjoyable survival tale.