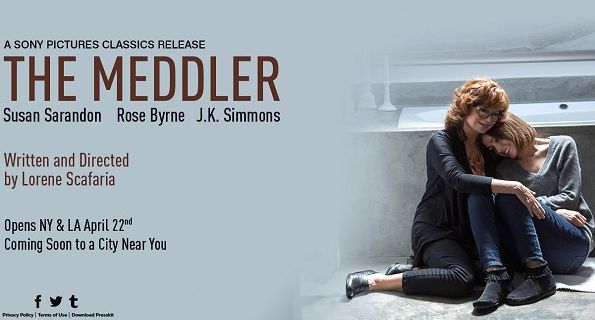 "The Meddler" Review

LightsCameraJackson Critic "The Meddler" is writer/director Lorene Scafaria's extremely personal follow-up to her innovative 2012 indie "Seeking a Friend for the End of the World", with Steve Carell and Keira Knightley finding humor, and each other, on the cusp of the Apocalypse. For her latest film, Scafaria turns to a more low-key, but just as enriching and relatable story of a woman with undeniably good intentions, trying to mend broken hearts and please everyone in her life - aka: Mom.

Susan Sarandon gives the best on-screen performance of the year so far as Marnie, a widow and mother to Lori (played by Rose Byrne), a screenwriter living in LA. Following the death of her husband, Brooklyn native Marnie moves to a nice apartment near The Grove so she can be close to Lori, who is still single. Marnie resembles someone that just about everyone has known during their lifetime. She's overprotective, doesn't understand boundaries (a point Lori makes very clear to her several times) and loves helping people (whether it's complete strangers, those closest to her, or anyone in between) with their problems.
Marnie's husband left her with plenty of money, enough so she can buy three tickets every time she goes to an action movie: one for her - one for her deceased mother and the other for her dead husband. She doesn't get to spend as much time with Lori as she'd like to, so she spends that time and money on strangers: shelling-out $13,000 to help pay for the wedding of one of Lori's friends ("SNL"'s Cecily Strong), even though she doesn't even know her last name; befriending the Apple store employee who helps her in getting her iPhone up and running - driving him to night school three times a week. And when it comes to her daughter's love life, Marnie is right there at the center of the drama - or as far as Lori will let her be.
But clearly money and good deeds can't fill the hole in her life or her heart. And being a "meddler" won't get her the type of relationship with her daughter that Marnie desperately wants and needs. She gets an appointment with Lori's therapist in hopes of snooping into her personal life but refuses to share any of the pain she's feeling.
Scafaria intentionally overwhelms us in the first 15 minutes of "The Meddler" with Marnie's bold personality. Sarandon delivers several funny and spot-on authentic lines. But then, slowly, as the film progresses, Scafaria pulls back on the zaniness, and we begin to see a different side of Marnie, or more accurately, begin to understand that she may not be as inappropriately over-the-top as we first thought.
"The Meddler" keeps you engaged, with Marnie at the center of multiple storylines throughout the film. It often takes you by surprise, going in humorous, serious and personal directions. There's a showcase scene when Marnie visits Lori at work on the set of her TV pilot in New York that includes all three. The emotional level builds, resulting in a final act that's a bit extensive, and a tad too mainstream, but touching and fulfilling nonetheless.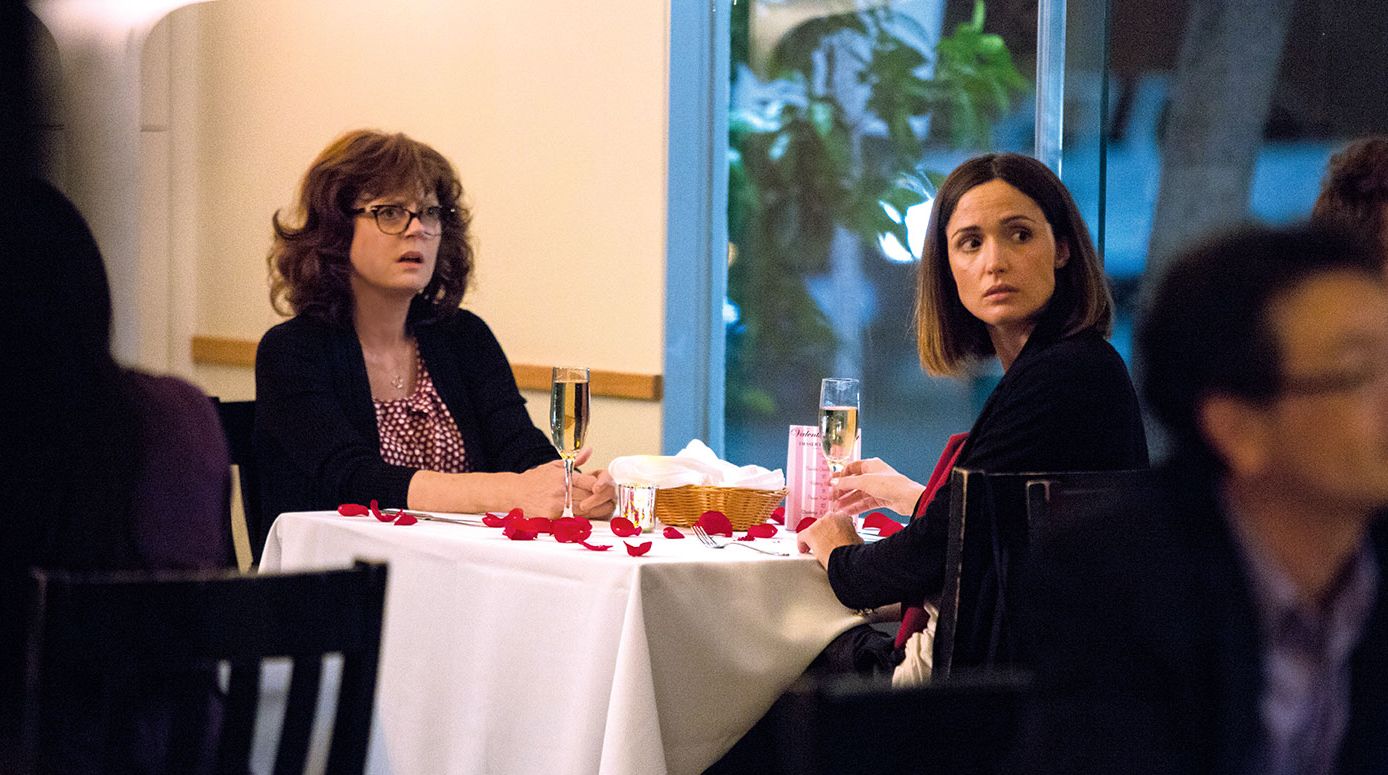 Byrne has some strong moments, and J.K. Simmons, in a refreshingly restrained role, is terrific as Zipper, a retired LA cop who gets caught-up in Marnie's char But this is Sarandon's movie. It's a dynamite character and a once-in-a-lifetime role for an actress who, in recent years, has rarely garnered the leading lady spotlight. It's only Spring, but she should be in the conversation when awards season rolls around in seven months (unquestionably Best Actress in a Comedy consideration from the Golden Globes and Critics Choice Awards voters). Scafaria has written a full character here - someone who is both annoying and loving, nosy and generous, someone Lori can't live with and can't live without. Isn't that the true definition of a mother?
In making this sweet, sincere, and heartfelt tribute to her own mother, Scafaria has given all of us a little something to think about, with some laughs, and maybe even a few tears, along the way.