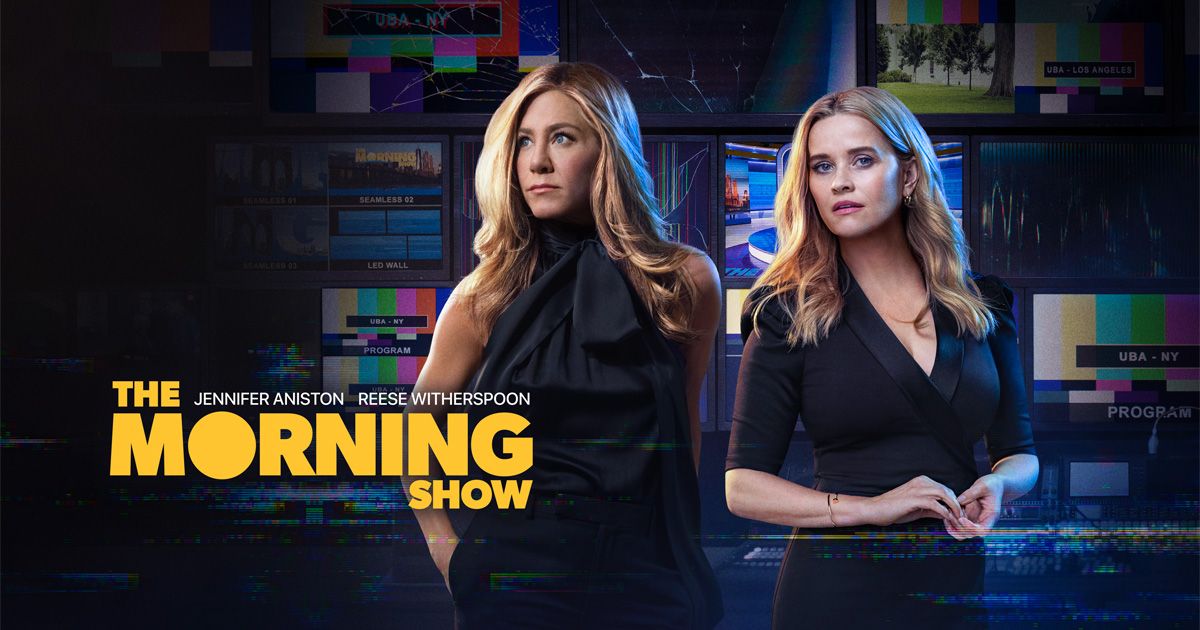 'The Morning Show' Season 2 Review

LightsCameraJackson Critic I've screened all 10 episodes of Season 2 of AppleTV+ drama series "The Morning Show". The first episode is now available on the streaming service, with a new episode dropping every Friday until November 19th.
I watched the first three episodes of Season 1 in October 2019, about a week before they helped kick off AppleTV+. Didn't love how the series began, but I decided several months later (shortly into the pandemic) to jump back in and pick up with Episode 4, and I'm glad I did.
Season 1 wasn't spectacular by any means, but "The Morning Show" became a guilty pleasure about the TV news world and featured some terrific performances, particularly from Steve Carell, guest actor Martin Short and Billy Crudup. I was thrilled when Crudup won the Supporting Actor in a Drama Series Emmy last year – the only win for "TMS" out of eight nominations. Crudup's role as Cory Ellison is the kind of juicy, electrifying one actors dream of taking-on.
It's no surprise Crudup is the face of much of the first episode of "TMS" Season 2 (which is the only episode I'm allowed to describe in extensive detail at this time). The series picks-up right after the dramatic final scene of Season 1, where Alex Levy (Jennifer Aniston) and Bradley Jackson (Reese Witherspoon) make game-changing revelations about UBA live on the air, and then the feed cuts to black.
As Season 2 opens, Alex and Bradley are quickly pulled into separate directions. Then we flash forward to March 2020 and empty streets of New York City. Then a title card reads "Three Months Earlier". The writers and Jen & Reese (who are also producers) decided to start Season 2 on New Year's Eve 2019. COVID isn't on most people's minds just yet. New Year's Eve 2019 is also eight months after the on-air shocker.
Here's what I can say about "The Morning Show" Season 2 overall: It, unfortunately, isn't as believable, effective or genuinely fun as Season 1. As Episode 1 alone proves, there's WAY too much going on, and it's a messy, clunky introduction filled with corny moments and heavy-handed music choices.
As you might've seen in commercials, trailers and online ads, Carell does return, Will Arnett plays Alex's agent and Julianna Marguiles also joins the cast. I know quite a bit about what happens with these three characters (and many, many more), I'm just not allowed to (publicly) talk about them yet. But the tone, as a whole, is off the charts. If you thought Season 1 was full of melodrama, get ready. Storylines go in some absolutely absurd directions as Season 2 takes-on more of a 'relationship' focus than a TV news business one.
To the writers' credit, there are some legitimate surprises in the second half of the season. You many not like some of the directions the show goes in, but hey, at least they go for it and don't hold back. And if you make it to the ninth and tenth episodes, you'll watch Aniston deliver her best work of the series. These final two eps. are a showcase for her more than anyone else, and they did bring me back to some of the same "guilty pleasure" levels of Season 1. Still, there are numerous problems in all 10 episodes, making "The Morning Show" Season 2 a too frustrating experience.