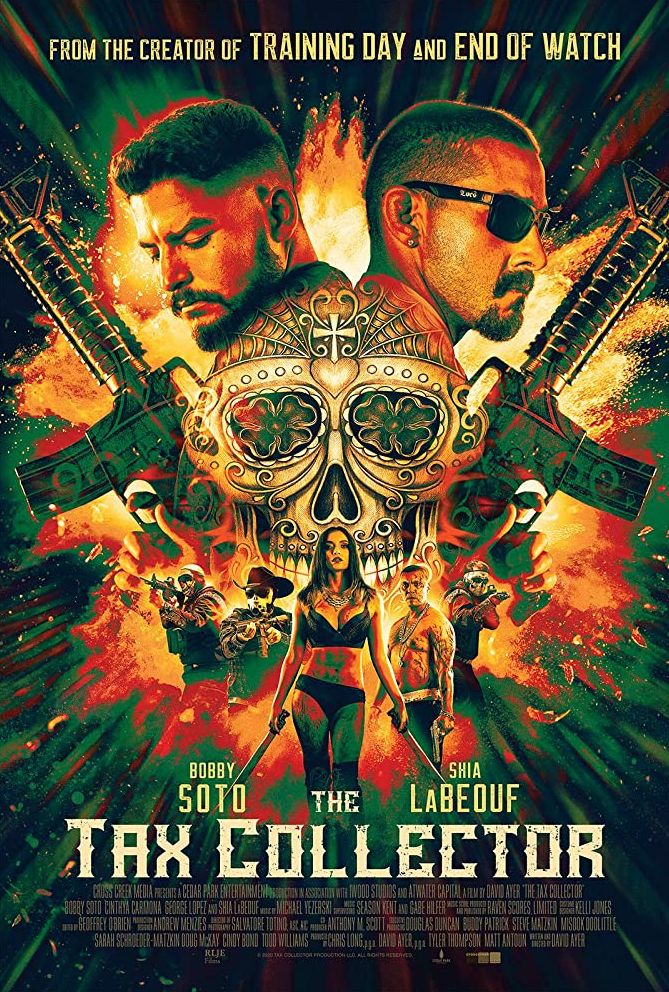 'The Tax Collector' Review

LightsCameraJackson Critic "End of Watch", "Fury", "Suicide Squad" and "Bright" director David Ayer steps away from big studio features for his latest, "The Tax Collector". Ayer is also screenwriter, a fact he probably doesn't want to admit out loud.
Bobby Soto gives one of the weakest lead character performances of the year as David. He's the son of an imprisoned crime lord. David's job is rounding-up the dues owed by the major drug dealers in their LA neighborhood. His bodyguard is Creeper, played by an all-in Shia LaBeouf.
Back in 2018 when "The Tax Collector" was being shot, you might've heard that LaBeouf got his chest and stomach permanently tattooed for this role. Unfortunately for him, he's buttoned-up for 98% of his scenes, and covered in blood for the others. So don't expect to see much ink.
LaBeouf does the best he can with this material (it's a restrained role for him). The story centers around David — who's supposedly a great father and very religious — though his actions don't really back that up.
George Lopez is the movie's most pleasant surprise, quite convincing in a rare (and too small) dramatic role.
But there's nothing/no one who could save "The Tax Collector". The script is a borderline mess. This  essentially a standard telenovela with added violence. And the stabbing, and shoot-out scenes are  shockingly uninspired. Jarring editing makes the experience even more taxing and interrupts any flow. And Ayer relies way too much on foreshadowing — as if we already didn't know the fate of these characters who we don't care about.
Every director deserves one career mulligan. Here's hoping Ayer can just write this one off.