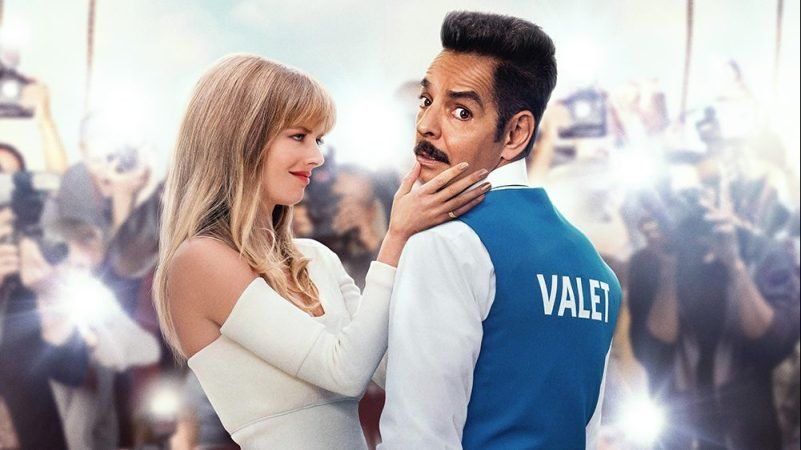 'The Valet' Review

LightsCameraJackson Critic "The Valet" is a rom-com remake of a 2006 French film. Popular Mexican actor Eugenio Derbez serves as executive producer and star. Antonio plays a Los Angeles valet who lives in apartment with his mother and is going through a separation with his wife (they share custody of their teen son). Antonio crosses paths with movie star and fashion mogul Olivia Allan (think a young Reese Witherspoon). She's played by Samara Weaving.
Olivia's having an affair with married business tycoon Vincent (Max Greenfield). One night Antonio (literally) runs into the couple outside a hotel. Paparazzi photos capture all three of them. To cover-up the revelation of the affair, Olivia's team convinces Antonio to temporarily pretend to be her boyfriend. The plan is they'll have lunch together at a few restaurants and go to the premiere of Olivia's new movie (an Amelia Earhart biopic). Then they'll publicly "break-up", ending the scam — Olivia goes back to her "glamorous" life and Antonio returns to his "invisible" one. However, things may not work out that way.
"The Valet" is a better constructed, much more entertaining version of "Marry Me". That Jennifer Lopez/Owen Wilson rom-com released earlier this year features a more far-fetched framework and a disastrous second half that takes things in wildly unbelievable directions. Even with its silly premise, "The Valet" is reasonably grounded in reality. It's not difficult to buy into most of the situations.
It's also a genuinely funny movie, thanks to a smart screenplay from Rob Greenberg and Bob Fisher and several terrific supporting characters. John Pirruccello and Ravi Patel are perfect as a pair of private investigators assigned to keep tabs on Antonio and Olivia. Amaury Noalsco, who plays Antonio's brother-in-law (and fellow valet) Benny, displays great comedic timing and delivery.
But it's the leads that make "The Valet" such a treat. Derbez adds layer upon layer to Antonio over the two hours, culminating with a powerfully emotional speech that encapsulates the entire film. And Olivia's facade is peeled away, Weaving simply blossoms. A dramatic subplot centered on Olivia's loneliness as a Hollywood star is handled in new and interesting ways.
Director Richard Wong allows his scenes to breathe and develop, including the charming first meeting between Olivia and Antonio's old world family. Too many rom-coms rush to the (supposed) funny pay-off moments. Wong allows his characters and their situations the time it takes for everything to feel natural.
"The Valet" juggles a lot, mostly to satisfaction. Some elements and surprises are more standard than others, and the first half hour isn't as polished as the rest of the film. But I truly enjoyed watching this.
There's a difference between one's "favorite" movie they've seen and the "best" movie they've seen. "The Valet" isn't the best movie I've watched in 2022, but it's definitely one of my favorites.