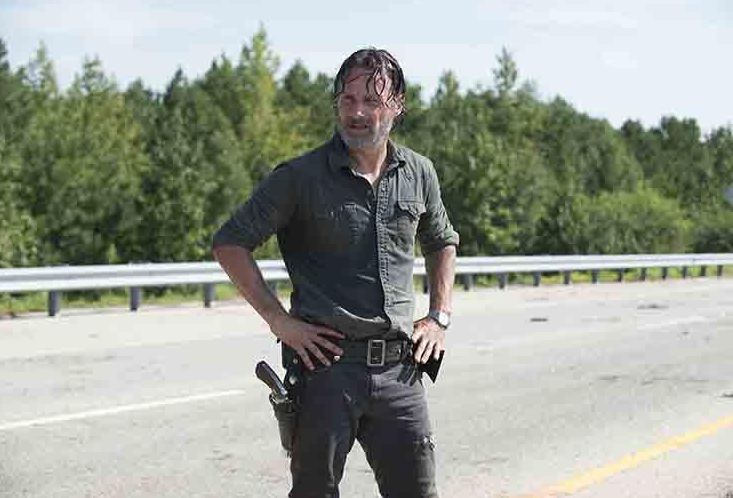 'The Walking Dead' Midseason Premiere Details Revealed

HaydnSpurrell The Walking Dead's return to TV is creeping up on us, now just a fortnight away from airing "Rock in the Road." Now, we have some details on the upcoming episode, which picks us up with Rick regaining his will to lead and to fight following the events of last year's midseason finale.
Airing on February 12 at 9PM ET/PT, the episode follows Rick and the group as they are led to a new community and are introduced to its leader and inhabitants. As well, a familiar face resurfaces.
As per Coming Soon, "We'll meet new survivors in incredible places. We'll see Rick and the group tested in ways we've never seen before. We'll see treachery from people we trust. Rick is confident as he will see his group and many others band together with the common goal of taking down Negan. But no amount of planning will prepare the group for all-out war with Negan and his army."
Based on the comic book series written by Robert Kirkman and published by Image Comics, The Walking Dead reigns as television's most watched drama for Adults 18-49. The Walking Dead tells the story of the months and years that follow after a zombie apocalypse, and follows a group of survivors, led by police officer Rick Grimes, who travel in search of a safe and secure home. The series is executive produced by showrunner Scott M. Gimple, Robert Kirkman, Gale Anne Hurd, David Alpert, Greg Nicotero and Tom Luse.
Whether we can expect the war to take place in the back half of the season, it will certainly see the numbers gathering for the inevitable battle against the Saviors. I can't help but hope that they don't save the All Out War for season 8, particularly given the show's knack for filling out its midseason. Give us eight strong episodes leading into next season, in order to renew the faith of its fans.
Source: Comingsoon