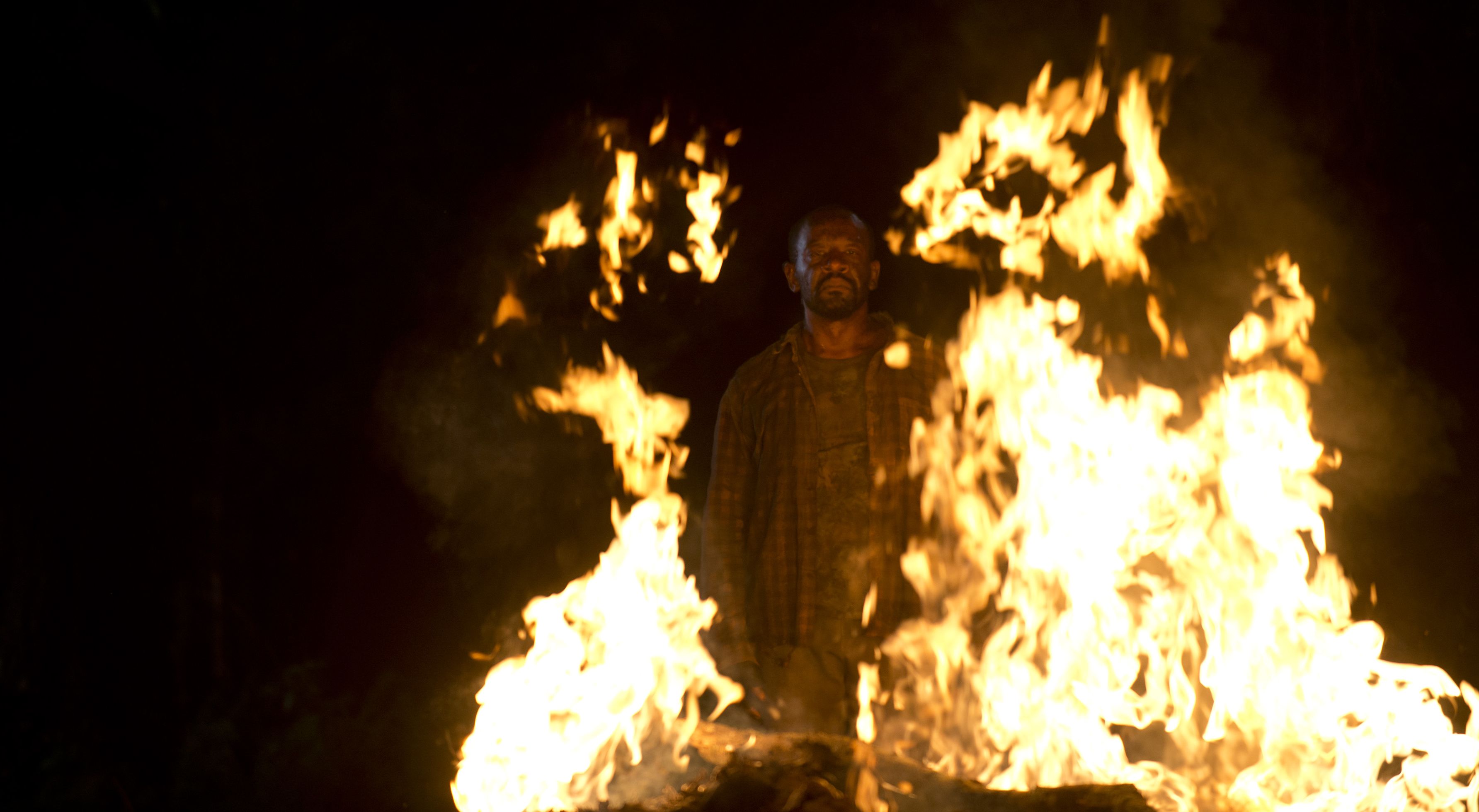 The Walking Dead, Season 6, Episode 4 - A Detour into Original Territory

HaydnSpurrell Whether or not fans will come away from episode 4 frustrated that such enormous questions are left to simmer for the sake of a 'filler' episode cannot subside the fact that the fourth episode of season 6 is brilliant. It is the peak of a still youthful season, but a peak that will be hard for others to reach.
The episode, titled 'Here's Not Here', is a spiritual sequel to season 3's 'Clear', and this week's fills the gap between then and now for Morgan Jones. If Lennie James hasn't impressed with his peaceful and anti-violent approach to the post apocalypse this season, then his acting here is sure to sell the few still in doubt.
In the pilot of the series, Morgan was a man who'd lost his wife, but his son was still with him. He was still a father. He was still there, in mind and body. By the time we were reintroduced in 'Clear', he'd lost everything. He was broken. Dangerous, but not in the ways we've come to expect from the show's antagonists (and some of its protagonists, too).
But here, we meet him at a time when he is little more than an animal, wild and unhinged, his only focus to clear his path and remove every obstacle, however threatening it may be. It's either clear or die, and it is quite startling to see this side of a character, and one who received so much love despite having spent so little time with his audience.
This episode carries us from pretty much where we last saw him, and we follow him into the wild. After creating a fortress of sorts in the woods not dissimilar to that barricade he built around the house from season 3, he stumbles across a cabin. Here, we meet Eastman, who is sure to go down as a folklore-type character in the show's history. He imprisons Morgan for both his and Morgan's safety, and helps the unhinged man find his way again.
Eastman is played by John Carroll Lynch, and the character shapes Morgan into the man he is in the present. Lynch presents to us such a well rounded character that he stands on his own two feet as an integral part of the episode. Setting aside its enormous cast and focusing on a one hour standalone story has given The Walking Dead room to breathe, and the result is one of the most compelling relationships to come out of the show in recent memory.
Eastman also has the luxury of providing one of the most powerful monologues the series has ever produced, with a brutally powerful climax. This one, long delivery by Lynch never wavered, a story within a story revealing Eastman's riveting and heart wrenching backstory. And by the end of the episode, he's less a man ignorantly taking in a stray and more a man who, like Morgan, found a better way to survive.
Of course, it's still The Walking Dead. So tragedy is everywhere and the solemnity is barely balanced by the hopefulness that Morgan's resurgence offers. When he reverts late in the episode, it's a heart-dropping moment, a testament to the script. As much as I knew he was safe, I still rooted for his ability to redirect.
While many may see this episode as an untimely detour, it's in fact no better time for a slower, mournful trek through a key character's soul. After the intensity of the first three episodes, this one settles us, giving the season a refreshing break away from the chaos before it inevitably resumes in the present day next episode.
And while I certainly don't expect a brisk pace to match the previous episodes week in, week out (and intensity of that sort still has to provide quality television), the series doesn't need it if it has hours like this ready to go. It's a certain quality that we've not seen in some time, drama on a deeper level, a microscopic exploration of multifaceted characters. We see none of our other key characters. We spend the entire hour with just two. And it's fantastic.
'Here's Not Here' is nearly faultless. Despite no intent to getting on with proceedings early on, Morgan's story becomes one of the most memorable in the show's history. We get to delve into the history of a man that the show has desperately wanted to implement, and there was no better time to do it. The episode is masterful in its own somber way, and gives Morgan every reason to behave the way he has this season. If 'filler' episodes continue this standard, more of them are certainly welcome.