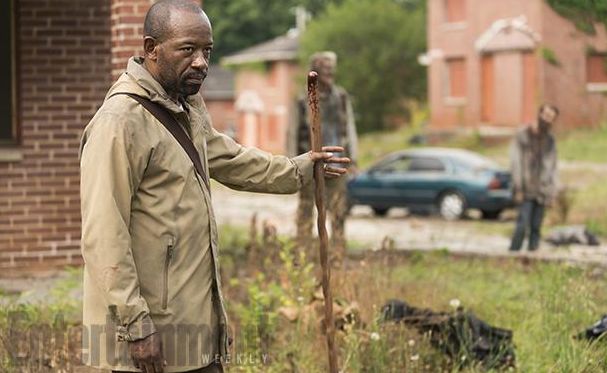 'The Walking Dead' Stars Tease Morgan and Carol's Relationship on the Road to the Kingdom

HaydnSpurrell During AMC's Walking Dead Season 7 special, Lennie James and Melissa McBride, who respectively play Morgan and Carol on the show, teased the upcoming subplot that sees them on the road to The Kingdom, where newcomer Ezekiel sits upon a throne awaiting them.
The Kingdom is the third community to feature in the upcoming conflict with Negan, and factors heavily into the comic book storyline. It's also one of the weirder inventions of creator Robert Kirkman. "I can't wait for people to see the episode where [Ezekiel is] introduced," McBride said.
"The character is so special because he's just big from the comic books. I don't think the fans are gonna be disappointed." James teases his character's way forward. "Morgan ends up on the road to the Kingdom. It will be interesting and one of the things that excited me about the episodes coming up is how Morgan survives in this particular group without Rick as an anchor and without Rick over his shoulder saying, 'I'm gonna put you in this cell.'
"This is Morgan meeting people as Morgan, who have no knowledge of him and have no knowledge of his history. One of the things that's most interesting to me about Morgan is he smiles in the Kingdom. It will be interesting to find out why that happens."
"One of the things I've enjoyed most in Season 6 and looking forward to in Season 7 is where Melissa and I get to take our characters," James says, with McBride adding, "It'll be very interesting to see these two together in Season 7."
It's a dynamic that has potential but felt pretty forced and rushed when it played out late in season 6. Hopefully, a little more time is spent fleshing the way forward for two characters that are both divisive but also fan favourites.
Source: Comicbook