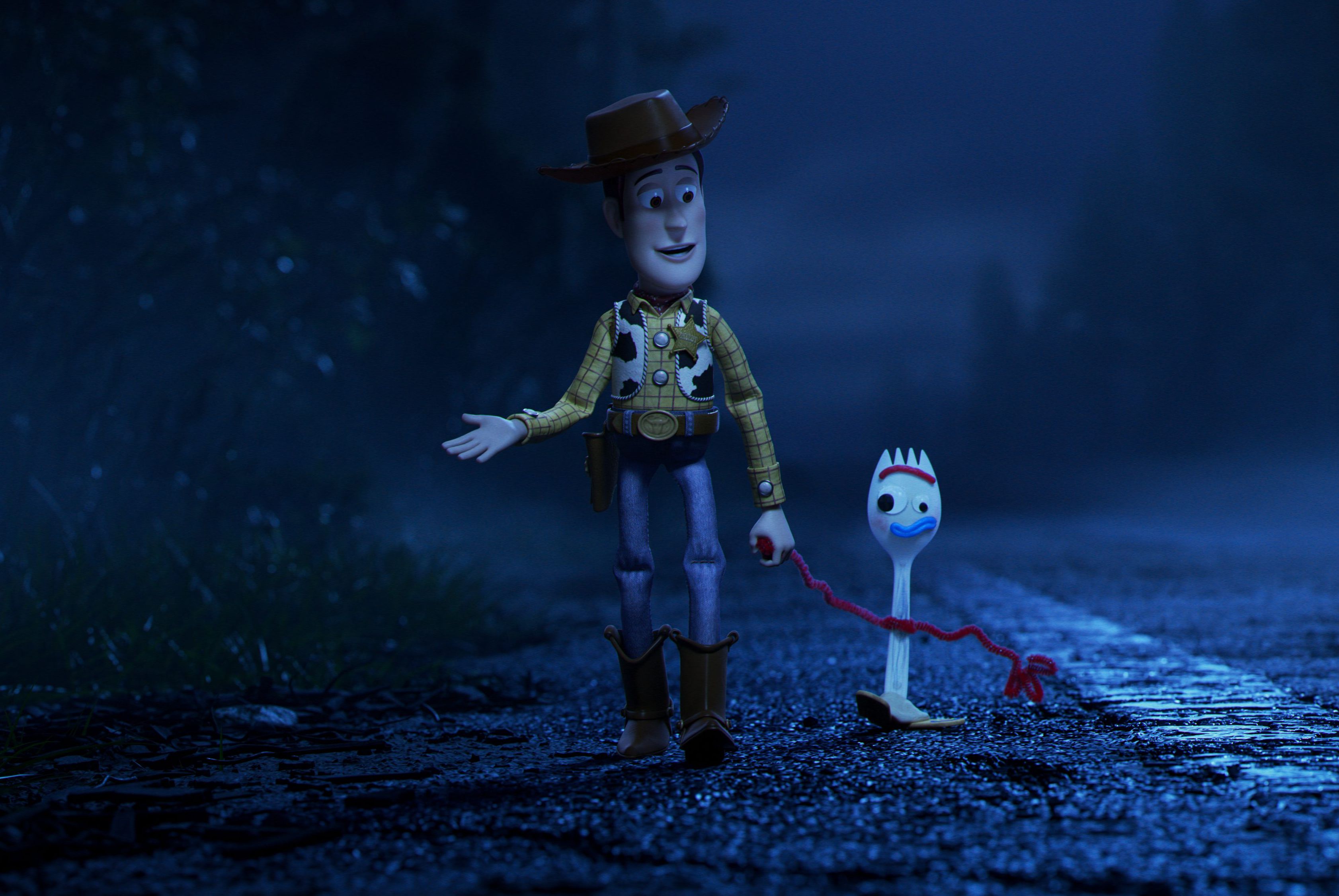 Review: 'Toy Story 4' Is A Charming Reminder of Pixar's Greatness

ZachPerilstein Disney Reporter Disney-Pixar began their relationship with the first Toy Story film back in 1995. Fast forward to 2019. The franchise got an unexpected fourth outing after what we all thought was a finale in 2010's Toy Story 3. Pixar lets the audience know that they have more story left to tell. Woody, Buzz, and the rest of the Toy gang have plenty of gas left in the tank to tell a wonderful story.
MINOR SPOILERS
Toy Story 4 follows Woody, Buzz, and the rest of the Toys living a normal life with Bonnie as she is about to start Kindergarten. During Kindergarten orientation, Bonnie makes a toy out of a spork, she names it Forky. The only problem is Forky doesn't want to be a Toy. Bonnie's parents decide to take her on a road trip during this road trip, Forky decides to escape and Woody chases after him. Problems arise when Woody's long lost lover Bo Peep reemerges.
Toy Story 4 mixes the old with the new. The beginning flashes back to the days of Andy and how Bo Peep was sold. It's clear that Woody misses Andy and things are not the same with Bonnie. Forky, the new character, fits right in and has some epic comedic moments throughout the film. Forky's storyline expands upon what makes a Toy a Toy in the Toy Story universe and it also highlights the zaniness of what inanimate objects can talk in the realm of Pixar.
The newcomers to the Toy Story franchise have multiple scene-stealing moments. Keanu Reeves as Duke Caboom, Canada's greatest stuntman, was wonderful. Caboom had so much depth as a character and was hilarious throughout the film. Keanu Reeves' delivery as Duke Caboom was splendid. Caboom's Canadian backstory is comedic but it packs a decent emotional punch. Reeves is ultra-talented and I wouldn't mind his voice acting skills sticking around at Pixar and Walt Disney Animation Studios for future projects.
The on-screen reunion of Key & Peele was fantastic even if it was only in animation. Ducky and Bunny rock as their characters have tremendous chemistry with Buzz Lightyear. Tony Hale's Forky is spectacular. Honestly, if Disney-Pixar wants all the Toy Story synergy give Ducky & Bunny and Duke Caboom their own Disney+ mini-series. Forky already has one called Forky Asks A Question. Ally Maki's Giggle McDimples delivered the giggles. Sorry, I had to but she was very funny in the role.
The cast is astounding. Tom Hanks gives a voice performance of a lifetime as Woody. Hanks clearly showing his emotions throughout the film. Tim Allen's Buzz Lightyear is amusing as always. Allen and Hank's chemistry continues, and the wisecracking Michigander delivers some of his best Buzz Lightyear lines yet. Joan Cusack (Jessie), Bo Peep (Annie Potts), Jeff Garlin (Buttercup), Timothy Dalton (Mr. Pricklepants), Estelle Harris (Mrs. Potato Head), Blake Clark (Slinky), John Ratzenberger (Hamm), Wallace Shawn (Rex), Kristen Schaal (Trixie), and the late Don Rickles as Mr. Potato Head (archive recordings) are wonderful in their roles. Just to show how loaded this cast is the film had Betty White, Mel Brooks, Carol Burnett, Carl Weathers, and Melissa Villaseñor in smaller roles. What an ensemble from Pixar.
Don Rickles presence was definitely missed in this film. Although it didn't affect the film in any way. It was noticeable that everyone's favorite Mr. Potato Head wasn't getting many speaking lines.
The animation is rich in details. Pixar's Renderman and other technology has massively improved since 1995 obviously. Even with the nine year gap between Toy Story 3 and Toy Story 4, the updates in details are obvious. The lighting, the weather effects, and the overall fluid movement of the toys was remarkable. Not to mention realistic look of the fur on the toys and the cat. It may be overlooked but Pixar layered its backgrounds in such rich detail and it shouldn't be ignored. The animation is stunning and I wouldn't be surprised if the film wins a couple awards for its brilliance.
Randy Newman hits all his normal beats. Newman returned to compose and conduct the new music. Newman's score was energetic and had the lovely and recognizable sound that makes Toy Story's music iconic.
Director Josh Cooley had the ultimate uphill battle and he conquered it. There was a lot of noise if this film should be made. John Lasseter came under controversy during production. Lasseter along with other Pixar brain trust came up with the story. Cooley was put into the director's chair at the D23 Expo 2017. This was Josh Cooley's directorial debut, and what an impressive debut it was. Cooley was a story supervisor on Inside Out and directed the Pixar short Riley's First Date?. Cooley will be an exciting voice and director at Pixar to follow. I can't wait for his next project.
The story overall was superb and the writing itself was witty and sharp. The original story was created by John Lasseter, Andrew Stanton, Josh Cooley, Valerie LaPointe, Rashida Jones, Will McCormack, Martin Hynes, and Stephany Folsom. The screenplay's first draft was written by Andrew Stanton, who co-wrote the first three films. A later draft was written Stephany Folsom. Both Stanton and Folsom were credited for screenplay. The jokes were terrific and the story had the Pixar emotional power.
Stay for the credits you won't want to miss anything. Stay to the very end there are a few surprises.
Toy Story 4 proves its existence. The fourth installment distances itself from the first three films and sets the franchise on a new course that Disney-Pixar can revisit in the future. Toy Story 4 is an embodiment of the many creatives over the years who dedicated their careers to shaping these characters into the household names they are today. You'll laugh and you may cry as this film hits all the right chords.
Toy Story 4 is packed with emotion and filled with laughs. Toy Story 4 hits all the right notes. The writing wows, the animation dazzles, and the characters shine bright in Pixar's latest masterpiece. Toy Story 4 looks to its past but also paves the way for the future, this film is a testament to the greatness of Pixar.
For additional commentary on Disney and film/TV news-- Follow @TripleZ_87 on Twitter.