"War Machine" Review

LightsCameraJackson Critic "War Machine" is based on the 2010 book 'The Operators: The Wild and Terrifying Story of America's War in Afghanistan' by the late Michael Hastings. It focused on U.S. Army General Stanley A. McChrystal, who led U.S. forces in Afghanistan from 2009-'10. Hastings spent a few days with the very outspoken McChrystal and his team in the Middle East and Europe for a 2010 expose for 'Rolling Stone' magazine, that not only changed the course of both their lives, but the entire war effort.
In the film Brad Pitt plays fictitious General Glenn McMahon. But make no mistake, this is the Stanley McChrystal story. Hastings is also fictionalized, into Rolling Stone writer Sean Cullen (played by Scott McNairy). He narrates the first chunk of "War Machine" in flashback before finally arriving on screen for the final act. This is just one of the elements that makes the movie feel a bit disjointed.
That first hour is largely a satire of modern-day military conflicts, with Pitt's brash McMahon attempting to balance his love for violence and killing terrorists with his effort to install a strategy of restraint with the peaceful citizens of Afghanistan. And he's not shy about voicing his dislike for President Obama and most politicians, which does not sit well in Washington.
Pitt (who was also a producer on the film) gives McMahon such a gravely voice that he must have had cases on lozenges on the set throughout shooting. And yet, "War Machine" doesn't allow Pitt to go as over-the-top with the character as he should have (the way Hastings portrays him in his expose), failing to get raise the general to the level of absurdity which makes it impossible for anyone to reach him or understand his motivations.
The tone of this section is light, and the comedy rarely works. Many of the scenes are drawn-out and way too dry, especially those involving Pitt and Ben Kingsley, who plays bumbling Afghanistan President Karzai. You can see what writer/director David Michod ("Animal Kingdom") and the cast were trying to do (join the ranks of the great cinematic military satires), but the attempts at humor are a failed mission.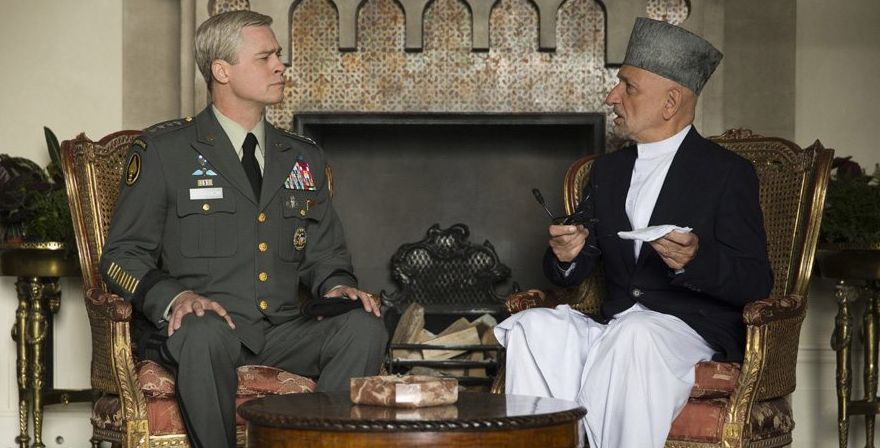 Once the Cullen character enters the film, "War Machine" gets much more interesting as it becomes a flat-out contemporary war drama. We get a clearer sense of the general and of the devotion of the men in his inner circle. We get a raw picture of McMahon's relationship with wife Jeannie (Meg Tilly). There's a great scene over dinner where Jeannie tells Glenn that they've spent less than 30 days together, total, for the past 8 years (before taking over operations in Afghanistan he was in charge of US military efforts in the Iraq wars). The couple's exchanges provide an authentic sense of what war is like at the top for both those on the operational side and back home.
This subplot, and a few others, give "War Machine" some much needed bite. And the final act is dominated by a (surprisingly traditional) depiction of a raid on an Afghan village that goes terribly wrong.
The biggest problem with "War Machine" is that McMahon does not come off as entertaining and maniacal of a protagonist as both Pitt and Michod were hoping for. After doing some research on the real General McChrystal, it's clear this portrayal missed the mark. This is the rare case when Hollywood-izing a real person didn't go far enough.
I do give Pitt credit for staying with his character. Even when challenged (including a scene with Tilda Swinton that feels like the most forced element of the entire movie), McMahon remains true to his values and beliefs. It's just that we don't always believe him.
At two hours, "War Machine" is longer than it needed to be, and it's too bad it takes about half of that time before Michod approaches this material the way it needed to be presented from the start: take the fascinating details of the source material and build a compelling dramatic, cohesive narrative around them.