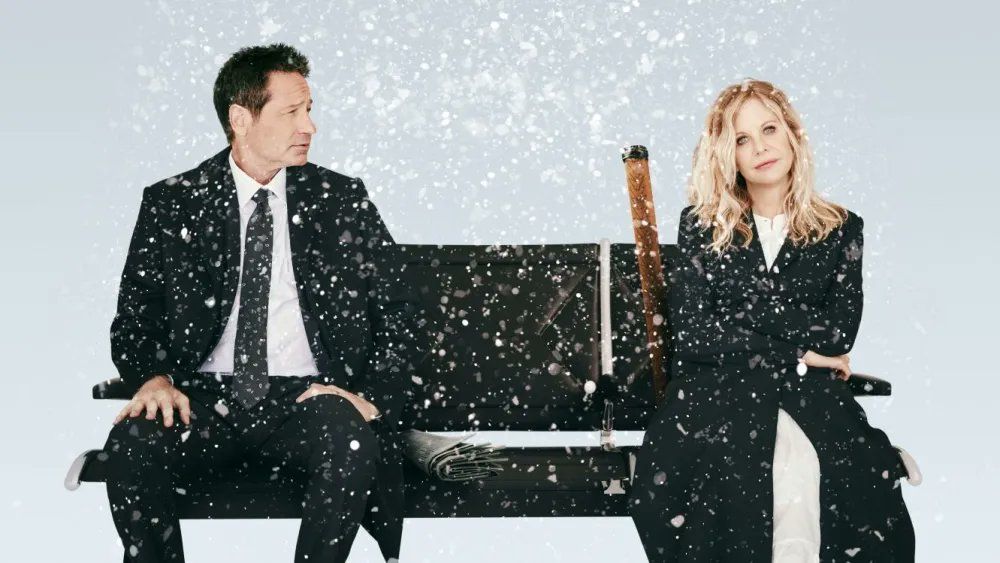 'What Happens Later' Review

LightsCameraJackson Critic Meg Ryan last acted in a movie eight years ago. She also directed 2015's "Ithaca". Ryan returns to the director's chair, and partners with David Duchovny on-screen, in the new romantic comedy, "What Happens Later". Of course, she's best known for starring in three of the most iconic rom-coms of all-time: "When Harry Met Sally", "Sleepless in Seattle" and "You've Got Mail" — all collaborations with late writer/director Nora Ephron.
Ryan attempts to channel Ephron with this adaptation of Steven Dietz's 2008 stage play, "Shooting Star". You can tell pretty quickly, because of its showy/preachy dialogue, that "What Happens Later" is based on a theatrical work. The two character play, set at a small, regional airport hampered by a Leap Day snowstorm, gets to spread its wings a bit on film. But, unfortunately, it never takes off.
Ex-lovers Wilhelmina Davis and William Davis (yes, they have nearly identical names) randomly meet for the first time in 25 years while looking to make their connecting flights — she to Boston and he to Austin (same names, cities rhyme. You're starting to get the picture). But wait, it gets even better. Turns-out she lives in Boston and he lives… (you know what's coming)… in Austin! However, the weather gods have other plans for our former college sweethearts. A monster snowstorm has grounded all flights. So these two are stuck together for a while. This allows them to revisit their past relationship and maybe, just maybe, find true love and closure after all these years.
From the opening moment featuring two CG snowflakes dancing in the air, we know we're in for a cutesy, kooky, clumsy flight of fantasy. This film is 100-minutes of Wilo and Will fast-talking to each other. I tolerated it for about 30. What makes the first half-hour kind of work isn't Ryan and Duchovny (both give rather embarrassing performances). It's the self-awareness of some of the dialogue, some wacky digital signs, and the announcements from the airport public address guy, which all play into the destiny/fate factor. The occasional funny line or accurate zinger on air travel or life, amidst Ryan and Duchovny's overstuffed, overblown chats, keep things bearable.
But the script, by Ryan, Dietz and Kirk Lynn, soon gets desperate — going for the repetitive and schmaltzy over anything meaningful or substantial. The more we learn about this pair of W. Davis's the more annoying "What Happens Later" gets. The conversations grow increasingly awkward and unbelievable, as the duo gets tipsy at the airport bar and ride around on a golf cart. At the 70-minute mark we get the inevitable dance sequence.
At one point William reminds Wilhelmina that she was never good at math. That also applies to this film as a whole, which has major age problems, starting with the fact that 63-year-old Duchovny and 61-year-old Ryan are both trying to play 50. (Most people know "When Harry Met Sally" was released nearly 35-years ago.)
"What Happens Later" tries way too hard to recapture Ryan's rom-com glory days. Instead, this trip back in time is filled with turbulence. As both characters come to learn (and those behind the film should have considered before beginning this project), sometimes it's best to leave the past in the past.