'Wonder' Review

LightsCameraJackson Critic There's at least one movie a year that comes out of nowhere and just speaks to me. Last year it was "Sing Street" – a joyous, deep look at growing-up and finding yourself. This year that honor belongs to "Wonder" – a family dramedy whose subtle power is nothing short of remarkable.
Based on the 2012 best selling novel by R.J. Palacio, "Wonder" is the story of a 10-year-old boy named Auggie. Two years after his acclaimed, career-launching work in "Room", young Jacob Tremblay has already topped himself with this performance. Auggie was born with a facial deformity and has undergone 27 surgeries. He often wears an astronaut helmet, both because of his love of space and to hide his face from the world. His favorite day of the year is Halloween because he can go out in public with his head held high, wearing a mask, like everyone else.
However, Auggie's parents (played by Julia Roberts and Owen Wilson) love his face. They accept their son for who he is – and love him wholeheartedly. One reason why "Wonder" resonates so well is that anger and resentment are not part of the answer to the issues this family is dealing with. Compassion, understanding, care and motivation are presented as the solutions.
Up until now Auggie's been homeschooled, but he's about to attend a real school for the first time, entering 5th Grade at Beecher Prep School just outside of New York City. When they first see him, the other kids don't want to go near Auggie (some think they'll get The Plague if they do). He quickly becomes a target of their jokes. The key is – they've just got to get to know him.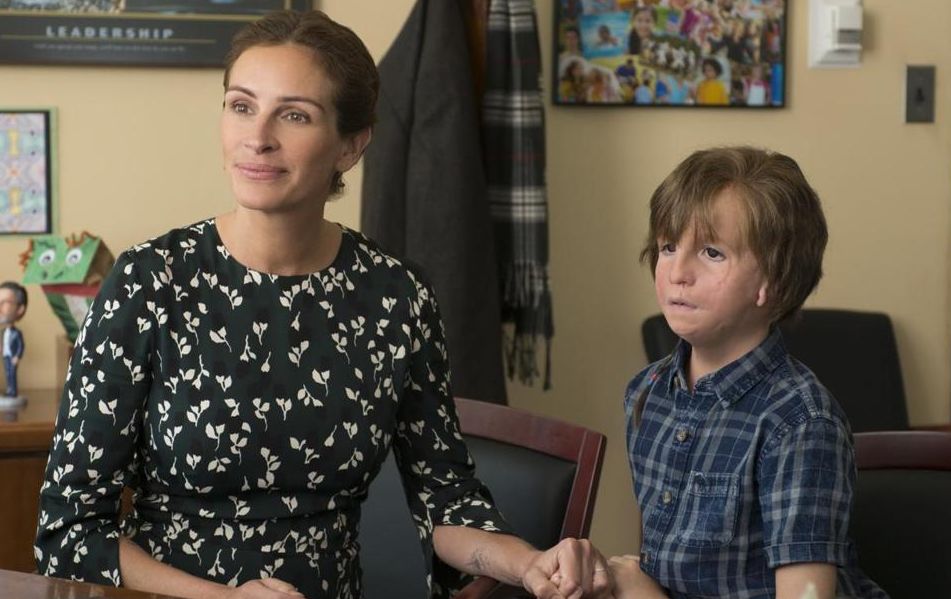 "Wonder" is one of those rare films that make it impossible to look away from the screen. You are immediately and totally immersed in the challenges and triumphs of this boy and his family. Each of the topical issues: bullying, acceptance, tolerance, forgiveness is dealt with authentically and honestly. The script, by Stephen Chbosky (who also directed), Steve Conrad and Jack Thorne, goes far beyond what I expected and never feels overboard or overly-dramatic. A few of the best moments, without any dialogue, are quite poetic.
Chbosky ("The Perks of Being a Wallflower") doesn't simply focus on Auggie's struggles, but also on those of the people around him, including older sister Via (played by Izabella Vidovic in a breakthrough role). She's attending a performing arts high school. The parallels between what each is going through illustrates what many throughout the film remind Auggie – that he is not alone.
Roberts and Wilson don't get the amount of screen time you might expect, but both roles are perfectly cast and executed. Roberts brings heart and warmth, and Wilson delivers some of the funniest and most important lines. Mandy Patinkin ("Homeland"), Daveed Diggs ("Hamilton") and young Noah Jupe ("Suburbicon") have standout moments as well.
If depicted differently, even in the slightest way, "Wonder" would have come off as way too sappy. At the packed screening I attended, people teared-up early and often. But the emotions this movie evokes are real. Chbosky breaks the mold on scenes structure, taking the audience from sadness to joy in the blink of a watery eye.
In terms of awards consideration, "Wonder" is a solid contender in the Adapted Screenplay category. And it could become this year's "Hidden Figures" in the Best Picture competitions – that feel-good, inspirational effort that everyone can get behind.