Telling me to quit Universal's Hobbs and Shaw is like telling an addict to quit crack cold turkey. It ain't happening people.

As you could have guessed, my excitement over Universal's 'Fast and Furious' spin-off went from a 10 to 100 thanks to the latest set pic featuring a staredown of bromantic proportions between Dwayne Johnson and Jason Statham a/k/a Dwaytham!
DWAYTHAM!
The Rock, as he is want to do, shared the first set photo featuring what appears to be a meeting of the minds between U.S. Special Agent Luke Hobbs and Ex-British Military operative Deckard Shaw:
❝We either gonna get along or we gonna get it on. Fuck getting along 😈 Great first week of shooting our Fast & Furious spin-off, "HOBBS & SHAW" with my ace @jasonstatham. We're havin' a blast disrupting the norm to deliver something fresh, cool, fun and bad ass for the fans.❞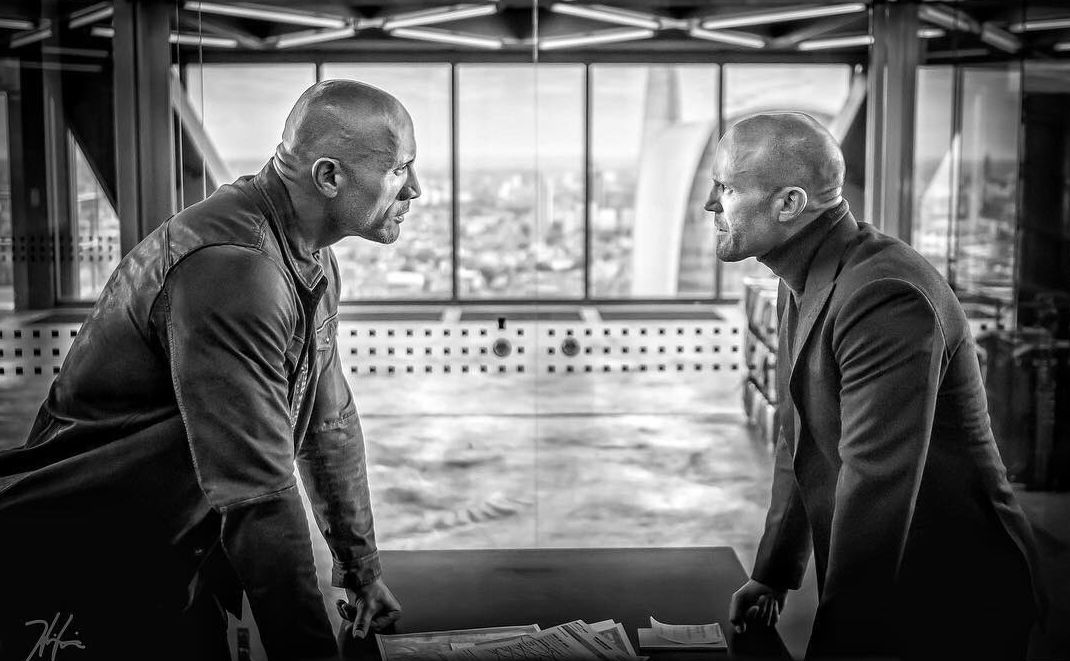 While it's a no-brainer both Hobbs and Shaw will bring their badass A games, the latest set pic also reveals each character has elevated their style game. The Rock has dropped his signature 'Daddy's gotta go to work' Under Armor attire in exchange for a weathered leather jacket. Statham, looking Bond AF, has opted for a more debonair flair, sporting a turtleneck and sport coat. Let it be known, I despise turtlenecks but I approve of this look.

Of course, what remains to be seen is what exactly has brought these reluctant "Outlaw Lawmen" together? And who is sponsoring their international adventure pitting them up against the film's baddie, Idris Elba? While my money is on Kurt Russell's "Mr. Nobody", I'm sorta holding out hope writer Chris Morgan re-introduces Eva Mendes as part of their adventure.
With "Fast and Furious 9" set to begin production in April, it won't be hard for fans to gear up for two consecutive years of franchise films starting with "Hobbs and Shaw" slated for July 26, 2019 and "Fast and Furious 9" slated for April 10, 2020.

You ready for a heaping dose of Dwaytham!? This might be the best installment since Fast Five!
GregHarmon in Untitled Fast and Furious Spin-OffFollow
Greg Harmon | Managing Editor | Follow me @sweetharmony for Film & TV discussion | Ko-fi http://ko-fi.com/sweetharmony