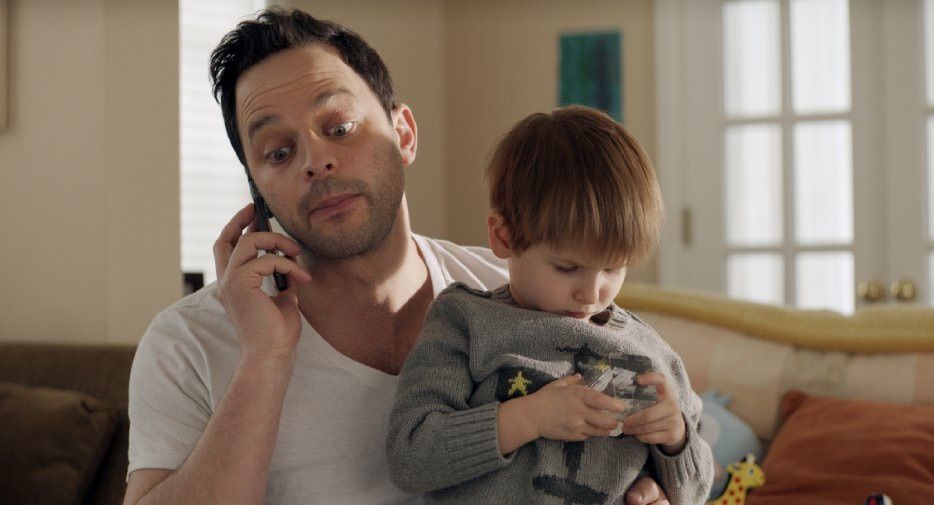 'Adult Beginners' is a Layered Tale About Trials and Tribulations Over Maturity and Identity

JamesArthurArmstrong Adults acting like children is a fairly common trend being played out in most modern day comedy dramas, and Adult Beginners is no different. But what makes it work is Ross Katz's comedy is actually funny and isn't afraid to use this trend as its central theme.
A tough transition for jake
It's starts with a bizarre pre-credits sequence that introduces us to Jake (Nick Kroll), an entrepreneur who uses language such as "slickest" and "fucking awesome" when presenting his latest product, Mind's-I, similar to those Google glasses that were invented a few years back. Jake has invested millions of dollars into this product and expects it to return an impressive profit upon its release. On the eve of its launch, Jack is interrupted whilst fooling around with his girlfriend in the bathroom by his cocaine using buddy, Hudson (Joel McHale), who informs Jake of a phone call. It's a call Jake wishes he never took as he's informed that a rival company beat him to the market. Everything Jake has invested and all the money his investors ploughed in, has all disappeared.
Jake is lost and decides to escape his narcissistic existence by showing up at his sisters house where they grew up. Jake turns up to Justine's (Rose Byrne) surprise, and invites himself to stay for three months. He hasn't visited in three years and is surprised to find out that Justine is thirteen weeks pregnant with her second child. Justine isn't too keen on Jakes arrival. She's struggling to keep up with her 3-year-old son Teddy, and is apprehensive about having Jake back without her husbands approval. But husband Danny (Bobby Cannavale) welcomes him, eager to share the pressures he and Justine feel.
It's a tough transition for Jake: in a short while he's gone from a potential self made millionaire to a stay at home "manny." But it's just about to get worse for poor Jake. Just as he's beginning to find his feet with taking care of young Teddy, and Justine has thrown herself into her job at a local high school, he spots Justine's pot smoking husband walking out of a massage parlour with another women. This throws their whole dynamic out the window, leaving Jake firmly in the middle.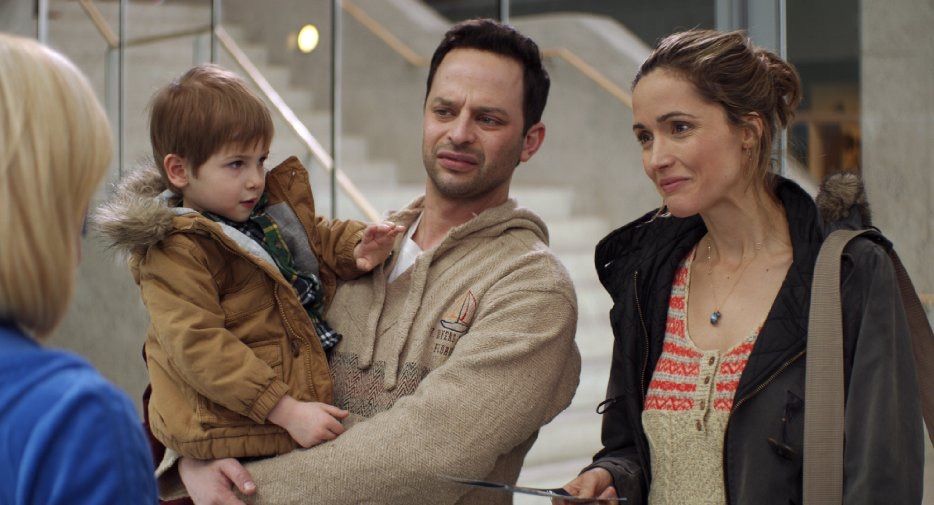 A comedy worthy of your time
Although it can be seen as a drama based around the dynamics of two siblings, with one going through a 'finding themselves' moment in their life – similar to The Skeleton Twins – Adult Beginners is a bonafide comedy. It's full of intelligent moments of comedic sarcasm and witty one liners that never water down the product or play down to its audience. Writers Jeff Kox and Loz Flahive construct a script that allows Kroll to riff on its dialogue and show his true worth as a comedic performer. Byrne and Cannavale deserve applauds, too. Their chemistry as an on-screen couple works handsomely in this environment. Byrne has really found her feet as a comedy performer these past few years. She cuts a far less dominating figure than she did in Paul Feig's Bridesmaids and last years Neighbours alongside Seth Rogen, yet she never misses a step. Cannavale has also gone on from his turn in Woody Allen's, Blue Jasmine. Both compliment each other throughout which in turn leads to Adult Beginners being an effortless watch.
It's far from being perfect, but as debut films go, director Katz has certainly made a comedy worthy of your time. Known for producing such works as Lost in Translation and In the Bedroom, it may come as a bit of a head scratcher why he would be drawn to a project such as Adult Beginners, but it's because of his astute pedigree as a producer and working on such previous projects that makes Adult Beginners work. He never misses the emotional beats that this movie insists on, and he manages to pull the pacing back to a more comfortable and manageable one after a fairly rapid story setup in the opening scenes.
Adult Beginners is a layered tale. It depicts a small group of adults trials and tribulations over maturity, and identity. It's about longing for a career that was left behind; it's about finding yourself and reconnecting with your roots; and it's about a longing for attention and emotional strength from the ones closest to you.