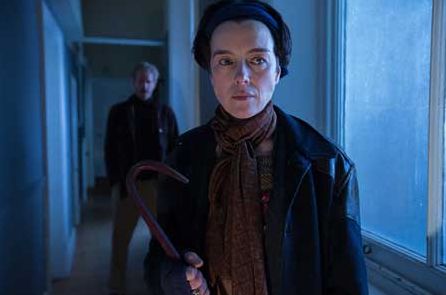 Altar: Film Review

SDeathrage A family experiences the paranormal in a dilapidated mansion in this haunted house thriller starring Olivia Williams and Matthew Modine.
Olivia Williams is hired to restore a foreboding mansion where an artist murdered his wife. Covered within by billowing plastic sheeting and leering taxidermied animals, the house sits surrounded by seemingly unending, malevolent moors. The doors to the mansion open and close on their own, often with a disembodied gasp. Matthew Modine spills a drop of his blood in the boarded up attic, which seems to be accelerate the spirit activity. A spectral image of a woman appears in a photo being used to help in the house's restoration, which causes the daughter a bit of consternation, but Williams explains this away cautiously. Remaining a skeptic, in spite of seeing a figure walking on the grounds, Williams consults the internet, and secrets of the artist and his house come to light. Modine continues to spill his blood everywhere as if he's a somnambulist while the paranormal events continue. An eerie historian visits as an occult mosaic is revealed. The daughter contacts a ghost hunter, and after a visit to the estate, he warns the family to leave.
Featuring a somber color palette of cement grays and taxidermy browns, Altar is beautifully shot, with many striking images of isolated, autumnal moors and a secluded, abandoned estate. Altar is influenced by The Shining, The Innocents, and Wuthering Heights, and uses its influences well. Convincing special effects such as fractured, double-exposed, hallucinogenic spirit images suggest a parallel universe occupies the house, where past is present, present is past. An effective score by Simon Boswell (Shallow Grave, Lord Of Illusions) creates a chilling atmosphere. Well-acted, Olivia Williams seems harried and overworked, while Matthew Modine seems haunted and possessed. Dimly lit corridors, mysterious locked doors, and strange figures lurking about adds to the occult, paranormal ambiance. A dizzying montage of Modine fervently creating an enigmatic sculpture of a prone female nude cutting to Williams uncovering an occult mosaic in the mysterious attic, all as the camera circles about them, is a standout scene. Unfortunately, the ending disappoints, and seems tacked on. Altar is bogged down by few unanswered questions, but it has a few moments which raises goosebumps, and it's an entertaining thriller.