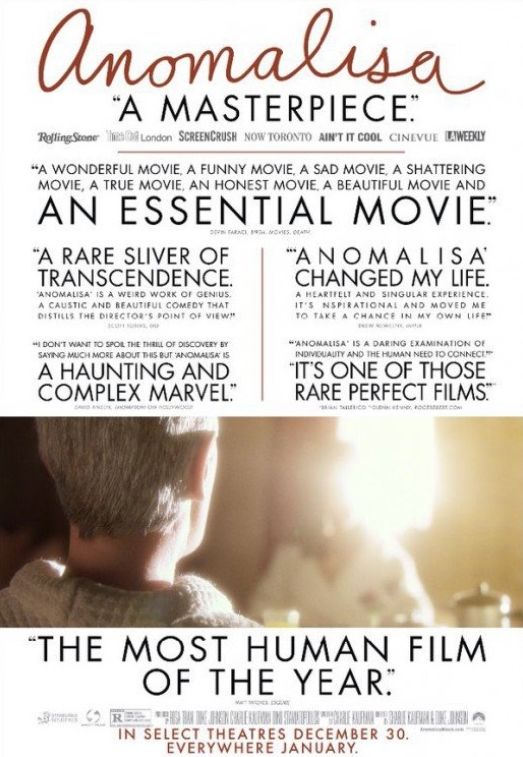 Anomalisa (2015) Movie Review

TVFanatic100 Sad, gripping, and just about every other emotion possible crammed into one film is the only way to describe Anomalisa.
The film is about a man crippled by his mundane and boring life, but everything changes one night when he meets this one woman, Lisa. The film is directed by Charlie Kaufman and Duke Johnson, and Charlie Kaufman also wrote the film. Kaufman is one of my favorite directors/writers, because he always brings a new and original idea to his films. I've seen all of his filmography and I am a huge fan of his, so of course I was hyped for this film. Even though the bar was set high for this film for me, Anomalisa passed that bar with flying colors. It's a beautiful story and Kaufman makes something that shouldn't work and makes it work. I don't see any other directors making this film, that's how unique he is. The voice actors were quality actors. The animation was beautiful and the soundtrack was haunting. This type of animation should be used more in the future. This is also Charlie's funniest film. It was full of humorous moments and at the screening I went to, everyone was laughing a lot. The story was so basic, but somehow he makes it work. The whole film pretty much was in a hotel and it's never boring for its 90 minute runtime.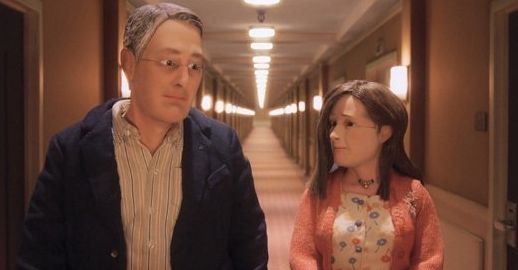 I really have no negatives for this movie and I can't wait to see it again. Actually, there was one negative and that is that it ended abruptly. It will be a while before the masses can see this film. It comes out in December and they haven't even released a trailer yet. If enough people see this I can definitely see the academy recognizing this film. I can see it being nominated for Best Animated Feature and Best Adapted Screenplay. I do think this is my favorite Charlie Kaufman film right in front of Eternal Sunshine of the Spotless Mind. I also really hope this "kickstarts" Charlie Kaufman's career, because I'm sure he has more quirky original ideas to bring to the big screen.