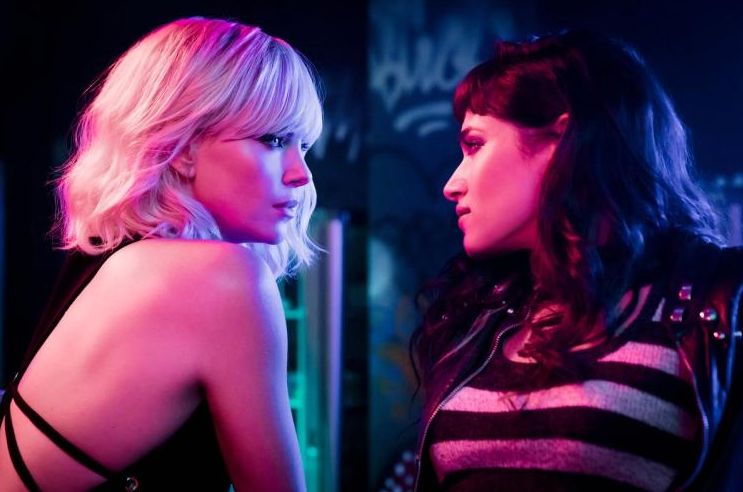 Atomic Blonde (2017) Review

ASelenatorsView Atomic Blonde is directed by David Leitch (John Wick) and stars Charlize Theron (Mad Max: Fury Road, Monster), James McAvoy (Split, X-Men: Days of Future Past) and Sofia Boutella (The Mummy, Kingsman: The Secret Service). "An undercover MI6 agent is sent to Berlin during the Cold War to investigate the murder of a fellow agent and recover a missing list of double agents". Can "Atomic Blonde" be more than just kick-ass?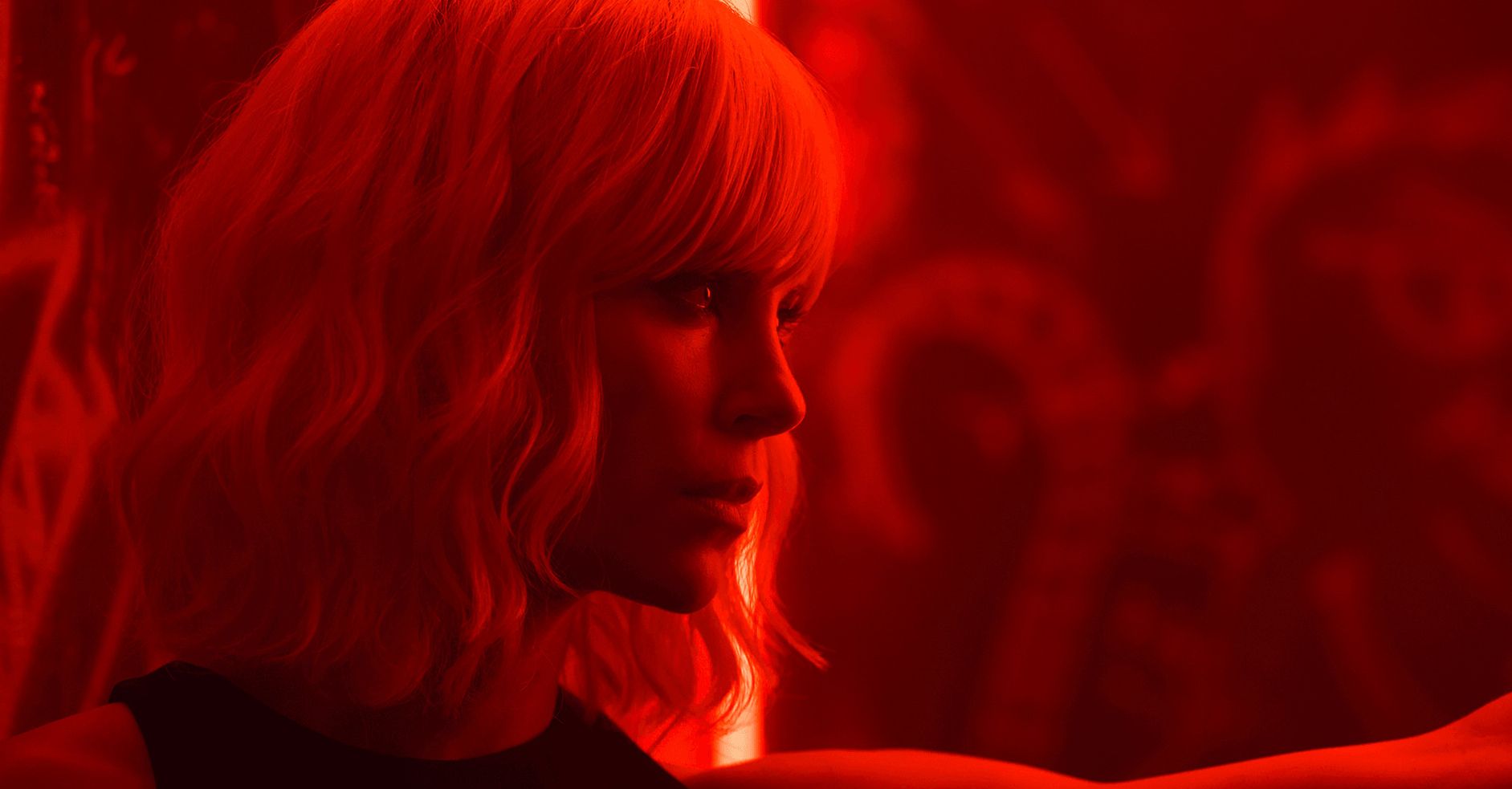 As its release got closer and the buzz for Atomic Blonde surged, my excitement and expectations leaped sky-high. I hoped for a film that stylistically was very similar to the "John Wick" flicks. Alas Atomic Blonde doesn't really have a patch on those films. I mean, it's good but it wasn't quite the stylish, slick action feature that I was expecting. There's a lot to like about the film and I'm hoping to see it again and hopefully have a more enjoyable cinema-going experience (more on that later). Charlize Theron is a bad-ass as she kicks A LOT of ass. I don't think it's going to be for everyone though.

The highlight of "Atomic Blonde" is the action. Every action sequence is brilliantly executed. The ones with electronic music played on top work really well- the music definitely helps to add even more energy to the fight scenes. However, the best segment of Atomic Blonde is the fight in the hallway and bedroom during the protest. Director, Leitch made a smart creative decision by making this the lone fight scene without any non-diegetic music played on top. This made the fight much more intense. This is probably one of the most well choreographed fights I have ever seen in a film...it just felt to real and true-to real life. From the grunts Lorraine (Theron) was making to Lorraine attempting to get back up but falling. This fight scene was perfectly imperfect. When people fight in real life, it's never as slick and smooth as most films portray. Atomic Blonde's terrific mid-film fight is refreshing and excellently done. It wasn't just this action sequence that was impressive, all of them in the entire film were. Lorraine always utilises what is around her in the fights- from keys to a cinema screen. The fighting wasn't exactly as unique and memorable as the scenes in the John Wick films but it was still definitely violent, brutal and Lorraine really kicked some ass.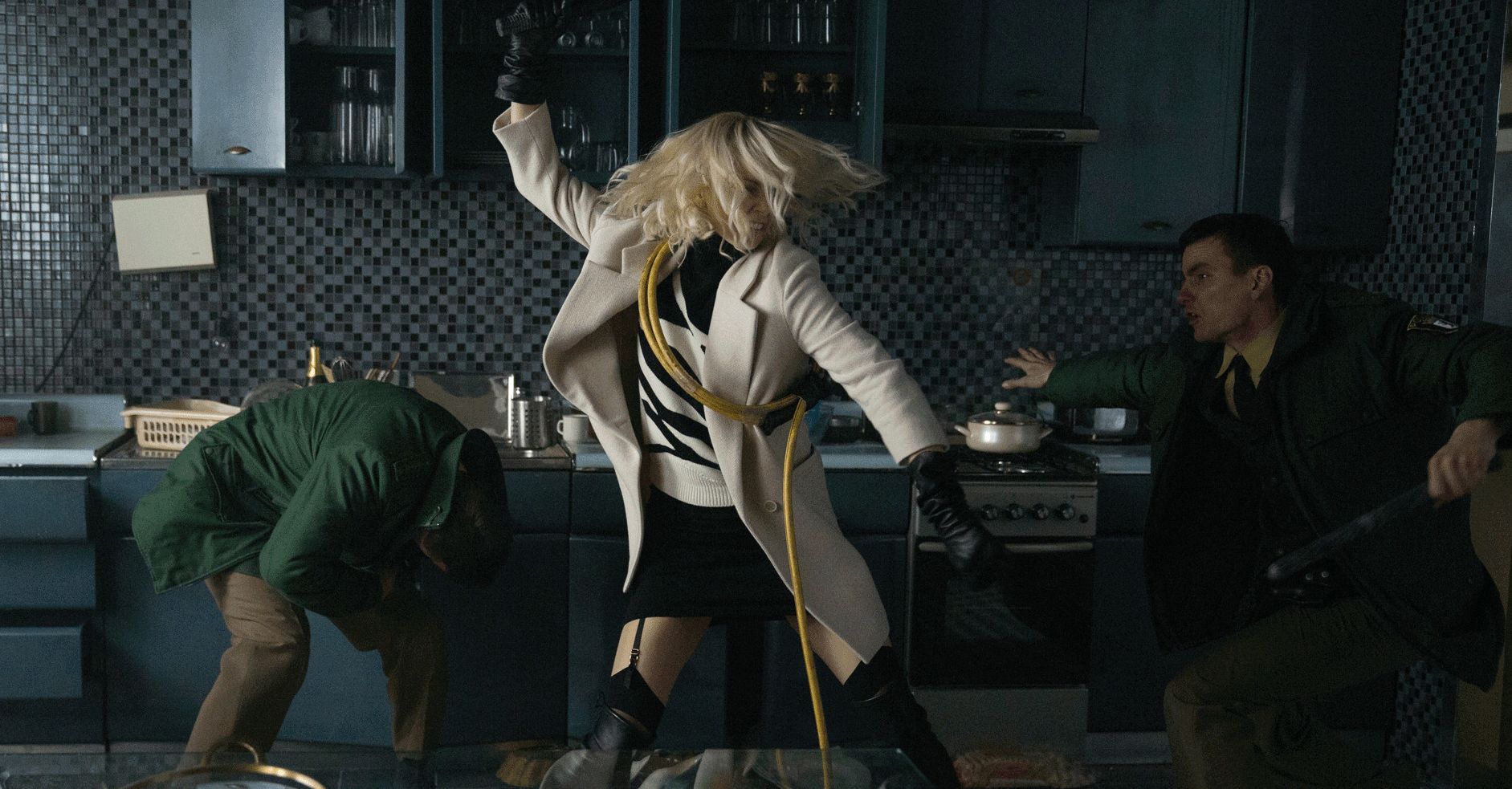 Atomic Blonde definitely had a style, just not the style I was expecting. I was expecting quite a neon and electronic colour palette and feel to the whole film. There was some of that but quite a lot of the film is extremely bleak and washed out. However, I do think that this worked with the surprisingly serious tone of the film and its context: The Cold War wasn't exactly a happy and warm time for the people of Berlin. I loved the styling of Lorraine's hotel room- it was ultra modern for a period film with those bright neon colours I was expecting for the entire film. The night-club was also a good choice aesthetically, I just wish the film had used this location for a fight scene...it would have been super cool! The cinematography choices were quite out-there. I especially liked the fight behind the cinema screen where only the silhouettes of the characters could be seen. The editing was also well executed with some experimental and inventive creative choices. The music is definitely a strong point for this film- I believe it's a better film than "Baby Driver" anyway but what Baby Driver lacked was recognisable songs. The ones that were picked for Atomic Blonde were genius. They all fit the overall feel and heightened any scene where a song was played. I also liked how the film was quite self-aware. Music was popular among the youths during The Cold War and there are a couple of lines throughout that reference this but can also be applied to the film. There's a funny line during a news segment about how 'sampling' is becoming controversial. This is funny as most of the music in Atomic Blonde are remixes that sample old classics.

Charlize Theron owns this film. It's great to finally see a female protagonist that gets involved in brutal action- for years, its been a character type that is stereotypically written as a man but Atomic Blonde and Charlize Theron's Lorraine are game-changers. Theron appears to do most (if not all) of her own stunts and she does it so brilliantly...I would say effortlessly but Theron is so convincing with her grunts of agony- she gives it her all. Just like the character of John Wick, Lorraine is quite cold but still always likeable. I'd love to see this film get a cult following and hopefully a sequel! Theron doesn't just sell the action, she sells everything that is required from her. That includes nudity and a lesbian sex scene. Both are done in a tasteful manner. Lorraine's male counterpart, David Percival, is played by James McAvoy. I have to say, McAvoy is killing it in 2017. His performance in Split is one of the best I have ever seen and now in Atomic Blonde, he manages to show even more diversity - he is one skilled actor! Side-note: I think it's also great that Atomic Blonde portrays men and women working together. The lead may be a kick-ass female but that doesn't make this film extreme feminist propaganda, it shows unity and gender actually isn't mentioned. I was surprisingly very impressed with Sofia Boutella. She's never tasked with much dialogue in her roles. This film actually is the most I've ever heard her speak. Her previous roles, and lack of speaking, made me worry Boutella could sell action and facial expressions but couldn't convincingly convey emotion through words. I was wrong, Boutella shows a lot of promise here and I was impressed with her performance and hope to see her given more talking-roles in the future.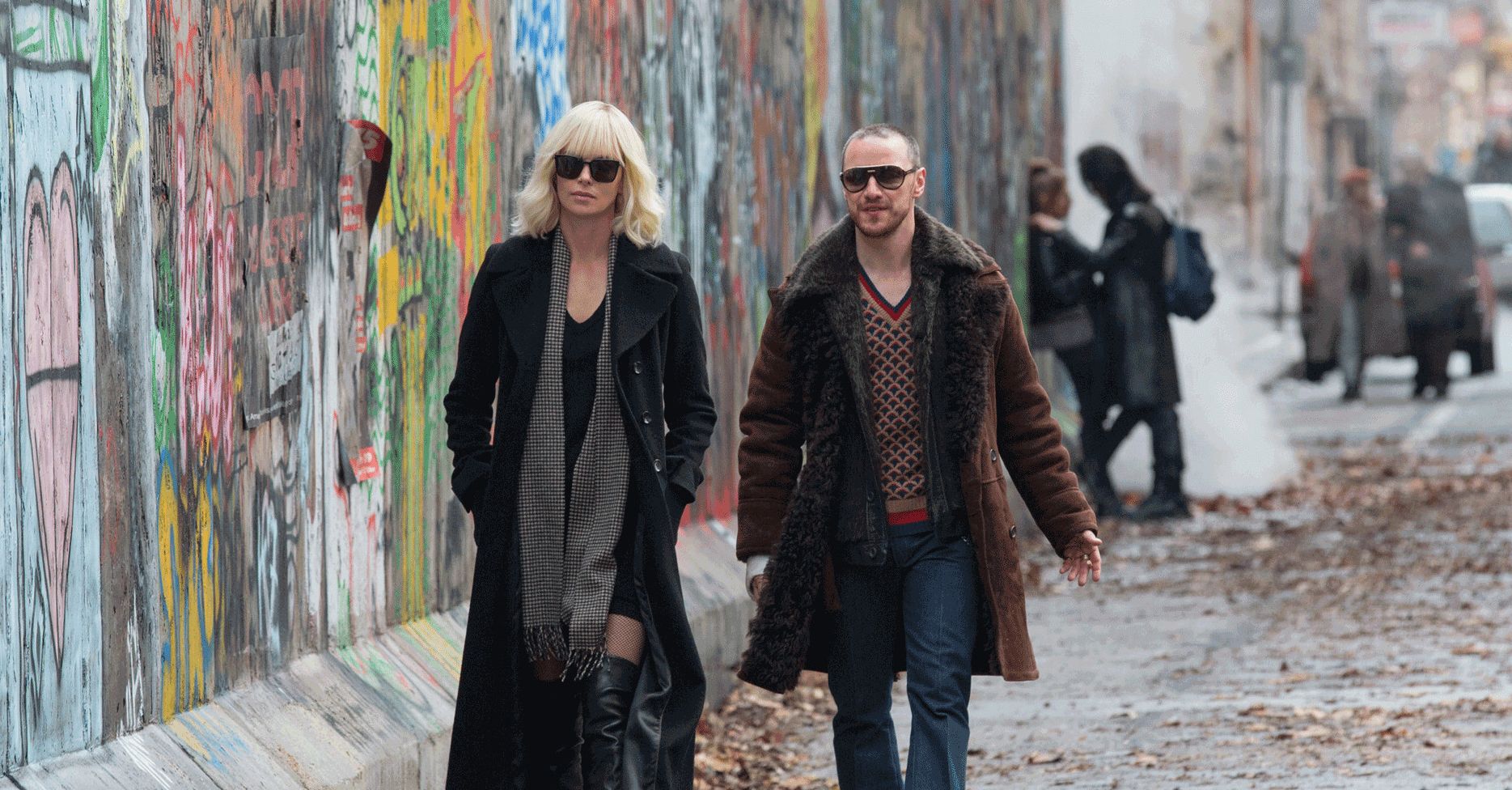 SPOILERS
At first (that's important) the plot for Atomic Blonde seems very simple. Lorraine simply has to retrieve a list that if leaked, could prolong The Cold War. However, that plot becomes much more tangled and complicated as the film goes on- I had to keep reminding myself that it was all about finding a list if I ever became lost (which happened quite a few times). The film doesn't do a great job of making it clear what is going on. I will say though that I was surprised by but appreciated how heavy the film was- the film takes place during an actual time in history, The Cold War, and references it quite a bit. I wasn't expecting the film to tackle a piece of world history but that definitely helped it to be distinguished from other spy thrillers...this story could actually be true. There's a lot of twists and turns towards the end of the film, the film falsely ends once or twice. Firstly, it's revealed that Percival retrieves the list much earlier on but Lorraine lies to MI6 who believe she knew nothing about this when in reality, Delphine (Boutella) told her so she was aware the whole time. Next, Lorraine kills Percival as she has been able to record and manipulate his words so it sounds like he was the traitor all along. Then, it's revealed that Lorraine double crossed MI6 and was actually the traitor herself and was working for the enemy. Then, it's revealed that Lorraine double crossed the enemy and was working for the CIA in America the entire time. A complicated yet believable and clever twist. In times of war, you really can't trust anybody and there are always so many convolutions occurring underneath the surface. The spy game really is a weird yet interesting one. I think the script could have done a better job at making this all easier to follow as many audience members left quite confused.

It's always sad when you're enjoying a film and it gets ruined by fellow audience members around you. I remember this time last year I had a couple of bad experiences with disruptive audience members but since then, there hasn't been an issue. This time, there was a triple date made up of 6 non-English speaking people. Throughout the film, these 6 people were talking in 'normal volume' voices, not caring about anybody around them. They were on their phones constantly- one was on hers for about 10 minutes whilst her boyfriend left for a very long toilet break. When he returned, they also had a very long and graphic kiss. This all started becoming worse towards the start of the second act and really took me out of the film. I really hope I can find some time to see Atomic Blonde again so I can get the full experience and maybe I'll feel even more positive as I won't be put in a bad mood whilst watching.

Atomic Blonde isn't quite as slick and stylish as one would hope but still shows qualities of those things. The plot is simple on the surface but quickly becomes complicated and often hard to follow. However, the payoff is a brilliant twist that makes a lot of sense. Charlize Theron proves why she's one of Hollywood's biggest stars right now with a kick-ass performance with a role (and film) that is a game-changer going forward. McAvoy and Boutella support her brilliantly. The music-less fight scene mid-film is one of the best I've ever seen and the music choices overall fit brilliantly. Atomic Blonde is everything it should be but it could be so much more.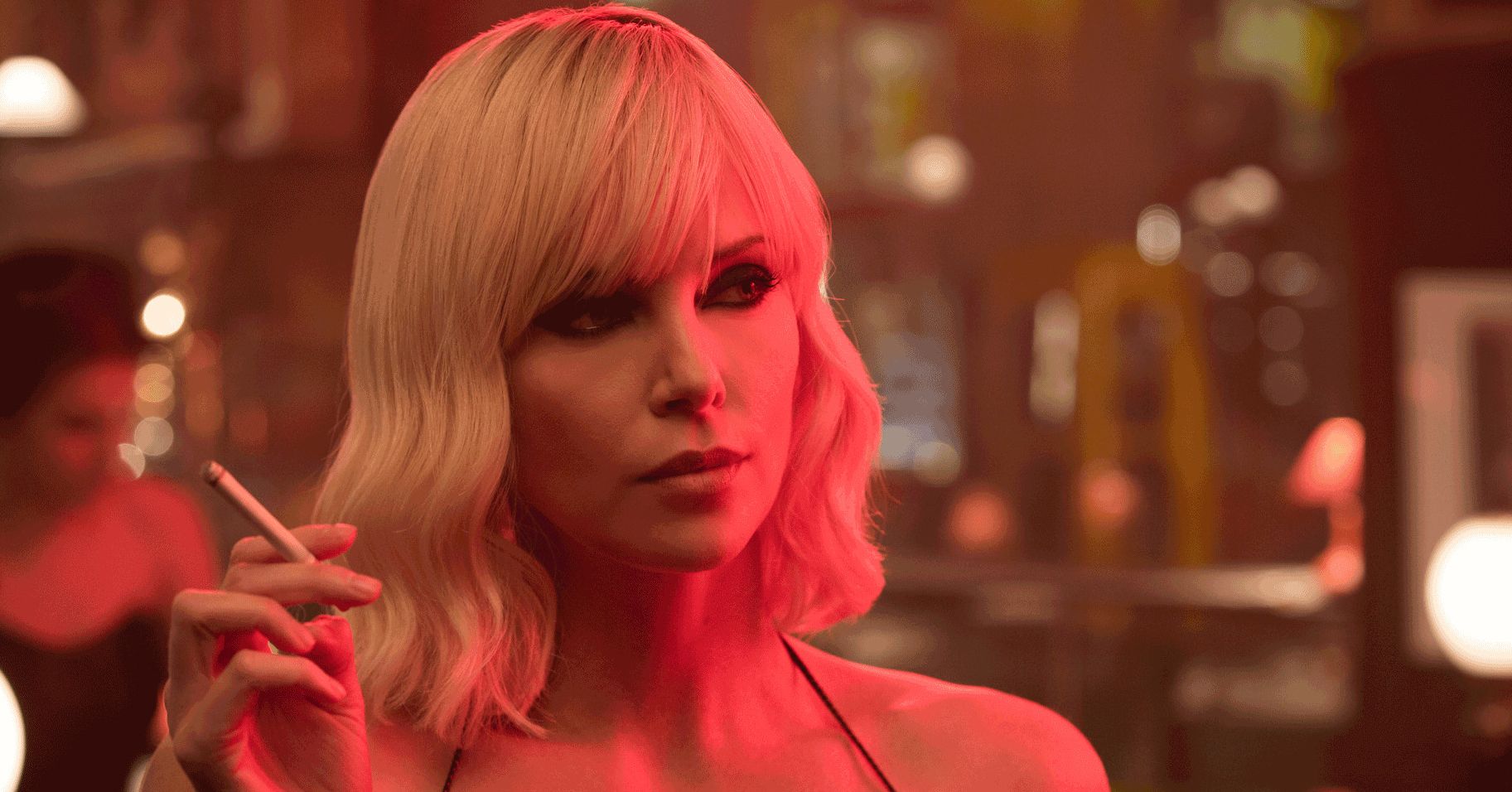 73/100