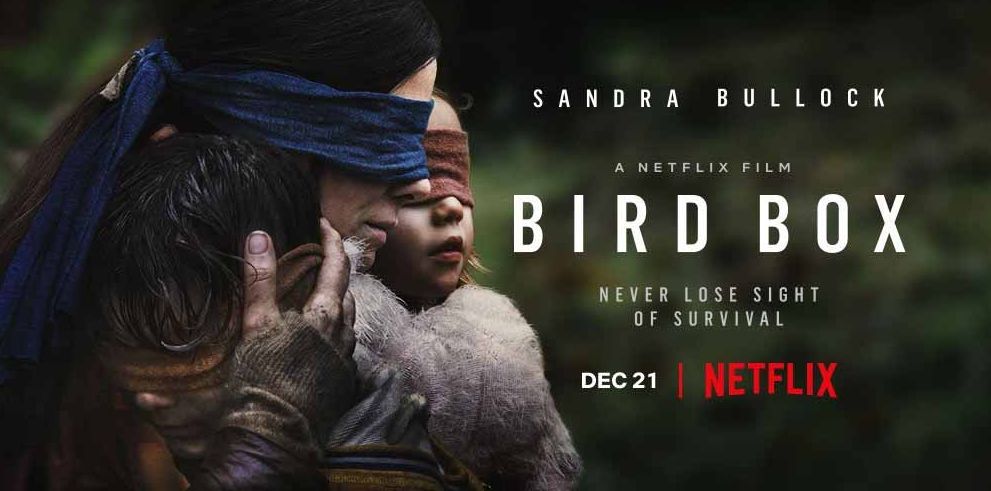 BIRD BOX (2018) Movie Review

filmgob Five years after an ominous unseen presence drives most of society to suicide, a mother and her two children make a desperate bid to reach safety.
Manages to avoid being dismissed as another The Happening and comes close to matching A Quiet Place, Bird Box does enough to stand out as another Netflix success.
The cast is fantastic, from established stars like Sandra Bullock and John Malkovich, to veterans like Jacki Weaver and Pruitt Taylor Vince, to familiar faces such as Rosa Salazar, Trevante Rhodes, Danielle Macdonald and Lil Rel Howery.

The post apocalyptic survival story isn't anything new, but director Susanne Bier brings out some understated performances and a well paced second act that allows the characters to become more than cliche victims of a supernatural force.

The tense score from Trent Reznor and Atticus Ross never felt intrusive and was effective in creating the haunting atmosphere throughout the film.
Bird Box may not be groundbreaking, but it delivers enough thrills and solid performances within an emotional story.