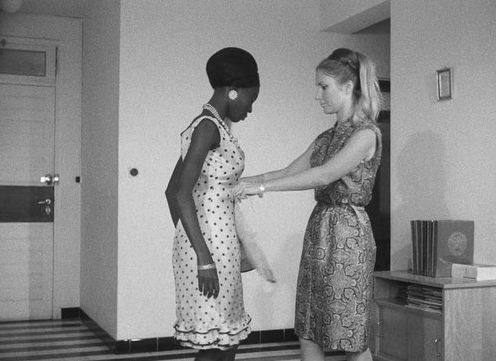 'Black Girl' (1966) review

DelaliBessa Critic To immerse yourself in Ousmane Sembene's 1966 film, 'Black Girl' (La Noire de…) is to time-travel to ground zero of African Cinema. Sembene's extremely lean but layered first feature film was the first by sub-Saharan African, earning him the mantle of the "father of African film".
Yes, there were films produced in Africa during the colonial era, helmed exclusively by outsiders thus limiting their ideological reach. Whilst it's fascinating to absorb the aesthetic of 1950s Ghana in a film like 'The Boy Kumasenu', which was a best picture nominee at the 1952 BAFTAs, the aforementioned film is a marker for the latent muzzling and condescending slant of the various colonial film units, as noted by Malian filmaker Manthia Diawara in his book about African Cinema culture.
'The Boy Kumasenu', despite its fine coming-of-age narrative, features a British narrator spoon-feeding the audience and watering down the nuance and agency of the characters. The subtle suppression is jarring. To see a character try to articulate frustration and lust but hear British voice summarising complex emotions, at best, hasn't aged well. At worst, its borderline traumatic in the way it aligns early African society to some kind of wildlife escapade akin to something on Nat Geo Wild.
That's where the importance of Sembene's 'Black Girl' comes into play in the way it empowers its female protagonist by simply giving her, and Africa, a voice, and revelling in its unapologetic subjectivity. The first honest sentiments from Africa point to despair, loneliness, exploitation, naiveté and, most importantly, a renewed desire to resist. It's a momentous first step for Sembene that echoed down the years, serving as a blueprint for the Senegalese director's later politically charged works.
Running at just under 60 minutes, 'Black Girl' opens with a harbour. A ship docks and its horn blurs out as Sembene channels totems from the darkest period in African history. Despite the scale captured in the early shot, it's hard to miss the underlying disquiet the choice of aspect ratio evokes. Filmed in a 4:3 ratio, that enforces a sense of constriction (think Kelly Reichardt's 'Meek's Cuttoff'), Sembene puts us a step ahead of our protagonist, Diouna (Mbissine Therese Diop), who is yet to confront and accept the reality of her new existence.
Diouna is in France to continue working with the French middle-class family that employed her back in Senegal. She was a nanny, a job she was grateful for given the penury and social stasis she wallowed in. All she had to do was cater for the family's three kids; playing with them and taking them on walks, among other things. When Diouna accepted her mistress' request for her to move to France with them, she did not expect the status quo to change. In fact, the anticipated glamorous upgrade excited her. A world where Cannes, the Riviera and Antibes, where her employers lived, would be within reach.
It doesn't take long for Diouna to realize she is to be defined by the small apron her mistress slaps on her in a matter of fact manner. What else did you expect, is the underlying subtext from her employer's demeanour. "France is the kitchen, the living room, the bathroom and my bedroom," Diouna tells us, as we spend a chunk of the film in her head. She had become a full-blown housemaid, responsible for cooking, laundry and cleaning. Nothing she signed up for. Sembene successfully uses mere domesticity to highlight the toll of slavery and its historical offcuts; stressing on the displacement and imprisonment, as observed in Diounna's new reality.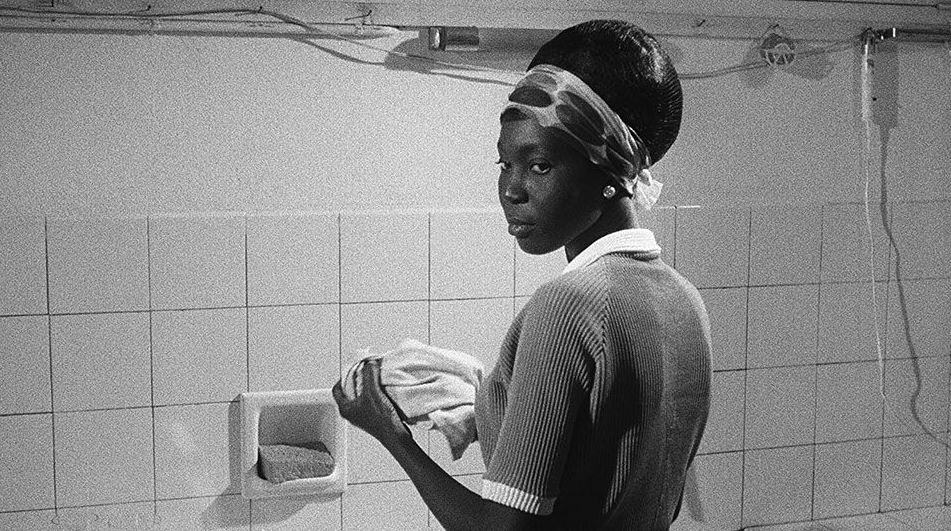 You read between the lines and you realize her body is no longer hers. She can't dress the way she wants to (which is admittedly a bit much). You're not going to a party, her boss snaps, clamping on Diouna's sense of beauty. There's the point she has to cede her dignity as a white man obsess over her body. "I've never kissed a black woman before" a guest of her host family gleefully says and he proceeds to fulfil his fantasy. Diouna takes it with a blank look on her face. Diop's performance is defined by stifled emotions and angst, when in France, as the walls close in on her and forcing her to attain the levels of consciousness Sembene desires.
This is juxtaposed with flashbacks to Senegal where she is infinitely more animated and life around her more vibrant. The world around her is fleshed out with people who care about her. We spend some time with her mother and her "little brother" and even the community's letter writer, who is played by Sembene. Diounna also has a boyfriend, who is not enamoured by her fascination with France. "Domestic Slavery", is his blunt response to the news she is going to work as a nanny in France. He is pretty much angled as the surrogate for wokeness as evidenced by the Patrice Lumumba-emblazoned motifs adorning his room.
With all this, Semebene is laying out an equation that resolves itself in a dark tragic coda. We are ushered into the final act when a letter from Diounna's mother arrives lamenting poverty, decay and neglect. Students of Sembene know the use of "mother" connotes much more than a maternal figure. It's a powerful and painful scene that illustrates the upside-down world the dejected Diouna has found herself in and outlines the new face of colonisation.
Sembene was only just loosening his filmmaking muscles with 'Black Girl'. His background as a writer makes the infusion of detail effortless. However, there is a certain flair lacking in the way this film is put together. Some have described the pace and style of the film as bordering on the surreal and there is some merit to that. The nonlinear narrative our director employs is a welcome surprise. But it truly is a bit dull. There is no real edge to the way the actors are directed. For all the nuance ascribed to Diouna, the world outside her is pretty one-note. The French family she stays with is a blanket representation of neo-colonialism and imperialist entitlement that needed extra layers we could probe.
Flawed, even for its time, 'Black Girl' is. That doesn't take away from the foundations it laid with themes that still demand exploring. Despite his unforgiving stance towards the West and its sins, Sembene still paints Diouna as a victim of her choices and a rigged system. This sentiment paved the way for Djibril Diop Mambety and the existential crisis of African identity he articulates in his iconic 'Touki Bouki'. Indeed, 'Touki Bouki' can be viewed as a spiritual prequel to 'Black Girl' and it's a double bill worth exploring. 'Hyenas', also by Mambety, could complete trilogy of some of Africa's most seminal films.
Sembene's later films would feature more nuance and improved craft that culminated in barbed feats of graceful poetry and satire about this sorry continent.
Africa may have found its true voice in the world of film in 1966, but don't wander beyond the title when looking for the easiest thing to appreciate about 'Black Girl' – Sembene's celebration of the black girl, putting her front the centre, embracing her sexuality, always itching for a close up his statuette carved out of precious shining coal, regardless of her social torment. His infatuation with her is why her crafts the perfect ending for her situation, however tragic.
-