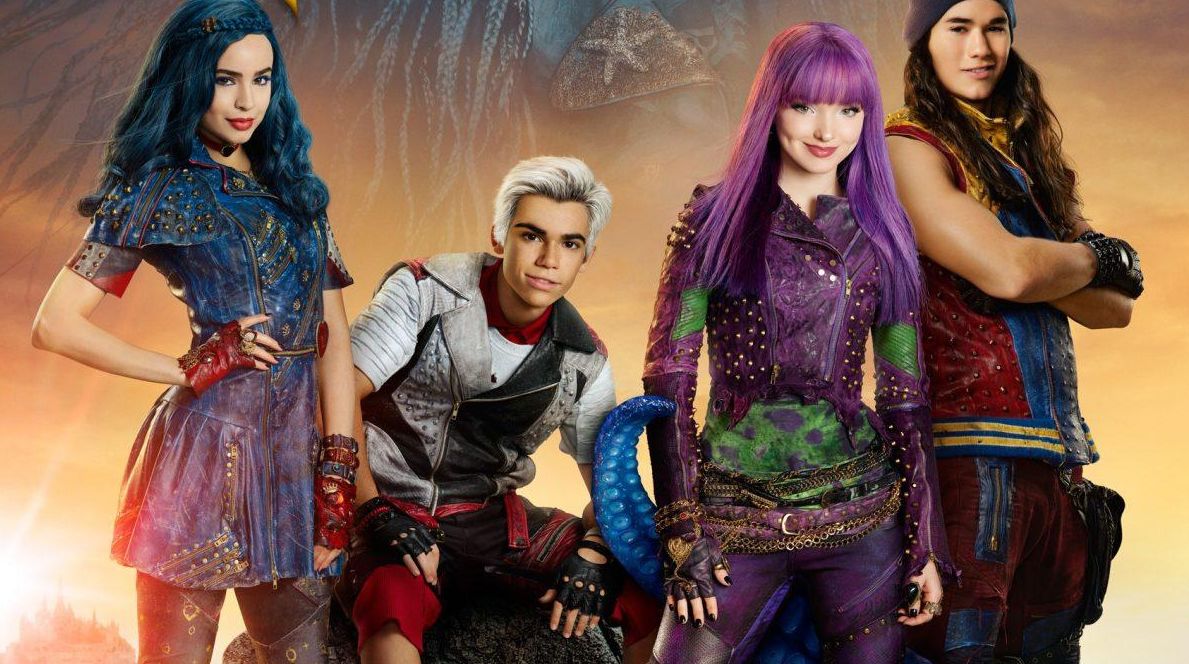 Descendants 2 (2017) Review

ASelenatorsView Descendants 2 is directed by Kenny Ortega (High School Musical, Hocus Pocus) and stars Dove Cameron (Liv and Maddie, Hairspray Live!), Sofia Carson, Cameron Boyce (Jessie, Jake and the Never Land Pirates), Booboo Stewart (X-Men: Days of Future Past, The Twilight Saga: Eclipse) and China Anne McClain (A.N.T. Farm, K.C. Undercover). "Mal returns to the Isle of the Lost to find her archenemy Uma, the daughter of Ursula, teaming up with Harry, the son of Captain Hook, and Gil, the son of Gaston". The Descendants are this decade's answer to High School Musical...is the sequel actually any good?

The first Descendants didn't seem to have quite the impact that Disney were hoping for it to have. In fact, Descendants 2 saw a decrease in ratings when it premiered. The first film wasn't amazing, it was pretty average and suffered from the usual weaknesses of TV films- low budget=terrible set and costume design and CGI. I hoped Disney would have upped the anti for Descendants 2 due to the firsts success but unfortunately, I have the same problems the second time around and that really detriments the sequel which actually has better song and dance numbers than the first. I just can't call this a good film as the flaws really turn a great concept into a poorly executed low-brow musical.

This film may be about evil but that's actually some good among the thorns. What's the most important thing that a musical needs to get right? The song and dance sequences and Descendants 2 really does excel. Unlike the first, there are many songs that I could listen to again and again - my favourites include "What's My Name", "Space Between" and "You and Me". These songs are either catchy, surprisingly meaningful or excellently choreographed which helps them stand out from the array of good songs the Descendants 2 soundtrack has to offer. Even the songs that I probably wouldn't listen to outside of the film have some great dance numbers. Kenny Ortega really does get praise as the visuals he creates with the choreography choices are fun, aesthetically pleasing and enjoyable. I'll get onto the acting in a moment but what this cast lacks in acting ability, they make up with with their voices. Dove Cameron and China Anne McClain especially can really sing and they definitely showcased that here. I also liked the callbacks to past Disney films- when an instrumental of Kiss the Girl played at the ball and when an instrumental of Rotten to the Core played when Mal re-enters the Isle, both worked very well.

I can't remember having problems with the acting in the first film but here, it was very clear that these young protagonists really didn't have much acting experience outside of the Disney Channel. Sofia Carson was definitely the strongest link, I would actually call her performance faultless. It wasn't anything exceptional but it was at the level the others should have been. I had issues with Dove Cameron in this film- I don't quite think she was giving it her all, especially towards the start of the film. I just wasn't believing it. Cameron Boyce and Booboo Stewart are both sidelined in this film, which they actually address towards the end but both were fine. Who was the weakest link? Mitchell Hope. Hope may just be the most wooden actor I have come across in a long time. He just expressed no emotion and he sounded really forced when he tried to. He clearly cannot sing either as the autotune was very prominent whenever he sung. Unfortunately, China Anne McClain is miscast as the villain, Uma. I just wasn't convinced by her performance at all- she didn't take it far enough and didn't come across as evil at all. Thank goodness that girl can sing otherwise Disney would have embarrassed themselves with this casting. Also, whoever thought it was a good idea to insert a talking dog into this film must be loosing their mind- do Disney not remember the mistake they made with 'Dog with a Blog'- nobody wants a talking dog, that phase is over! The talking dog cheapened the film (even more) and was not funny at all.

Descendants low-key tackles some interesting and thought-provoking ideas. Firstly, feminism. At first, I was worried we were in for another Pirates 5 situation where the female character is an extreme case of a strong, female character. Lonnie, who I assume is Mulan's daughter isn't allowed to join in with the jousting because she is a woman. Lonnie then has a very cliche, mini monologue about how that it is unfair. I was then worried that that subplot was the only reason Lonnie was in the film. However, there was more to the character and she actually helped the team out and was rewarded accordingly. Disney were walking a fine line with that one. Another issue they (barely) tackle is the whole idea of privilege and the barrier between the rich and the poor. I think this is something that will be explored further in the third film but it's certainly an interesting route to go down. Finally, the lyrics of "You and Me" are all about unity and coming together and putting aside our differences. Something that it is important in the political state we live in, people are constantly being divided but we need to stick together. SPOILER-The finale sequence was cheapened by the fact that Disney attempts an end-credit scene with Uma that completely contradicts the way the film ended and the poetic statement that leads to Uma giving in.

I was actually surprised that this time around, there was no sign of the parents that actually helped to make the first film more comical. I guess they didn't have the budget to have Kristin Chenoweth and the gang back. The plot is easy to follow but is far from original and there isn't actually a clear, motivation for the villain. She is just jealous of Mal and friends. It did make sense that Mal wouldn't be able to transition from evil to perfect so easily so I liked how the film centred around Mal struggling with being so nice. However, she was a little silly to expect to get to return to the Isle without there being a problem- of course she will be frowned upon there after becoming royalty in the enemy country. Looking back, everything that happened seemed to happen just because the writers wanted it to. There's no originality here and nothing new. The introduction of more Descendants helps to make the possibilities seem endless. What I did like was how the villains were able to inherit the same qualities as their parents. Uma gets to become a full on Octopus witch and Mal can transform into a dragon. This was cool and clever and made the third act a little more exciting.

What limits the film in every aspect is the production, costume and set design. It's all very low budget and therefore cheapens this film incredibly. Firstly, the CGI. If you want to have dragons and octopus', you've got to do them well. I thought they would have learned that from the first film? No. They still look fake, unrealistic and very basic. I understand that Disney Channel may not dish out big budgets for their TV shows but when they're realising a major original movie that has a pretty large following due to the first's success, they have no excuse to not up the anti (and budget). Game of Thrones excels with their visual effects on a weekly basis, Disney has a lot of money- surely they could have realised some better creatures for a one-off film and minimal screen time? The costumes for the four leads are ok but they still don't fit with the overall colour palette and style of the rest of the film. The hair is awful though- they are so clearly wigs, it's off-putting. Once again, Disney, reach out and dye and style their actual hair so it doesn't look like the fake hair a Barbie would wear. The sets are all also pretty substandard. They are all clearly set in a sound stage and the animation of the sky is awfully done. There is nothing that feels real or believable when it comes to Descendants 2.

Descendants 2 is the amateur version of a feature length musical. Film gets the beautiful La La Land and TV gets the pretty trashy Descendants 2. If Disney Channel gave this series the High School Musical treatment, the third entry would be going to the big screen- surely that would demand a budget and quality increase? The acting varies from fine to miscast to wooden. The singing is generally very good though and I can't praise the songs and dance numbers enough- they are excellently done. The film hints at tackling some topical themes but doesn't go too far which I think was a clever move. The sequel was Ortega's chance to correct the first's mistakes but he just added salt to the wound and worst of all, did nothing. More of the same but it's clear that Disney and the team aren't as excited about this project as they want audiences to be.

50/100