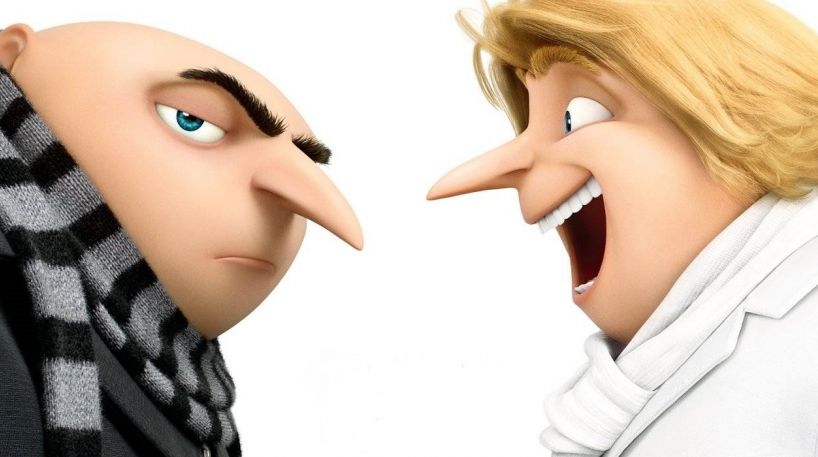 Despicable Me 3 (2017) Review

ASelenatorsView Despicable Me 3 is directed by Kyle Balda (Minions, The Lorax), Pierre Coffin (Despicable Me, Minions) and the directorial debut from Eric Guillon. The film features the voices of Steve Carell (The Office, The 40 Year-Old Virgin), Kristen Wiig (Bridesmaids, Ghostbusters) and Trey Parker (South Park). "Gru meets his long-lost charming, cheerful, and more successful twin brother Dru who wants to team up with him for one last criminal heist". Quickly becoming one of the most prosperous animated franchises, can Despicable Me 3 continue the hot streak?

The success of Despicable Me always amazes me - I think that it's great to see a relatively new IP become an instant classic with today's younger generation. The Despicable Me films are sure to looked at in the same way as Shrek and Toy Story were for my generation. I really enjoyed the first film, the second not-so-much and I had conflicting feelings towards Minions. However, I can firmly say that I enjoyed Despicable Me 3 and thought that it was a whole lot of fun! It's funny, light and entertaining. Of course there's better out there but Despicable Me 3 is a pleasant animated flick that the whole family will enjoy.

There are essentially three parallel stories going on in DP3 - Gru and Dru, the Minions and the girls and Lucy. I don't think its coincidental that there were three different directors working on the film - possibly they all worked on their separate ideas? Balda specialises with the Minions, Coffin with the girls and Lucy and Guillon may have come up with idea behind Dru? This is all speculation but each story did feel very separate which makes me think there were different ideas and visions being thrown around. The plot was very by the numbers and even though there were surprises, I did see them coming. However, younger audiences are sure to be fooled and therefore shocked by the revelations. In regards to the plot that was focused on Gru/Dru, I thought it was fun and interesting- I also liked the villain, Balthazar Bratt - his love of the 80s was funny and helped to make some great moments. I also liked how Bratt was a failed child star who had gone crazy (don't they all?) and then came up with a rather ridiculous idea to get revenge on Hollywood for destroying his dreams. I think Bratt would get along well with Syndrome from The Incredibles. The Minions are definitely sidelined in this film - most likely due to them having their own series now - but they still managed to have many sketches that were amusing. Finally, the girls and Lucy - I adored Agnes' subplot of finding a unicorn, the conclusion was fabulous! I also think Lucy was sidelined in this flick which was disappointing considering that she was a main character in DP2. The film tried to throw around ideas of what it's like to be a mother but it doesn't really stick and there isn't enough done with it. The end of the third act brings all of the stories together but it kind of feels forced and rushed. However, it also proves that all of these characters need each other, they can't function as their own separate entities!

One thing I have literally just realised whilst writing about the plot is that it really reinforces the idea of women not getting to be involved in the action. I don't know whether this was deliberate and as it's a kids film I will probably pass it as harmless but I don't think it's by chance that the female characters are whisked away into a local village to spend leisurely time while Gru and Dru get up to no good? Lucy does get involved in the action at some points though but I still can't believe a kids film with such wide appeal would even have these kinds of sub-messages...

I found Despicable Me 3 surprisingly funny. I don't know why I was surprised, these films are always funny, but I was just worried about this one after the second was underwhelming. My favorite moments were definitely to do with the Minions - the whole segment in the prison was hilarious and I also really liked when the Minion became a flight attendant. Many became tired of the Minions after their film under the same title but Despicable Me 3 proves that they can still be effective and hilarious if used lightly. I also thought it was very funny (slight spoiler) when Agnes mistook a one-horned goat for a unicorn - it was just in line with Agnes' luck but was also a genius idea! There are also plenty of one-liners throughout the film that are funny enough to keep things light, fun and entertaining.

For many of the voice talent involved in Despicable Me 3, these roles have become career-defining. Steve Carrell is brilliant as Gru and I thought he created a voice that was distinguishable with Dru. However, I'm in no rush to see more of Dru...been there, done that. I think Kristen Wiig has managed to stop the character of Lucy defining her career simply because the character just isn't that memorable. Especially in DP3, she's majorly sidelined and although she has fun action moments, Lucy is as generic as her name (no offence to anyone called Lucy). Wiig does her best but she could be anyone. Trey Parker does a good job but I also think the villain doesn't have a big enough presence in this film for him to make a big impression - it's been a week since I saw DP3 and I can't remember much about Parker's voice performance.

The animation for Despicable Me 3 is definitely of a good standard - Illumination have their own style and it's recognizable. From the DP movies, The Secret Life of Pets, The Lorax and lesser so but still Sing, there is a visual style that is starting to emerge. Despicable Me 3 is bright and colorful which is definitely helped by some great 80s callbacks. The soundtrack choices are also pretty good. I also think that Illumination Entertainment have also established a style when it comes to their films in general - jokes that are a little risky that adults are likely to appreciate. I would also say that Despicable Me 3 reminded me of the type of video you would see during a theme park attraction - I don't know if that's because I've ridden Minion Mayhem since watching the second film but Despicable Me 3 provided the enjoyment, excitement and happiness of a theme park attraction. That could also be down to it being set in Hollywood but I just got similar vibes for some reason.

Despicable Me 3 is fun and is the best in the entire franchise since the first entry. I like these characters and I think they (most of them) are utilized well here. There's not too much Minions (yay!) but not enough of Lucy. There are some very funny moments, the film is very light in tone in general making it a great summer affair for the whole family! It's bright and colorful with a hint of the 80s. Despite not being particularly original, Despicable Me 3 keeps the franchise on track and I am looking forward to more!

69/100