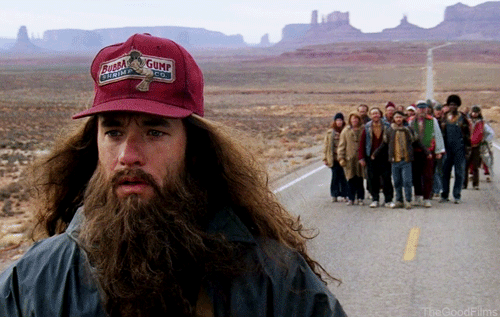 Forrest Gump (1994)

AlexanderNoah
If there is a modern actor who can do it all, it is Tom Hanks. He is an actor that never seems to put himself in bad material. Sure, Sleepless in Settle was a silly love story with a very unrealistic plot and The Burbs could have been so much more as a Joe Dante film but Turner and Hooch was an underrated crime story, the Toy Story series is masterful animation and Terminal used an airplane setting so well and just might be his most underrated film to date. The only film in his filmography that goes against the grain and I question how a best picture nominations could be awarded to it is Forrest Gump from 1994.
Based off a novel of the same name, Forrest Gump follows around a disabled man Forrest Gump (Tom Hanks) who's flashbacks tells us his life story growing up in Alabama with a single mom (Sally Field) to his tour in the Vietnam War from his childhood friend Jenny Curran (Robin Wright) to him owning a shrimp boat to finally running around the United States. It's just a whole bunch of everything.
It might be an odd correlation but Forrest Gump could be compared to the famous book Catcher in the Rye. Through the famous character, Holden Caufield, Catcher in the Rye deals with his thoughts and anger as a teen. It is a novel that wandered and needed a central plot. In a much more happy setting, Forrest Gump is a guy taking the world by storm. The film uses the Alabama setting well with a pleasant country house. Forrest has really nice relationship with Jenny who goes through a lot of character development and at one time was a hippie. She is a character that is better alone than Forrest. In a precursor to Tom Hanks', Saving Private Ryan five years later, Robert Zemeckis puts together some really nice war scenes that captures that 60's war feel and might be Forrest's best scenes. Through the war, Forrest was able to meet Bubba (Mykelti Williamson) who inspired him to own a shrimp boat which is an original plot element on its own. Bubba is a character that is completely underused who has nice chemistry scenes with Tom Hanks that could have been built on. Another good character is lieutenant Dan (Gary Sinise) who struggles as much as Jenny and goes through an interesting transformation. Basically this film is a bunch of sequences that don't have a message and is scattered.
As a character, there is a lot to make of Forrest Gump. It's not like Tom Hanks struggles in any role or with acting but this character is so corny. Forrest Gump is a likable original character overall but he has a manner to him that gets tiresome and he is the reason why this movie can feel so drawn out. Even more, his story is so hard to believe. Forrest Gump is a guy that does so much in a short time.
Forrest Gump has some good elements surely but is still something that is silly and lackluster. Everyone has that film that everyone else loves but you have issues with it. Forrest Gump is mine.